Pike, poached in a light fish broth

Recipe By


Charlotte Langley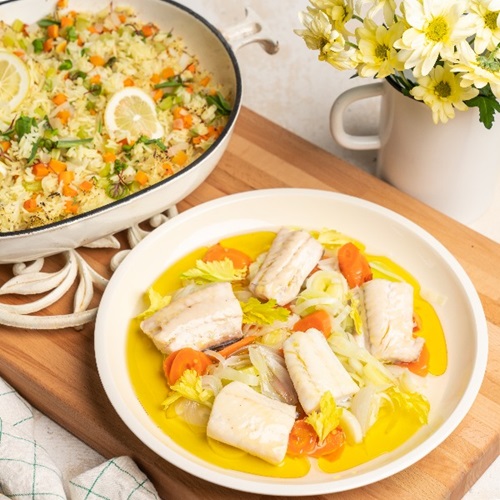 Pickled Carrots:
2 cups carrots, sliced into rounds
½ cup rice vinegar
½ cup water
¼ high-quality olive oil
3 tsp coarse salt
1 tbsp high-quality honey
Remaining Dish:
2 lbs fresh pike fillet
4 medium-sized shallots, cut into quarters
3 leeks in 2-inch rounds
1 cup, high-quality olive oil
1 cup Water
Juice of 1 large lemon
Salt to taste
Celery leaves to garnish
In your small saucepan, combine all of the ingredients for the pickling, minus the carrot slices.

Bring to a simmer on medium heat but do not let boil, approximately 3-5 minutes.

In a mason jar or sealable vessel, place all carrot slices in ( you can add anything else you like, herbs, spice, garlic etc) and pour hot liquid over items in jar until covered. Let it sit until at room temperature before placing it in the fridge overnight.

Portion your Pike into 4 equal pieces and set aside to temper while you build the rest of your dish.

Place a high-sided pan on low heat on the stove. Add water, olive oil, lemon juice, and a generous dash of salt. Bring to a low simmer.

Once simmered, add in your rounds of leeks and your quarters of shallots. Simmer gently until the alliums have become tender, approximately 10-12 minutes

Remove all alliums and set aside somewhere warm while you poach your fish.

Adjust the seasoning of the poaching liquid to your taste preference and place your pike fillets into the poaching liquid. Simmer until just tender.

In a shallow bowl, place warm alliums, a few pieces of pickled carrot, and arrange your Pike on top.

Ladle approximately 2 oz of poaching liquid on top and finish with a drizzle of high-quality olive oil, salt, pepper, and some celery leaves.

Serve with a side fragrant rice.