By Nick Wyke
Hosting a summer cookout? Don't be afraid to include fish – it's quick and tasty and your guests will be grateful, just make sure it's sustainable.
Not everyone remembers the first time they ate fish. But most people can recall the first time they had grilled fish. If not for the smoky taste then for the outdoor setting. For me it would be a close run thing between the hot, salt-crusted crunch of whole sardines on a makeshift rooftop grill in Portugal and a satisfying forkful of lemon drenched swordfish steak straight off the coals at a quayside taverna in Greece.
Cookouts deliver memorable meals. Open flame cooking is not only the most exciting way to cook, it's the only method that's going to give your fish a crispy charred coat, smoky flavour and restaurant-cred grill stripes. Unlike meat, not all fish are equal when it comes to the grill. Firm, robust fish stand up best to grilling. Halibut, monkfish and swordfish are all good candidates. More delicate types of fish such as cod can easily flake and fall through the grates, although with a little prep and care when cooking, most fish can be grilled.
In part one we'll take you through the common pitfalls, like how to prevent fish from sticking and overcooking, and give you plenty of tasty cooking tips. We'll also steer you towards the best sustainable fish to use in your region so you can grill with family and friends knowing that you're not depleting the ocean's fish stocks. In part two we'll focus on sustainable shellfish.
Swordfish
Available fresh for just a few months each summer in the US, swordfish is a great non-meat alternative to steak for a backyard cookout. This summertime favorite has a mildly sweet flavor and a meaty texture that holds up well to high-heat cooking. Simplicity is the secret to grilling swordfish. It needs nothing more than seasoning, a brush of olive oil and a generous squirt of lemon. You can marinate but keep it sharpish – more than 15 to 30 minutes and you run the risk of breaking down the flesh and leaving it mushy. Your goal is to attain fish that is seared on the outside and moist within.
Serve with home-made tzatziki, a briny salsa verde or tomato and sweet pepper salsa. Alternatively, try skewers of swordfish souvlaki with chunks of colorful Mediterranean vegetables and flavor enhancing bay leaves softened in water to prevent smoky burning.
The best sustainable swordfish is from the North Atlantic where there are multiple MSC certified sustainable fisheries. Whole Foods Market stores sell fresh, harpoon-caught swordfish from an MSC certified sustainable fishery in Nova Scotia. The fish are caught slowly, one-by-one, using an age-old fishing technique. This has a very low impact on ocean habitat that helps eliminate bycatch.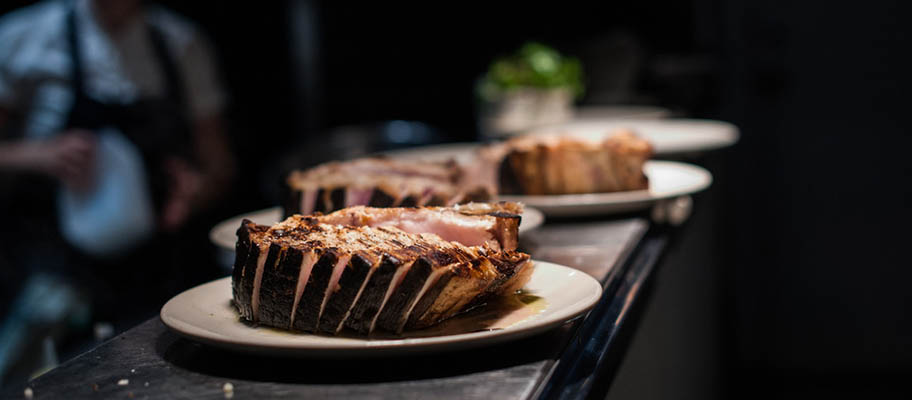 © Alice Boshell - MSC certified swordfish from Walker Seafoods, served at Saint Peter restaurant in Sydney
Cape Hake
South Africans are rightly proud of their braai-ing, and flipping a meaty steak over a local wood fire is nothing short of a national pastime. MSC certified Cape hake is a fine fish for a braai and allows the 'braaimaster' to swap turf for surf. This deepwater fish is a member of the cod family and has a milder taste, softer texture and smaller flake than cod. So it needs a bit of care on the flame to stay in one piece. It's best cooked whole, stuffed with citrus fruits and aromatic herbs, or as fillets wrapped in blanched leek leaves or a foil parcel (en papillote) – this last method keeps all the juice and flavours in. Try braaied hake parcels with a spicy coconut sauce or grilled with a fruity apricot glaze. The Spanish are big fans of hake and serve it with chorizo, paprika and garlic.
The South African Cape hake fishery was the first hake fishery in the world to gain MSC certification, which it has held since 2004. By maintaining good practice and remaining certified the fishery has not only safeguarded fish stocks and ensured that natural breeding habitats are protected, it has also secured some 12,000 jobs and increased access to international markets. The fishery is also a global success story for its environmental improvements in reducing seabird mortalities associated with its work by 90 percent.
Sardines
These small silver fish with blue-green backs quite literally turn to gold on the barbecue. They are hardy, rich in oils and easy to cook – just rub with olive oil, salt and pepper before laying them on a searing grill.
Cook them descaled and gutted. You can tell they are cooked – usually after 3 to 4 minutes – when their flesh is firm and easily flakes away from the bone and the skin is golden and crispy. The small bones are edible, but the backbone is easily removed and can be discarded after eating the top-side flesh.
Take a lead from the Portuguese and toss them in paprika, chilli, lemon juice, garlic, rosemary and olive oil for a sweet peppery, rustic flavour or stuff them with pine nuts, raisins and breadcrumbs for a caramelized finish, Sicilian style. Serve with crusty bread to soak up the intense flavors and juices, roasted baby potatoes and a fresh green leaf and fennel salad.
Despite the sardine's rich association with Spain and Portugal, there are currently no MSC approved fisheries in these countries. There are, however, MSC certified fisheries catching sardines in Cornwall, England, South Australia and the Gulf of California. The South Australia Sardine Fishery was the first sardine fishery in the southern hemisphere to earn the MSC blue fish label.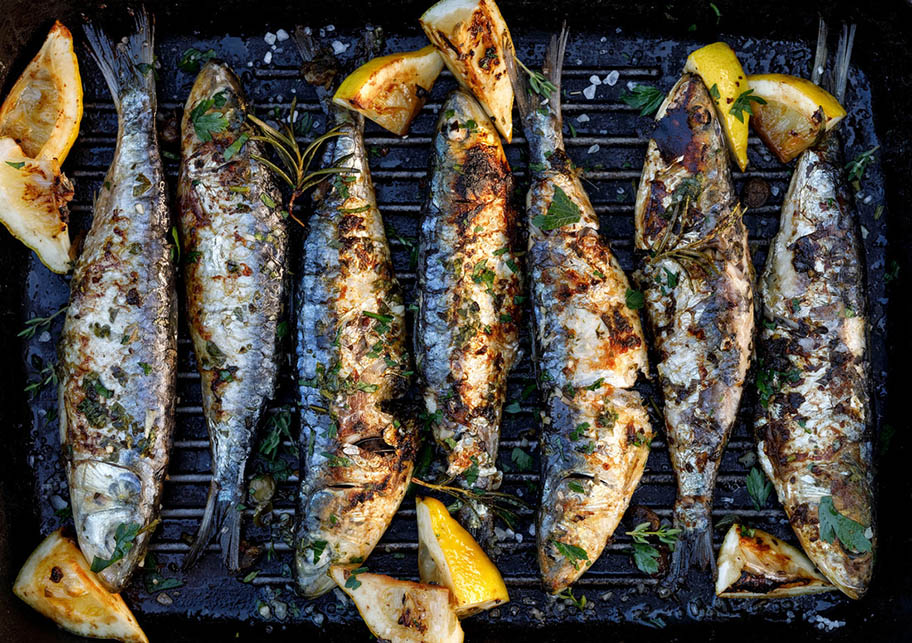 Monkfish or Anglerfish
Proof that looks aren't everything, the brutish monkfish yields a firm, buttery sweet meat, not unlike lobster or scallops in taste and texture. Its robust flesh works well on the grill but it's not a particularly oily fish so it makes sense to add some oil and take care not to overcook it. With its monstrously broad head removed, skinned and filleted monkfish tail is ideal for grilling and it cubes nicely to make a top kebab.
Serve it simply with mayo or aioli and a little samphire (more commonly called sea asparagus in North America) for garnish; with sweet chilli, spring onion, coriander and lime butter, or marinate chunks of monkfish in olive tapenade and wrap in pancetta before skewering and placing on the hot coals. Increasingly popular monkfish cheeks can be cheaper than the tail but are equally satisfying. Remember to remove the outer membrane or this will contract when cooking, making the flesh tough. Try grilled monkfish cheeks dusted in tikka spices and served with fresh lime.
The Iceland Sustainable Fisheries became the world's first monkfish fishery to gain MSC certification in 2018. By buying fish from sustainable fisheries you're encouraging more retailers to stock sustainably-sourced seafood and more fisheries to improve and become certified.
Halibut
A giant among flatfish, firm-fleshed halibut has a meaty texture, large flakes and a delicate, sweet flavor. Halibut steaks are easier to manage on the grill than fillets. Choose steaks that have been cut across the grain of the meat, these will hold together better, and from the middle of the fish rather than the tail which is full of bones.
Prone to drying out, brush both grill and steaks with oil and cook over moderately hot coals until just opaque. Try grilled miso glazed halibut, or serve steaks with puttanesca sauce (tomatoes, capers, garlic), homemade chipotle mayo or simply brown butter.
A dweller of icy waters, MSC certified sustainable halibut is found in both the North Pacific and North Atlantic at fisheries in Canada, the US, Greenland, Russia (Barents Sea), Norway and in the West Bering Sea. By choosing halibut with the blue MSC label, you can enjoy your fish knowing that tomorrow there will be plenty more where it came from.
Charlotte Langley's BBQ wild MSC certified halibut tacos with a duo of fresh salsas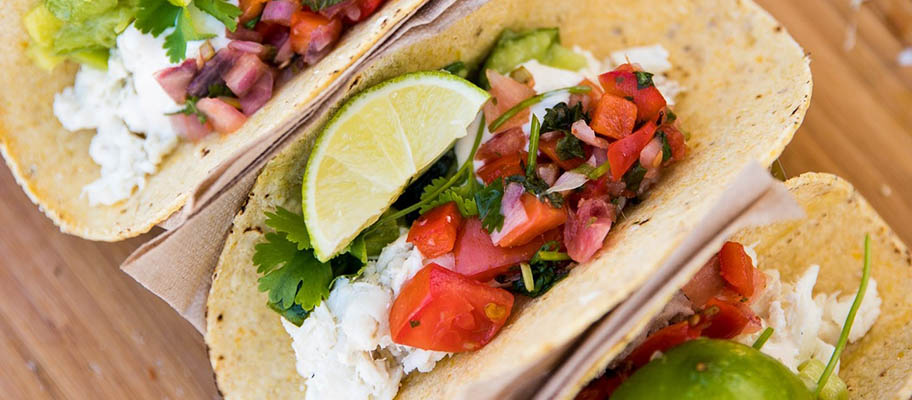 How to prepare fish for the grill
Let your fish come to room temperature for 15 minutes. This will help it to cook more evenly.
Leave the skin on. This will help to prevent the fish from getting overcooked.
Rub both sides of the fish with olive oil and sprinkle with salt and pepper. This will help to stop it sticking to the grill. A coat of mayonnaise works just as well.
Clean the grill rack before cooking and lightly oil it using some vegetable or olive oil on a paper towel.
How to cook fish on the grill
Cook on a medium-high heat – when the flame has died down and the charcoal is covered with white ash. The thinner the fillets or steaks you have, the higher the heat should be. Allow time for a good crust to develop on the first side of the fish – this helps to release it from the cooking grate.

Avoid flipping the fish more than once. This reduces the chance of it sticking to the grill and disintegrating. If you're worried about sticking, try cooking fish on a bed of sliced lemons. If you grill with the lid closed then the second side will begin to cook too and you may not need to flip it.

Fish is best when it's just barely cooked through so it's flaky, moist and silky to bite.

Nick Wyke is a journalist and food writer who is passionate about local, seasonal and sustainable produce.