Wild banana prawn bisque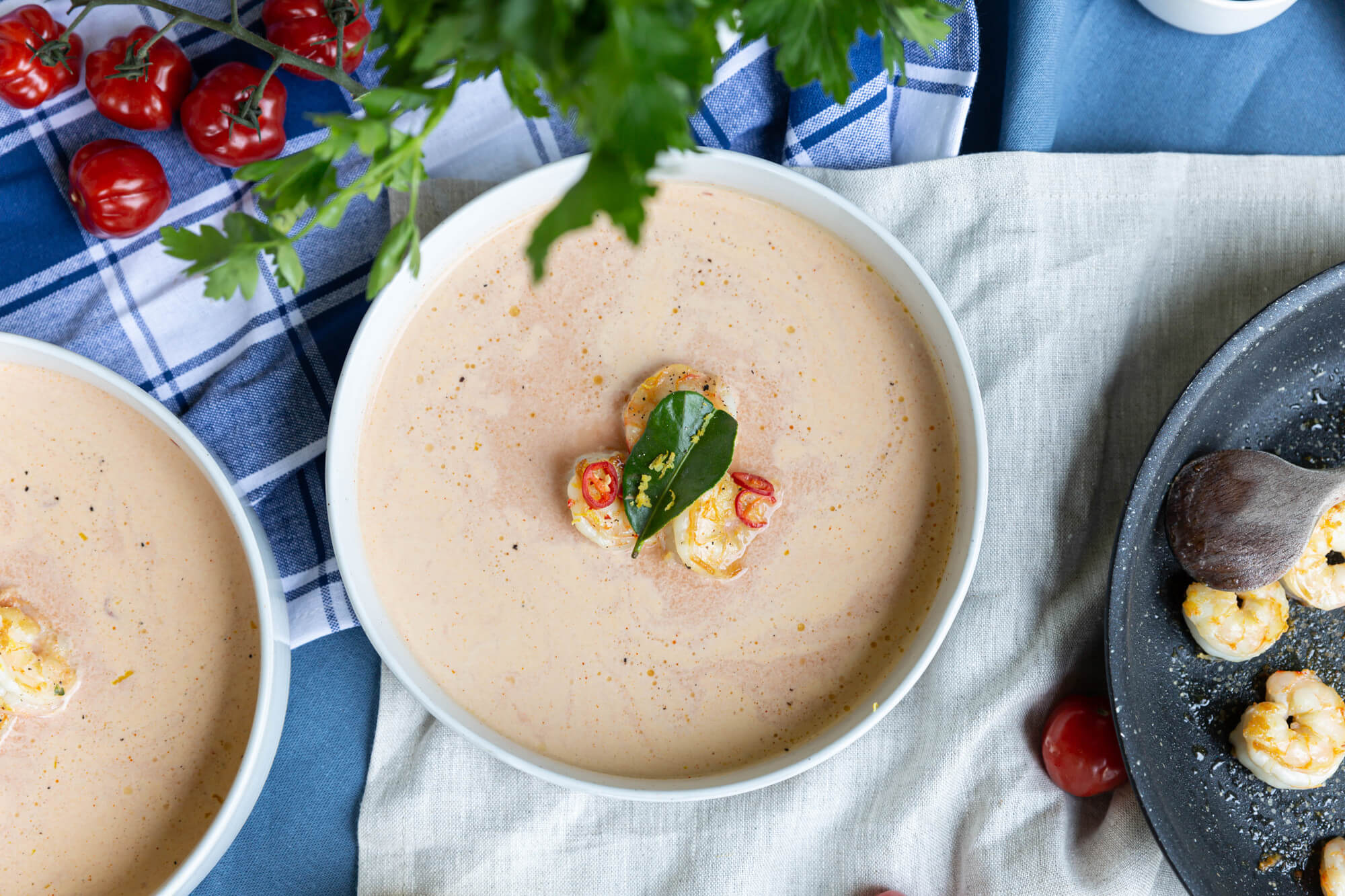 500g MSC certified banana prawns with shells
2 onions, roughly chopped
2 carrots, roughly chopped
1 celery stalk roughly chopped
200ml white wine
3 star anise
2 lemongrass stalks, bruised
50g ginger, chopped
2 kaffir lime leaves
1 red chili
250g canned diced tomatoes
2 litres fish stock
200ml cream
Finely grated zest and juice of 2 lemons
When shopping, look for the MSC blue fish tick
on your seafood to know it's sustainable.

Preheat oven to 200 degrees Celsius. Peel the prawns and place the shells on an oven tray and roast for approx. 20 mins, stirring often until golden.
Place the roasted shells into a large saucepan with the chopped vegetables, white wine, star anise and half the lemongrass, ginger and lime leaves. Bring to the boil and simmer for 10 min.
Add the tomatoes, stock and cream. Bring to the boil and reduce the heat to low and simmer for a further 40 minutes, skimming the surface occasionally.
In a separate grill pan add your shelled prawns with a dash of olive oil, salt and pepper and cook until slightly charred, season with salt and pepper, set aside.
Strain your prawn bisque and return the bisque to the pan.
Add lemongrass, ginger and lime leaves and simmer for further 5 minutes. Strain again and you should have a smooth, creamy consistency.
Ladle into bowls and to top add a few grilled prawns to each bowl, sliced red chili, lemon zest, dash of lemon juice and season with salt and freshly ground black pepper to taste, serve with white crusty bread.
Serving instructions
This velvety prawn bisque is perfect to enjoy on a hot summer's day. Serving up to 10 people, it's perfect for a starter before the main event when hosting your next lunch or dinner party. With MSC certified wild banana prawns from Northern Australia, it's an authentic taste of Australia's stunning coastline.
Enjoying prawns at Christmas now and always
Discover what makes the perfect Christmas prawns including where to buy, top recipes and tips.