Wild fish pot pie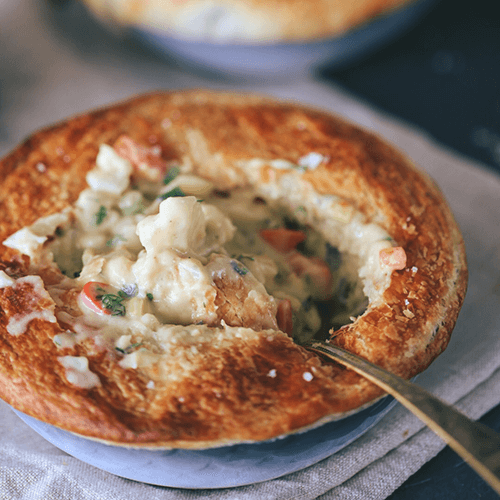 500g x MSC certified Hoki (look for the MSC blue fish tick label) cut into 3 cm chunks
50g butter
1½ tbsp, olive oil
1 brown onion, thinly sliced
1 stick celery, finely chopped
1 garlic clove, finely chopped
sea salt
pinch fresh white pepper
pinch cayenne pepper
½ cup plain flour
2 ½ cups milk, warmed
½ tsp dijon mustard
zest of ½ lemon, finely grated
2 sheets frozen puff pastry, thawed
1 tbsp milk
When shopping, look for the MSC blue fish tick on your seafood to know it's sustainable.



Preheat the oven to 180°C (160°C fan-forced).

To make the sauce, butter, and olive oil in a saucepan over a low heat.
Add in diced onion, celery, garlic, sea salt, white pepper, and cayenne pepper, and cook down until the vegetables are tender and caramelised.
Add the wine and cook for another 2-3 minutes. Stir in the flour and cook for two minutes; gradually add the warm milk. Continue stirring until the mixture bubbles and thickens slightly. Stir in the mustard and lemon zest and check the seasoning.
Cut four rounds from the pastry about 1 cm larger than your chosen ramekin or bowl.
Fold your hoki through the sauce, divide the mixture among the ramekins, and top with the pastry rounds, pressing around the edges using a fork to seal. Pierce the top of each pie to allow the steam to escape.
Put the pies on a baking tray and bake until the pastry is golden about 20 minutes.
There is no better way to feed a family than with a classic fish pot pie, whether in individual portions or one large pie.
Your guide to sustainable seafood
Find out where to buy, what to look for and the questions to ask.