Wild tuna poke bowls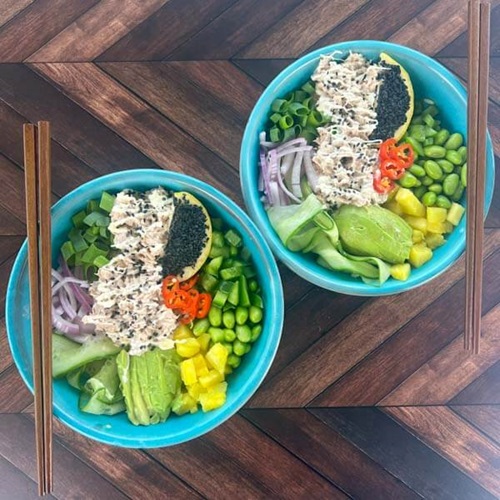 185g can of tuna (look for the MSC blue MSC tick label)
1/3 cup of mayo
1/2 a lemon, juiced
1/2 a red onion, sliced
2 cups of rice, boiled as per packet instructions
3 Tbsp black sesame seeds
1/4 cup edamame beans, boiled as per pack instructions
2 Tbsp green capsicum, diced
3 Tbsp fresh pineapple, diced
1 avocado, cut in half, then sliced
1/2 a cucumber, sliced
2 shoots of spring onion, sliced
1 red chilli, sliced
1/2 a lemon, cut in half for garnishing
When shopping, look for the MSC blue fish tick on your seafood to know it's sustainable.



Set your rice to cook, drain well and set aside to cool.
Take your tuna and mix it with the mayo and 1 Tbsp of the squeezed lemon, stirring to combine well.
Add the remaining lemon into a bowl and mix in the red onion. I like to leave this to pickle for a minimum of 5 minutes.
Arrange your poke bowl by adding rice first, then cucumber, avocado, pineapple, edamame beans, red onion, spring onion, tuna mixture, chilli and some fresh lemon.
Garnish with black sesame seeds and then devour.
A tasty, healthy and easy dinner or lunch. I like to eat mostly fish, and during times when its been too windy to get out, canned tuna can be a cost-effective option. When purchasing fish, I look for the blue MSC tick, which means it has been caught sustainably.
Nicky Sinden is a self-professed 'foodie and fisho' from Aotearoa New Zealand.
Your guide to sustainable seafood
Find out where to buy, what to look for and the questions to ask.