Wild tuna spaghetti with chilli and lemon

Recipe By


Courtney Roulston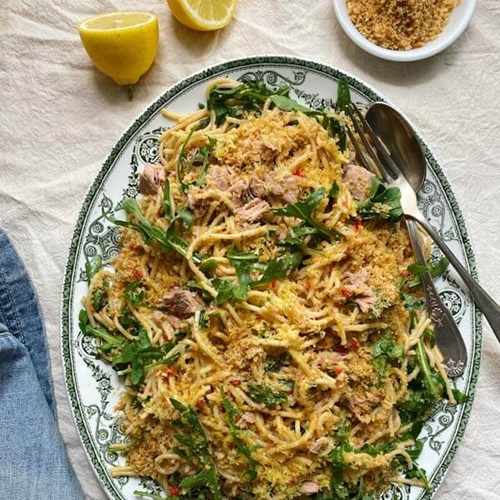 3 x 95g John West tuna in olive oil (look for the MSC blue fish tick label)
2 tablespoons olive oil
1 slice stale sourdough bread, blitzed into crumbs or ½ cup Panko
4 cloves garlic, peeled

1 brown onion, sliced



1 long red chilli, chopped Or 1 teaspoon dried chilli flakes
Sea salt and cracked black pepper to taste
1 lemon
60g baby rocket leaves
1 x 500g pack spaghetti
When shopping, look for the MSC blue fish tick on your seafood to know it's sustainable.



Bring a large pot of salted water up to a boil.
Heat the olive oil in a non-stick frying pan over medium heat. Finely grate 1 clove of garlic through a Microplane and add to the pan with the breadcrumbs with a pinch of salt. Cook, stirring for 2 minutes or until the breadcrumbs are fragrant and golden brown. Remove from the pan and set aside.
Place the spaghetti into the boiling water and cook for 8-10 minutes or until al dente.
While the pasta cooks, place the same frying pan back onto medium heat. Drain the tuna and place the oil into the frying pan. Add in the onion and cook for 1 minute to soften. Chop the remaining garlic and add in with the onion along with half of the chilli. Cook for 1-2 minutes or until fragrant. Add in the cooked spaghetti and about ½ a cup of the cooking water and toss to coat. Flake in the drained tuna, lemon zest, half the rocket leaves and a pinch of salt and pepper. Gently toss to combine, then squeeze in the juice from ½ the lemon.
Remove from the heat and scatter with remaining rocket leaves and remaining chilli. Drizzle with a little extra olive oil and scatter with crispy breadcrumbs before serving with remaining lemon wedges on the side.
A satisfying, sustainable seafood pasta that comes together in a flash. This recipe is my go-to when I need a fast, affordable and fresh dinner on busy midweek nights, but it's still lux enough to serve on a summer's day with a cold rosé on the side.
Your guide to sustainable seafood
Find out where to buy, what to look for and the questions to ask.