This post was originally published in October 2020 and updated on January 3.
If you're guilty of thinking fish is hard to cook, difficult to find, or too expensive, then this may just blow you out of the water.
There are some surprising reasons why you should eat more fish. You've probably heard about fatty fish containing healthy omega-3s, but have you considered the other health benefits? Researchers say seafood is a fantastic, high-quality protein source, and contains important vitamins and minerals. Delicious, nutritious, and fast to prepare, there are so many reasons why you should eat more fish.
As a nutritional expert, I am often asked about seafood. It's one of my favorite meals to make! As a busy parent, seafood is the perfect fast, delicious, and affordable meal, that is packed with protein and minerals that the growing kids and active adults in my house nutritionally benefit from. Get your fork ready – there are many surprising and healthy reasons you should eat more fish.


Ask the Expert: 7 Seafood Health Questions Answered
1. Is fish a healthy choice?
Yes, fish is a healthy choice. The omega-3 fatty acids in fish have given seafood some official attention by nutritionists, but what truly makes seafood a healthy catch is how it is a high-quality protein that is easily digested. Fish is also a source of the important amino acid taurine (more on that later). Go ahead and put more seafood on your plate. Seafood has significant nutritional value for human health as it contains vitamin A, calcium, iron, and vitamin D. Nutritional scientists reported that fish is undervalued as a protein source1 because of a lack of awareness of its many health benefits. We could all benefit from eating more seafood.
2. Is seafood a good source of protein?
Fish protein has a great mix of the amino acids your body needs to build muscle, as well as create hormones needed to direct digestion and the immune system. Scientific research2 shows the protein in fish appears to help lower cholesterol, hypertension, and C-reactive protein (a marker of inflammation) in the body. Plus, eating fish can help maintain a healthy weight. To meet nutritional needs, growing children, adolescents, and the elderly are encouraged to eat seafood twice a week, according to the Seafood Nutrition Partnership.
3. Why should I eat more fish?
Did you know that humans consume the valuable amino acid, taurine, largely through seafood? Taurine is an amino acid considered to be conditionally essential to our health. Scientists2 have found taurine plays many health roles in the body: helping fight hypertension, high cholesterol levels, and inflammation. Seafood contains high amounts of taurine compared to traditional land-based proteins. Findings suggest that the consumption of sufficient quantities of taurine is important in preventing lifestyle-related diseases, like heart disease, diabetes, and metabolic syndrome.
4. How much fish should I eat in a week?
Eating one to two 3-ounce servings (about the size of a deck of cards) of fatty fish per week may reduce the risk of dying from heart disease by 36 percent, according to research3. This has made fatty fish, such as salmon, tuna, and mackerel very popular. Yet, with only one in five North American adults consuming two servings of fish per week, it's important to consider eating other types of seafood. There are many other fish in the sea! Cod, haddock, shrimp, and scallops are great options! They are easy to cook and are sources of quality protein, minerals, and vitamins.
5. What is the healthiest way to cook seafood?
Deep fryers are not a healthy choice for any protein, so swim away from fried fish sticks! Haddock, cod, shrimp, and scallops are fun, fast meals when cooked on the stovetop in a large frying pan, surrounded by great flavors, like curries or fresh herbs and garlic. Baking or broiling fish is a smart choice, according to researchers4; people who ate baked or broiled fish had larger gray matter than those who didn't eat fish. Interestingly, benefits to the brain were not based on the omega-3 content of the fish, but on simply eating the fish. It appears the nutritional value of protein in fish catching more attention.
6. How do I eat more fish on a budget?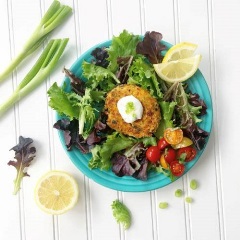 Let's untangle the net of misinformation: seafood is an affordable protein choice that's super easy to add to meals. Many forms of seafood are actually more affordable than land-based animal proteins. Sustainably caught canned tuna is about $2.50 per serving, similar to a serving of ground beef. Feed an entire family of 4 with a bag of sustainably-caught frozen cod fillets for about $8. That's inexpensive compared to some less sustainable animal-based proteins you could buy. Yes, fresh seafood can be tricky to find in rural, land-based areas, but canned or frozen seafood is a tasty, convenient option that's ready for you in the freezer or cupboard, whenever you want it. Canned seafood is the easiest - it requires no cooking at all! Fill a wrap for a quick lunch by simply mixing canned tuna, salmon, shrimp, or crab with finely chopped vegetables. Transform your grilled cheese into a delicious tuna melt with a can of tuna. For a spicy twist for lunch, create a Brilliant Curry Tuna Collard Green Wrap in less than 5 minutes. Got more time? In about 10 minutes, you could be sticking your fork into these delectable sustainable Salmon Cakes – perfect for lunch, or dinner. Create a high-protein, belly-satisfying dinner with sustainably caught scallops from your freezer in about 20 minutes – this is a favorite at our house: Sustainable Seafood Pesto Pasta.
7. Is canned and frozen seafood healthy?
Packed with nutritious protein, and easy to transform into delicious meals, there are so many reasons why you should eat more fish, whether fresh, frozen, or canned. Freezing and canning seafood doesn't reduce its nutritional content because it's processed at its peak freshness. This ensures the seafood not only remains fresh, but it also seals in the nutritional value so it remains as healthy as it was when first caught.


My 'fin'al thoughts:
Seafood is easy to make, affordable, and can be good for the planet - just be sure to check for the MSC blue fish label on seafood products for an option that's good for you and the ocean too!
Visit Allison's blog for more information on healthy eating and to enjoy fun, inspiring recipes.


References: