Weeknights can be a hectic time to get healthy and nutritious meals on the table, especially as families get ready for the back-to-school season and working professionals start returning to physical office spaces. It's even harder to take the time to ensure that the food you're feeding your family is ocean-friendly.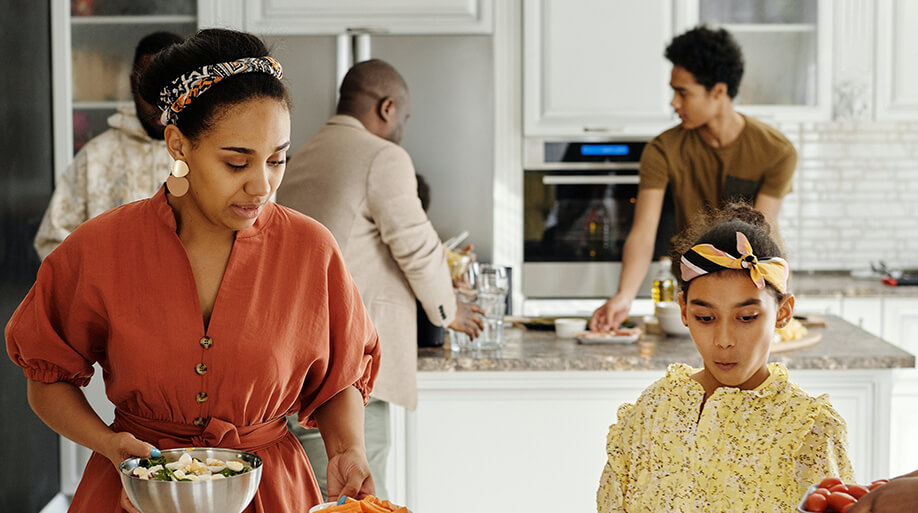 Family setting the Table for Dinner, August de Richelieu via Pexels.com
Luckily, we've got you covered. We're sharing six of our favorite recipes that can easily be made with three of the top MSC-certified sustainable seafood options you can find at your local grocery store. Each recipe is a great way to enjoy a #FeelGoodSeafood meal without the extra delivery fees or exhausting prep time.
Looking to feed your mind, too? Our Healthy Oceans Too cookbook marries delicious recipes with fun facts about species-specific behaviors, reproduction rates, and other interesting facts that MSC-certified fisheries must follow to meet sustainable fishing practices. Dive in and start a conversation about your #FeelGoodSeafood at the dinner table.
Healthy Salmon Recipes
Nutritionist Carlie Saint Laurent Beaucejour, MS, RD developed a healthy, omega-3 powered take on Manhattan chowder that switches out clams for sockeye salmon—adding a complex and deep flavor profile to a family favorite. The recipe is made even easier by using canned salmon.
Follow the directions for two servings or multiply the meal to feed a hungry family!
Baked Harissa Salmon over Lemon Quinoa & Kale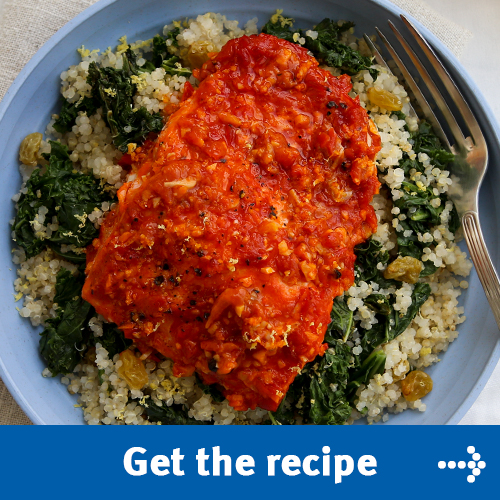 Harissa, a spicy North African paste made of several seasonings, is the perfect addition to make a simple dish really pop! Health and wellness blogger Carrie Walder, MSC, RD, brings us an oven-baked harissa salmon filet that packs in quality protein, healthy fats, and fiber—all under 35 minutes. Add a light side of lemon quinoa and kale to let those bright, aromatic flavors shine through.
Healthy Tuna Recipes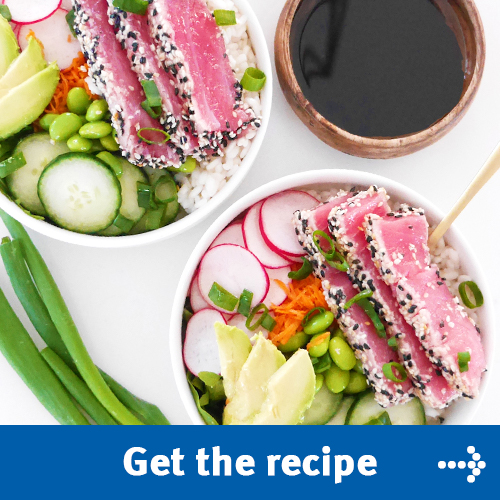 Ahi tuna steaks pack a deep, meaty flavor and can serve as a perfect lower-calorie substitute for those looking for a more filling, protein-dense option. Registered dietician Mia Syn, MS, RD developed a bowl that can come together in about 30 minutes, but keep you full for hours!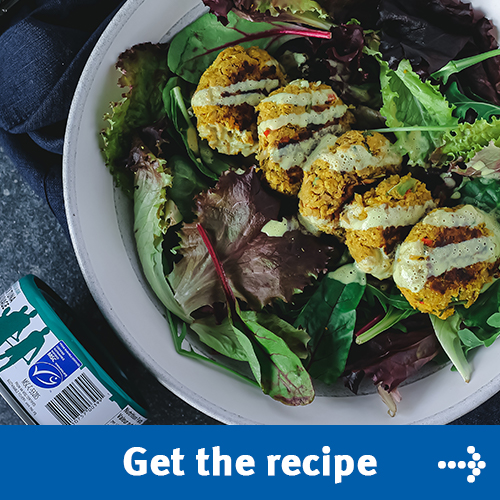 Recipe developer Danielle Thyme created these Mango Curry Tuna Cakes using cost-effective canned tuna that are the perfect blend of spicy and sweet—all wrapped up in a delicious nutrient-dense snack! Serve them as an appetizer or on top of mixed greens, using the cashew sauce as a dressing to create an easy and filling main course salad.
Healthy Shrimp Recipes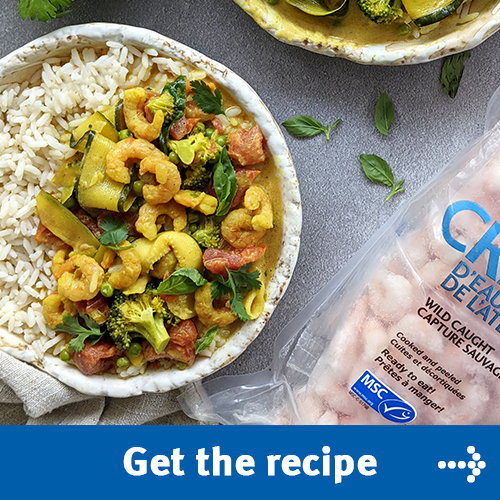 The coconut in this dish provides a deep savory and sweet flavor that pairs beautifully with a fresh garnish consisting of cilantro, lime, and basil. Recipe developer Natalia Maurer developed this coconut curry with shrimp as a simple and delicious way to bring nutrition to the table without your kids realizing it!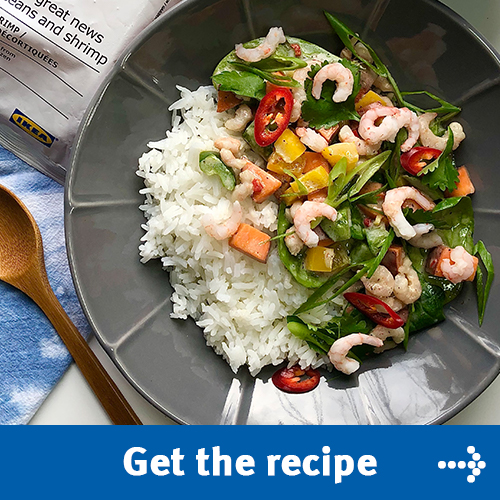 Filipino chef Woldy Reyes takes a magical approach to modernizing and retaining the purest qualities of his favorite cultural dishes from growing up. This take on a savory Filipino dish has you simmer hipon (shrimp) with nutrient-dense vegetables, like sweet potato and spinach, in a creamy miso coconut milk – it will have you and everyone else at the table coming back for seconds.
What you put on your plate impacts the planet, so be sure to always check for the MSC blue fish label when shopping. Join the sustainable seafood movement by following @MSCbluefish and post your recipes using #FeelGoodSeafood.