This World Cup season, we spoke to a professional soccer player and her team's dietitian about the role of seafood in athlete performance and health, as well as the importance of safeguarding seafood so it's available for many championships to come!

Australia and New Zealand are home to some incredible marine life. From the Great Barrier Reef to the world's first
certified sustainable orange roughy fishery
, it's quite the destination for marine enthusiasts and now…soccer lovers?
For the next 20 days, athletes at the absolute top of their game are down under, vying for their chance to win the
World Cup
. While the players may not have time to visit the coast or a fishery, there's a good chance that many of them are still benefiting from the ocean by turning to seafood to help meet their nutrition targets.
Seafood is a top choice to fuel professional athletes
Here's why seafood is a high-quality, nutrient dense ingredient well-suited for athletes:
Seafood is filled with omega-3s which are great for circulation and heart rate. In fact, studies have shown that cyclists who consume fish oil have a more efficient heart rate and utilization of oxygen!
Research shows that 2+ grams daily of EPA and DHA (both components of omega-3s) reduce exercise-induced muscle soreness and help to increase recovery.
Vitamin B12, also found in high quantities in seafood, has been shown to reduce fatigue and boost muscle endurance.
Another vitamin found in seafood—Vitamin D— and helps protect against injury.
According to nutrition scientists, fish protein has a great mix of the amino acids the body needs to build muscle and to create hormones needed to direct digestion and the immune system—which is vital for athletes on an intensive training schedule where there can be limited time between eating, activity, and rest.
Female soccer players who consume more DHA are found to have better reaction time and decision-making!
Meet Meaghan, professional soccer player and aspiring seafoodie
Meaghan Nally, a defender for the Portland Thorns, has been playing soccer since she was roughly the same size as a soccer ball – I know because she's my (not so little) cousin! And she's a huge foodie who can't decide what her favorite seafood option is, which puts her in good company with folks like me at the MSC.

Now, she's in her fourth season as a professional athlete with the National Women's Soccer League where taking care of her body and eating well-balanced meals is literally part of the job.
We chatted about what it's like to take care of your body professionally – and it turns out there are a few critical basics when it comes to meal planning.
"As an athlete, all I really care about in my diet is that I'm getting enough food and that I balance protein and carbs, and then I try to get as many fruits and vegetables as I can," Meaghan shared.
"When we're on the road, our meals are planned for us. And the night before a game – match day minus one – that's an important meal. The protein offered for those is almost always chicken or salmon."
The Thorns' Team Dietitian Shares 'Why Seafood?'
When helping athletes meal plan, Anthony DiCicco, Team Nutritionist for the Portland Thorns, reminds us that protein is a critical place to start.
"Protein is vital for performance in so many ways, and seafood is an excellent, often lean, source of protein," Anthony said. "You've probably heard this in high school biology, but protein is the building block for life. Therefore, eating a sufficient amount of protein promotes muscle rebuilding and growth."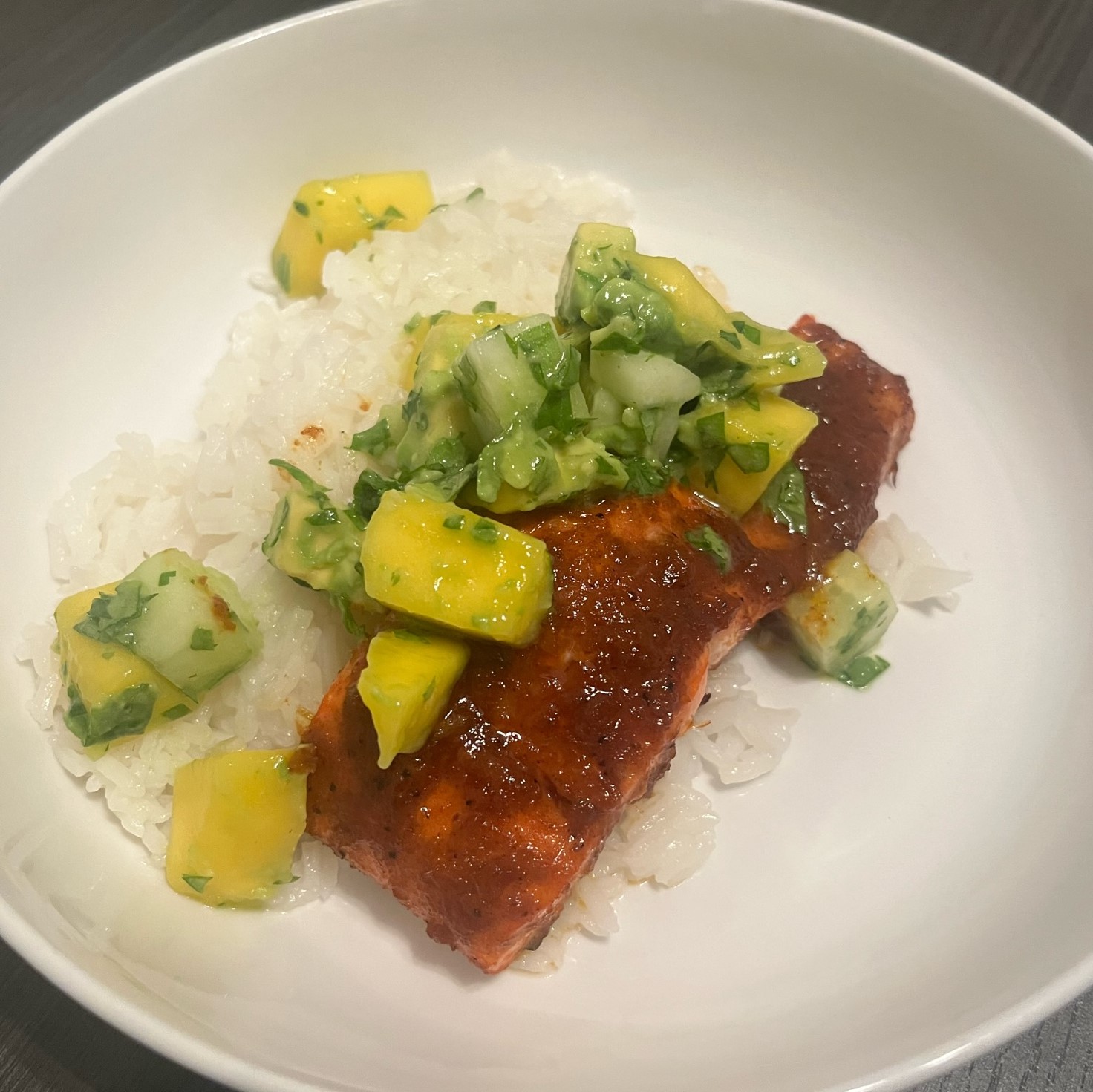 Both of which are critical for soccer players and other athletes who push their bodies to their physical limit regularly. Especially at a tournament that only happens every four years, like the World Cup!
One of the reasons salmon is often on the menu is that it's an incredibly
nutritious fish
. It's one of the best sources of omega-3 fatty acids which benefit brain, heart, and eye health. It's also a high-quality protein that helps protect bone health and prevent muscle loss, among other benefits. It also has many other nutrients like B-vitamins, potassium, and selenium.
And there are so many more options! According to Anthony "cold water fatty fish like salmon, tuna, sardines, and mackerel are all good sources of omega-3 fatty acids, which play a role in regulating inflammation in the body."
And, when you buy certified sustainable seafood with the MSC blue fish label, you can feel good knowing you're taking care of your body and the planet.
Anthony shared that for a Thorns player with chronic nerve pain, taking fish oil pills have a big impact on how her body feels.
(Did you know there's MSC certified fish oil? Learn more!)
Meaghan on incorporating more seafood into her meal planning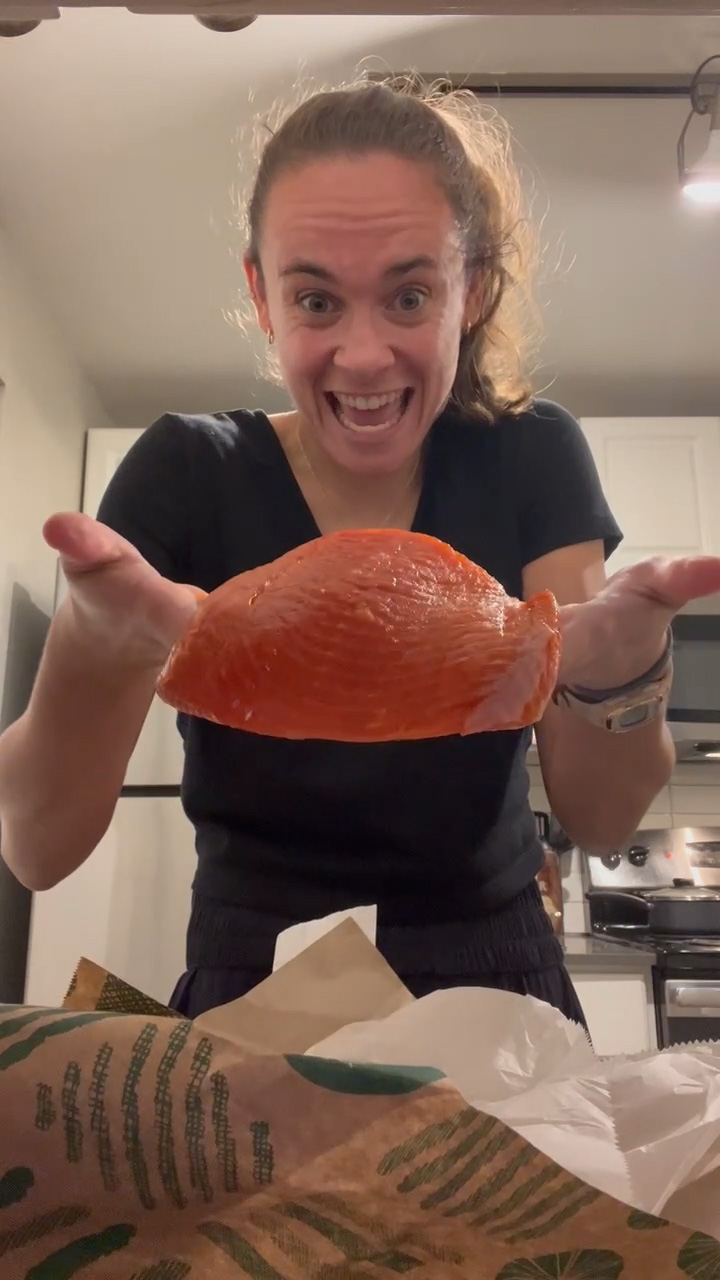 I asked Meaghan what factors influencer her decision to make seafood at home or not, and she shared that it's mostly about following Anthony's guidelines, plus convenience and confidence. She shared seafood is one of her favorite things to eat when she goes out to dinner, but she loves to recreate some of those dishes at home.
And she's not alone! According to MSC's 2022 GlobeScan consumer survey, only 54% of people in the US eat seafood regularly at home. This means there are clear barriers to enjoying fish at home and many are missing out on this healthy protein option.
"But it's so easy to make at home, I don't know why it scares me!" she admits. So, to keep each other accountable, we made a pact to share at least one seafood recipe a month that we'll both try.
This will help us both branch out in the kitchen and get more confident with cooking different types of seafood.
The first recipe on our list was chosen by Meaghan – a salmon mango rice bowl! Check it out.

Next on the list (to use up any leftover mango!) will be this this
smoked salmon mango salad
– it takes 10 minutes and it's so delicious. Bonus: using smoked salmon means you don't need to preheat an oven or fire up the stove!
With two more weeks of the World Cup still ahead of us, we hope these athletes are getting plenty of seafood to help them perform and recover better!