Wild halloumi and pomegranate octopus salad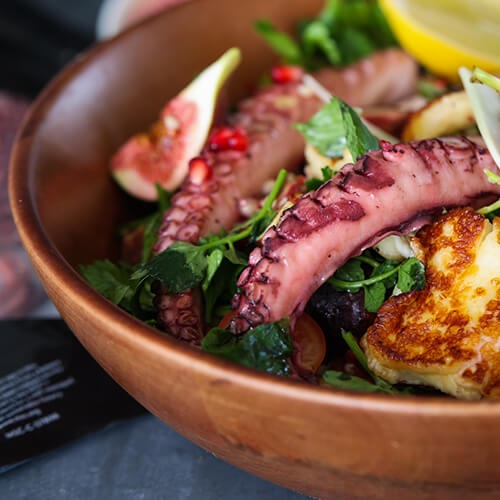 1 teaspoon sea salt
1 tablespoon fennel seeds
1 bay leaf
1 sprig rosemary
1 sprig thyme
1 lemon, sliced
400 g (14 oz) MSC certified sustainable octopus tentacles, tenderized or pre-cooked if short of time
65 g (2 oz/1 ⁄3 cup) toasted buckwheat
40 g (1. oz/1 ⁄3 cup) cooked quinoa
1 tablespoon currants or golden currents
1 tablespoon cranberries
⅓ cup picked mint leaves
1 tablespoon finely shaved fennel
1 teaspoon pomegranate seeds
4 tablespoons olive oil
finely grated zest and juice 1 lemon
200 g (7 oz) halloumi

Place 2 litres (2 quarts/8 cups) of water in a large saucepan. Add salt, fennel seeds, bay leaf, rosemary, thyme and lemon and bring to a boil then simmer for 25 minutes.
Add the octopus and simmer for 25–30 minutes, until tender. Remove from the pan and set aside to rest.
In a mixing bowl, combine the buckwheat, quinoa, currants, fennel, mint, pomegranate, 3 tablespoons olive oil, lemon zest and juice.
Heat the remaining oil in a frying pan over medium heat. Cook halloumi for 2–3 minutes, stirring and turning occasionally, until golden brown. While still warm add to the salad and toss well.
Arrange the salad on a large board or plate and top with the octopus tentacles.
NOTE: To tenderize the octopus, beat with a meat mallet or rolling pin for 15 minutes.
World Ocean Day
Take the plunge and make a pledge TODAY to protect this vast, irreplaceable ecosystem that sustains us all!