For quite some time, the traditional foods we consider "pantry items" – goods we keep on hand in the freezer, refrigerator, and cabinet – have been in need of a big update. For the sake of both human health and ocean health, it is time for us to get a taste of the sea. No longer should seafood be reserved solely for special occasions; it deserves to be on our tables in regular, day-to-day meals.
If we stock our fridge, freezer, and cabinets with sustainable seafoods (and kelps!), we can expand our palates, boost our health, and protect the planet at the same time. When we have fish and shellfish on hand, they're ready for us to cook anytime and day of the week!
Why Build a Sea Pantry?
Seafoods are nutritional powerhouses! They provide a variety of vitamins, minerals, and omega-3 fatty acids, which are important nutrients for supporting heart health. According to the Food and Drug Administration (FDA) and Environmental Protection Agency (EPA), eating seafood is especially important for pregnant or nursing women and moms with young children, as it also helps brain growth and supports cognitive development.

Foods from the ocean–when sustainably caught or farmed responsibly–also bring benefits to the environment. Sustainably-sourced fish can have a much lower carbon footprint and use less resources than other land-based protein options. Seaweed can sequester carbon, help in combating climate change, and filter sea water, while shellfish like oysters filter 52% of the water they live in on a daily basis!

By keeping an eye out for items marked with labels from the Marine Stewardship Council (MSC) for wild-caught seafood and the Aquaculture Stewardship Council (ASC) for farmed, you'll be able to find seafoods that protect vulnerable ocean resources and minimize the impact on the environment.

That's seafood that's good for you and the ocean, too.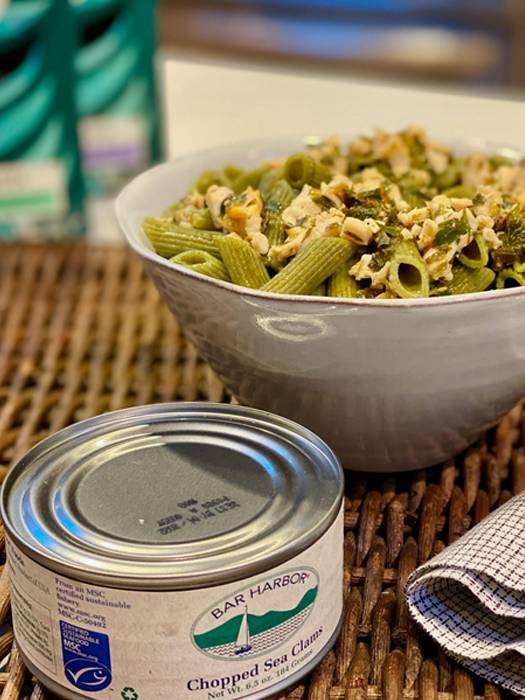 The Refrigerated Sea Pantry
When it comes to the fridge, smoked fish, seafood dips, and pasteurized crab (which can be added to dishes like warmed corn tortillas, omelets, and soups or served with crackers or bread) are fantastic options. If you're buying fresh fish, always look for the MSC blue fish label displayed on the fish case or ask your fishmonger to know it is certified sustainable.

I love buying fresh tuna steaks and making these "Yellowfin Tuna Skewers with Curry Sauce and Maple Glazed Butternut Squash."


The Frozen Sea Pantry
"Frozen" is the new "fresh"! Improvements in freezing technology over the last few decades means that quality is preserved for optimal freshness. While you might be concerned that frozen seafood would be compromised in terms of flavor or texture, these days, it's almost impossible to tell the difference. Plus, seafood is frozen at its peak, so you get optimal "freshness."

Try this "Provencal Style Cod with Cannellini Beans and Tomato"–the cod is from Norway's Arctic Cod Fishery, which is MSC certified! Just look for the MSC blue fish to know it's good for you and the planet.


The Shelf Stable Sea Pantry
Tinned, canned, pouched, and jarred seafoods are amazing staples. Starring simply the fish or shellfish in their pure form (perhaps with olive oil or salt), they're delicious and ready at a moment's notice. I like to keep canned clams and dry seaweed pasta in the pantry for a "Seaweed Pasta with White Clam Sauce & Parsley" dinner that can be on the table in minutes.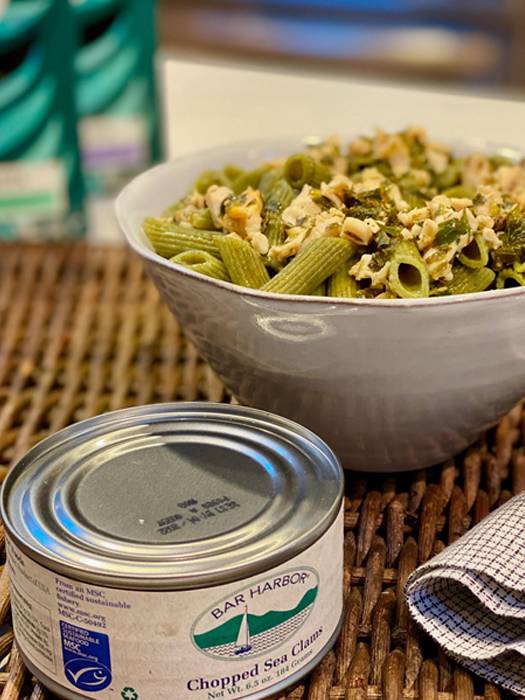 For more inspiration, take a look at my Sea Pantry list–a treasure trove of beautiful, sustainable seafoods and kelps that support healthy living and healthy oceans!