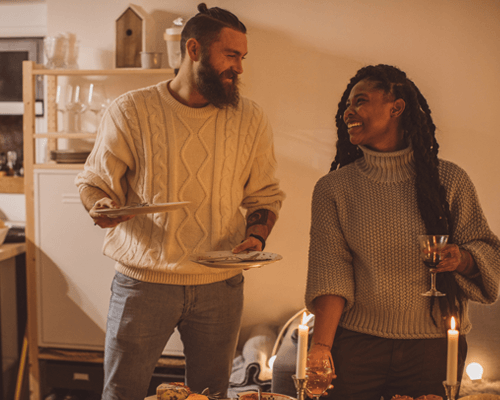 Image Credit: iStock.com/svetikd
The holidays often conjure up images of roasted turkey, chicken, or even ham. While seafood is often associated with celebrations, it seldom takes center stage on many of our tables. If you've ever wanted to elevate your dinner party game with sumptuous seafood but maybe shied away because it seems too complicated and/or difficult to prepare, welcome to our guide on how to host the ultimate dinner party...the #FeelGoodSeafood way!
Here, we offer a variety of foolproof and (mostly) fast appetizers, entrées, and even desserts (you'll have to trust us, on this one) that incorporate seafood options you can find as MSC certified sustainable so your festive holiday meals are kinder on the planet. Each recipe has straightforward directions and uses many ingredients you may already have in your cupboard or fridge. These dishes will leave you thinking f*sh, that was easy! And your dinner guests saying f*sh, that was good!
Step 1: Easy, Quick, and Cozy Appetizers
What is the most wonderful is also the busiest time of the year. With family visiting, kids being off from school, vacation planning, holiday shopping, and more, finding the time to serve up a three-course meal can feel nearly impossible – which is why we are here to help!
Welcome to the first portion of our guide where we offer elegant and simple seafood appetizers that are done and dusted in 25 minutes or less. Choose one, two, or create a spread of all three recipes on a beautifully set holiday table your guests can feast their eyes, and tastebuds on.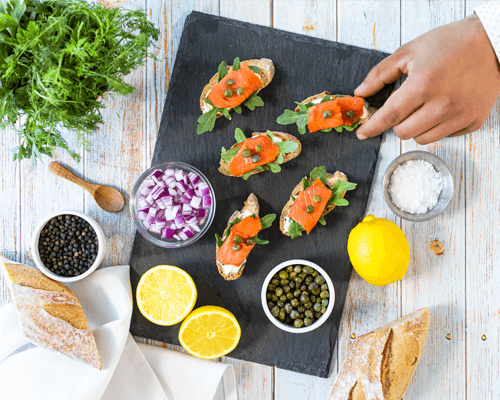 Start your evening off with
Smoked Wild Salmon Crostinis with Herbed Cream Cheese and Pickles Shallots
. The acidity of the pickled shallots complements the smoky flavor of the salmon, while the cream cheese adds a layer of comfort that melts in your mouth. Plus, simply thawing and unwrapping a gorgeous pack of MSC certified sustainable smoked salmon couldn't be easier!
Have holiday brunches planned in your packed schedule? We recommend doubling up on the smoked wild salmon and pickled shallots so that you can quickly whip up some tasty eggs Benny. Poach the eggs, swap the crostinis for English muffins and the herbed cream cheese for hollandaise. Your guests will wonder how you pulled off such a scrumptious breakfast in under 20 minutes.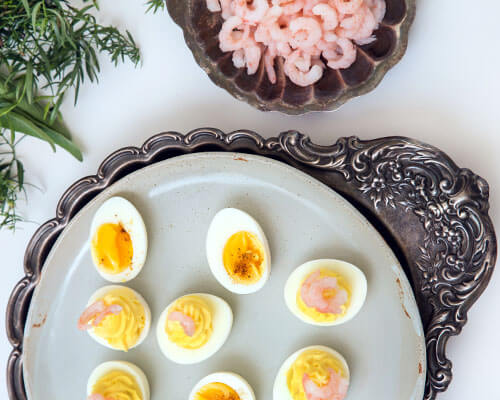 If you choose to serve up these
Shrimply
Delicious Deviled Eggs
you're sure to be on everyone's nice list. Our Canadian Chef Ambassador Charlotte Langley puts a spin on classic deviled eggs by incorporating MSC certified sustainable cold water shrimp that add a touch of sweetness to elevate the flavor. This recipe takes around 15 minutes to prepare and makes 24 servings - perfect for when your guests help themselves to seconds...or thirds!
NEW TWIST: The next time you're tempted to buy a shrimp ring, consider opting instead for the daintiest and prettiest cold water shrimp skewers. Wild, cold water shrimp are often (and unfairly) overlooked for the bigger, usually farmed varietals. When allowed to shine on their own, their delicate flavor and beautiful texture can truly be a revelation. String 3 or 4 cold water shrimp onto cocktail skewers and serve with cocktail sauce or garlic aioli for dipping.
If a holiday brunch is on your agenda, you can even use a skewer to top a Caesar or Bloody Mary. Enjoy, responsibly!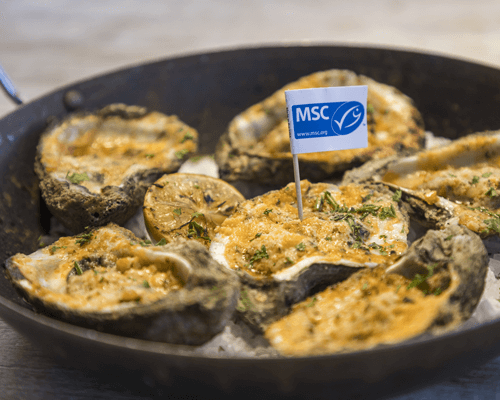 Our final suggestion is Grilled Parmesan Garlic Oysters, a recipe from Chef Joe Cervantez. Chef adds warmth to this dish by grilling the oysters in homemade garlic butter, complete with lemon and shallots. If you've previously tried raw oysters and weren't a fan, we still recommend you give this recipe a shot. These oysters are not for slurping back on a patio in the summer, they are for the soul, when you want to cozy up in the winter. This recipe requires a bit more time (you'll prep four oysters in 10 minutes), but every bite will warmly welcome your guests...and keep them distracted while you prepare the entrées!
Entrées for Every Cook...Seriously, Every Cook
Many of us can be intimidated by preparing seafood which could contribute to the fact that in the US, Americans consume over 1303% ( Reference 1, Reference 2) more land-based meat than seafood, and in Canada this number is over 921% ( Reference 3, Reference 4). Join us through the next three dishes as we continue to break down the misconception that seafood is difficult to cook with recipe suggestions for home chefs of all experience levels.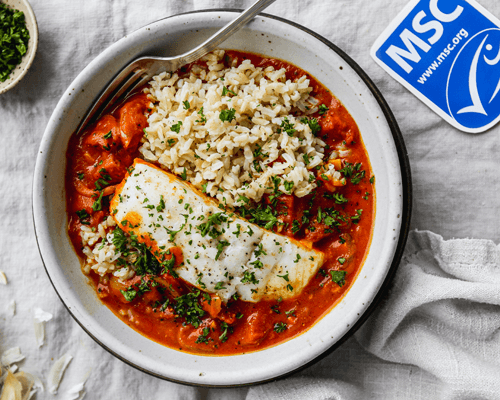 Image Credit: Carrie Walder (@WalderWellness)

The first entrée option is a crowd and cook-pleaser. Why? -Because it's creamy, bursting with flavor, and requires only 10 minutes of preparation and a single pan. Registered Dietician, Carrie Walder's Poached Halibut with Tomato Coconut Curry is gluten-free and dairy-free, but packed full of flavor. There's a reason this recipe has acquired over 20,000 Instagram likes! It's an ideal choice for anyone who wants to serve up a homemade meal while also finding the time to mingle with their guests.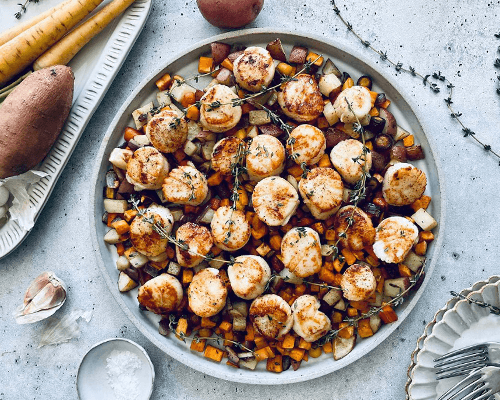 If you're looking for something both festive and seasonal, look no further than these
Pan Seared Sea Scallops with Roasted Root Vegetable Hash
from culinary creator, Peter Som. This recipe is a warm hug served directly on your plate. The MSC certified sustainable scallops are buttery and bright while the root vegetables are hearty and comforting. The best part about this recipe is that, unlike a more traditional holiday turkey, you won't leave the dinner table feeling sleepy and lethargic.
Like oysters, scallops also offer more than their delicious flavor. This species is also a filter feeder that helps improve water quality by filtering out phytoplankton and other small organisms.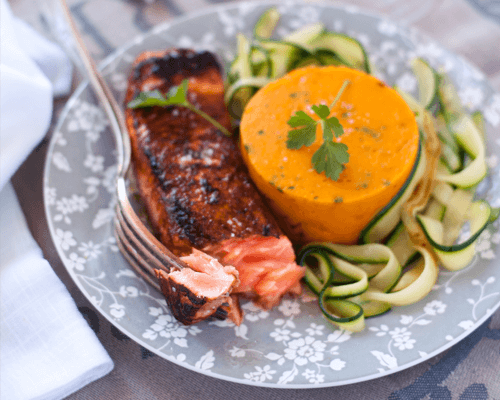 Image Credit: Marie Chioca
If you're feeling a little more adventurous in the kitchen, you might opt for the last entrée on our menu:
Wild Pan Fried Salmon with Pumpkin Puree
. Since
salmon is one of the top species consumed by Americans
, this dish is a safe bet whether your dinner guests are sea-foodies or sea-newbies. This recipe requires a little more time, 55 minutes, but the payoff is entirely worth it. The honey and soy marinade is the perfect balance of sweet and salty, while the silky pumpkin puree and slightly crunchy zucchini ribbons round out the dish with just the right contrasting textures. This recipe is perfect for those extra special dinner parties where you are looking to truly blow your guests out of the water.
You and Our Ocean Dessert the Best!
Dessert and seafood may not seem like they belong in the same sentence; however, "Ireland's Leading Seaweed Expert", Prannie Rhatigan's recipe for
Chocolate Fondant with Nori
will rip waves through your vocabulary. This chocolatey treat is the perfect combination of salty and sweet, and pairs beautifully with a scoop of ice cream. And while health isn't typically top of mind when dreaming of a sumptuous dessert,
Seaweed has been linked to supporting immune function
, which makes this recipe a win-win during the colder months.
Invite the ocean to your dinner parties by incorporating certified sustainable
#FeelGoodSeafood
into your festive dishes. When you look for the MSC blue fish label on product packaging, you can rest assured that your seafood is certified sustainable – it's good for you and our ocean too! If you recreate any of the recipes in this guide, please be sure to snap a picture and tag us on Instagram (
@MSCBlueFish
) as we would love to see what you serve up.
The MSC fishes you a happy holiday season!