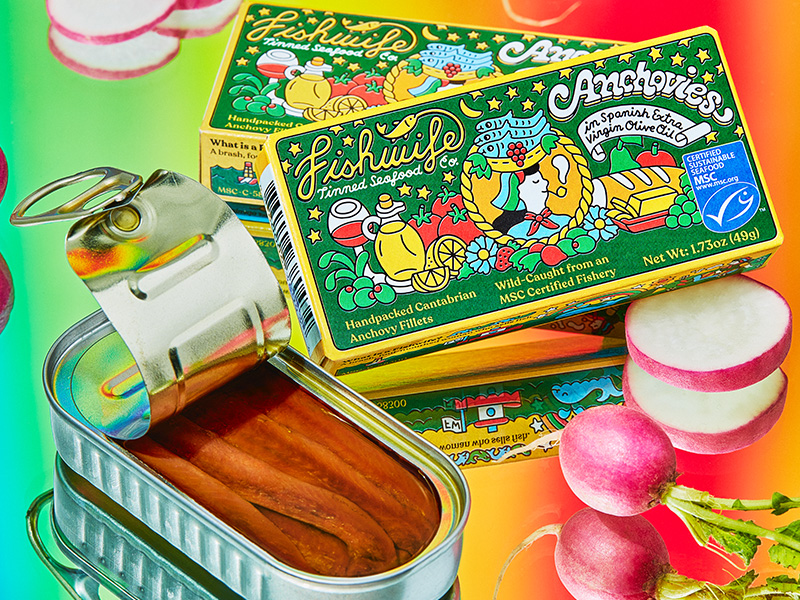 Credit: Stephanie Gonot (photographer) and Amy Taylor (stylist)
New product featuring MSC certified sustainable Spanish anchovies is available now for purchase at Whole Foods Market stores across the U.S.
Tinned fish company, Fishwife Tinned Seafood Co., has met the Marine Stewardship Council's (MSC) standard for sustainable supply chain sourcing and today launched a new product –Anchovies in Spanish Extra Virgin Olive Oil–featuring MSC-certified anchovies. The new product features anchovies caught in Spain's Cantabrian Sea by the artisanal purse seine fishing method in Europe's first and only MSC-certified sustainable anchovy fishery. The seine fishing method occurs in open water and is considered an efficient form of fishing. The new product will feature the MSC blue fish logo on packaging, demonstrating to consumers at point of purchase that the fish is sustainably wild caught.
Fishwife, a darling in the growing tinned fish category, stands out for its colorful and playful branding and smoked seafood options. Now, Fishwife can also be associated with sustainable seafood sourcing. To achieve certification and carry the MSC blue fish label on packaging, Fishwife's supply chain underwent a thorough audit by a third-party auditor.
MSC Chain of Custody certification provides assurance that blue fish labeled products come from a certified sustainable fishery and that supply chain, from fishery to eco-labelled product, is Chain of Custody certified to verify the source thereby cutting down on seafood fraud or mislabeling.
Becca Milstein, Cofounder and CEO said, "We've practiced sustainable sourcing at Fishwife since day one, but as the brand moves from a predominately online presence to grocery store shelves, we needed to find a way to quickly and effectively communicate our sustainability values to our customers. The MSC certification signifies the highest standard of seafood sustainability for wild fisheries, and presents a clear signal to consumers that they can trust Fishwife's sourcing decisions."
Third party validation is increasingly important to shoppers, with data from a recent consumer insights survey showing that 69 percent of North Americans demand that retailers' and brands' claims about sustainability be clearly labeled and third-party verified (GlobeScan, 2022). The same survey showed that climate change is a growing concern for North Americans, particularly how their food choices impact the planet. Knowing how to identify seafood that is certified sustainable can help shoppers make smart choices for them and the planet. This launch is also timely as tinned fish continues to see growing sales following COVID-19 and among growing concerns of inflation; global market size of the tinned fish category is expected to reach USD $50.47 billion by 2030, expanding at a compound annual growth rate of 5.9 percent (Grandview Research, 2022).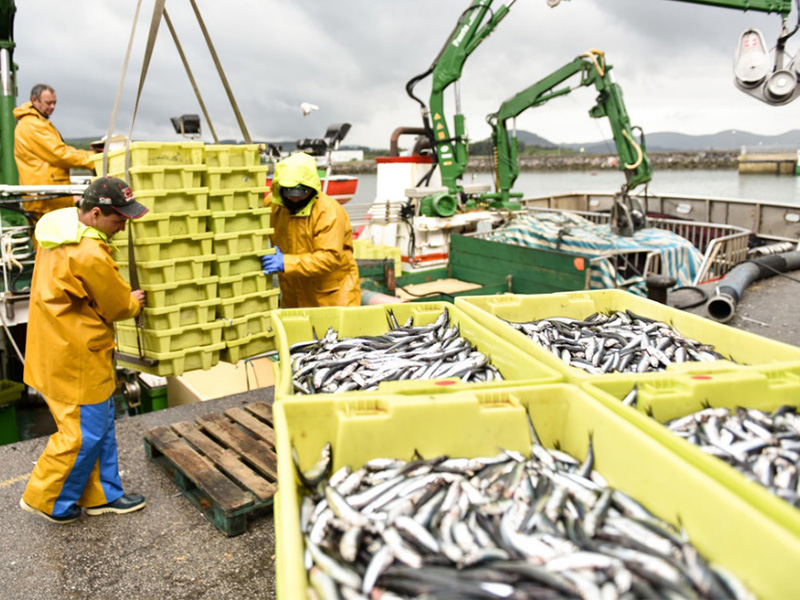 Credit: Marine Stewardship Council
The Cantabrian anchovy fishery, where Fishwife's anchovies are sourced from, saw the need to protect anchovy populations after the fishery collapsed with a drastic decline in population numbers in the early 2000s. The fishery was closed for five years, but local fishermen's guilds saw the importance of sustainable fishing to strengthen anchovy populations and pursued MSC certification. In 2015, it became the first anchovy fishery in Europe to achieve MSC certification, the world's most recognized sustainable seafood certification and labeling program. Importantly, protecting the fishery also meant protecting the livelihoods of the anchovy fishermen, and the many women employed in the fishery who prepare and pack anchovies and mend broken nets.
"Anchovies should be a staple of every American kitchen — they pack a big punch on flavor and nutrition and MSC certified fisheries provide a sustainable choice," said Nicole Condon, US Program Director at the Marine Stewardship Council. "With consumers increasingly concerned about the impact of their food choices on the planet, MSC certified anchovies can be an easy solution. Fishwife's beautiful packaging stands out on shelves and is helping to bring more sustainable, nutritious and easy tinned options to the U.S. We are proud to have them as a dedicated partner."
The MSC certified Fishwife anchovies are now available in the tinned fish aisle at Whole Foods Markets around the country, and on the Fishwife website.