What is the MSC Fisheries Standard?
The MSC Fisheries Standard is used to assess if a fishery is well-managed and sustainable.
To become MSC certified, fisheries voluntarily apply to be assessed against the Standard. It's open to all fisheries that catch marine or freshwater organisms in the wild. This includes most types of fish and shellfish.
Fisheries are assessed by an independent, third-party auditor (not the MSC) and must prove they meet all three principles of the MSC Fishery Standard.
Sustainable fish stocks. There are enough fish left in the sea to reproduce so fishing can continue indefinitely.
Minimal environmental impact. Fishing operations must be carefully managed to maintain the structure, productivity, function, and diversity of the marine ecosystem.
Effective management. The fishery must comply with relevant laws and have a management system that allows it to respond quickly to changes in the status quo.
The Standard reflects the most up-to-date understanding of internationally accepted fisheries science and management. It is reviewed and developed in consultation with scientists, the fishing industry, and conservation groups.
When a fishery is successfully certified to the Fisheries Standard, its certified catch can then be sold with the MSC blue fish label.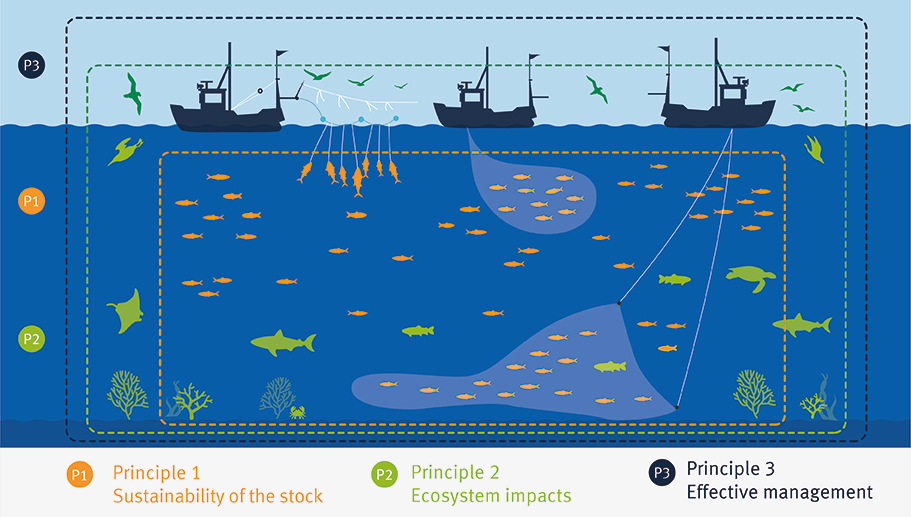 The certification bodies measure
the fisheries' performance using 28 indicators
for each of
these principles
.
Fisheries Certification Process
The Fisheries Certification Process (FCP) accompanies the Fisheries Standard. It is the instruction manual for assessors and sets out how the MSC Fisheries Standard should be interpreted during assessments.
These requirements make sure that the Standard is applied equally to fisheries around the world, regardless of species, fishing method, environment, or size. They also give certification bodies the guidance and support they need to assess a fishery against the Fisheries Standard.
The Fishery Certification Process is regularly reviewed and updated to reflect scientific best practices.