Coconut & ginger marinated prawns with sweet and sour mango salsa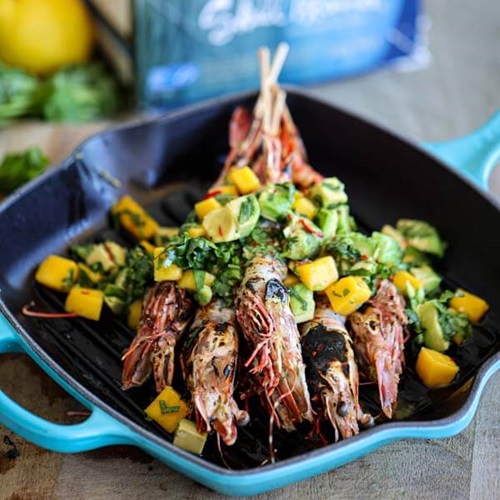 600g MSC-certified Tiger prawns, peeled, de-veined, heads removed (look for the blue fish tick label)
1 cup tequila or coconut water
1 tsp minced ginger
Juice and rind of 3 limes
¼ tsp minced chilli
1 clove minced garlic
Mango - on the greener side
Chili, minced
Coriander, chopped fine
1 tbsp honey
2 Lime juice & rind
Smashed avocado
Tortillas or Gem lettuce leaves

My coconut water marinated prawns with sweet and sour mango salsa are a celebration of light, fresh, zingy summer flavours designed to be whipped up in the sun with your friends and family.
Preheat your BBQ on high heat.
To make the marinade, mix 1 cup (250ml) of tequila or coconut water, ginger, lime juice/rind, chilli and garlic in a bowl or container. Add prawns, then cover and marinate in the fridge for 10-20 minutes.
While the prawns are marinating, make your salsa. Mix the mango, chilli, coriander, honey, lime juice, rind, salt, and pepper in a bowl.
Skewer each prawn lengthways down the spine towards the tail, then barbecue for 2 minutes on each side until golden.
Serve on a tray with a side of smashed avocado, your sweet and sour salsa, and a mix of little gem lettuce leaves (for gluten-free) or tortillas.
Peel the difference this Christmas
From sustainable wild-caught seafood to tasty chefs' recipes, this Christmas, peel the difference by choosing MSC-certified sustainable seafood.