Salmon and quinoa mason jar salad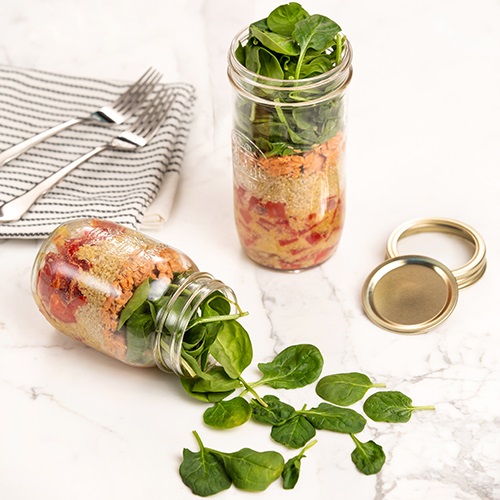 1/2 cup extra virgin olive oil
1/3 cup freshly squeezed orange juice
1/4 cup fresh lemon juice
1/4 tsp salt
1/2 tsp coarse black pepper
4 medium cloves garlic, crushed
1 tbsp mustard
1 cup quinoa, washed thoroughly
2 cups water
2 red bell peppers, washed and cut into small cubes
2 cans MSC certified salmon, drained
5 cups spinach
5 medium mason jars (16 oz or 500ml)
Dressing
Combine the oil, orange and lemon juice, salt, pepper, garlic and mustard. Whisk until well mixed and slightly thickened.
Salad
In medium saucepan add water and quinoa. Bring to a boil, then reduce to medium heat, cover with a lid and simmer for 10-12 minutes. Quinoa should absorb all the liquid. Allow to cool and set aside.
Using a fork, gently mash the salmon, ensuring all the small bones are crushed
Divide the dressing among 5 jars.
Divide the rest of the ingredients equally among the 5 jars, layering one at a time and starting with the red peppers, quinoa, salmon and spinach.
Put lids on jars and store in fridge for up to 3 days.
Pour salad onto a plate and enjoy.
Recipes developed by Shahzadi Devje RD, CDE, MSc. Registered Dietitian & Owner of Desi~licious RD Inc. (www.shahzadidevje.com)
Shahzadi Devje
Shahzadi is an award winning media Dietitian and food blogger in Toronto. An entrepreneur, TV show nutrition expert and community activist, Shahzadi is fuelled by her passion to help others improve their health, and be on top of their game. Watching her father's struggle with diabetes, as well as her own battle with PCOS, inspired Shahzadi to study Nutrition at a young age, and pursue further studies in the field. She holds a Masters degree in Public Health Nutrition, with a focus on global health, as well as a Masters diploma in Nutrition and Dietetics, in UK. Combined with her love of cooking, writing and photography, Shahzadi created Desi~licious RD Inc. to help others recognize that healthy doesn't have to be hard. In an age where people are bombarded with conflicting nutrition messages, Shahzadi is determined to bring clarity and simplicity through her blogging and media features.