by Erika Feller, Regional Director, MSC Americas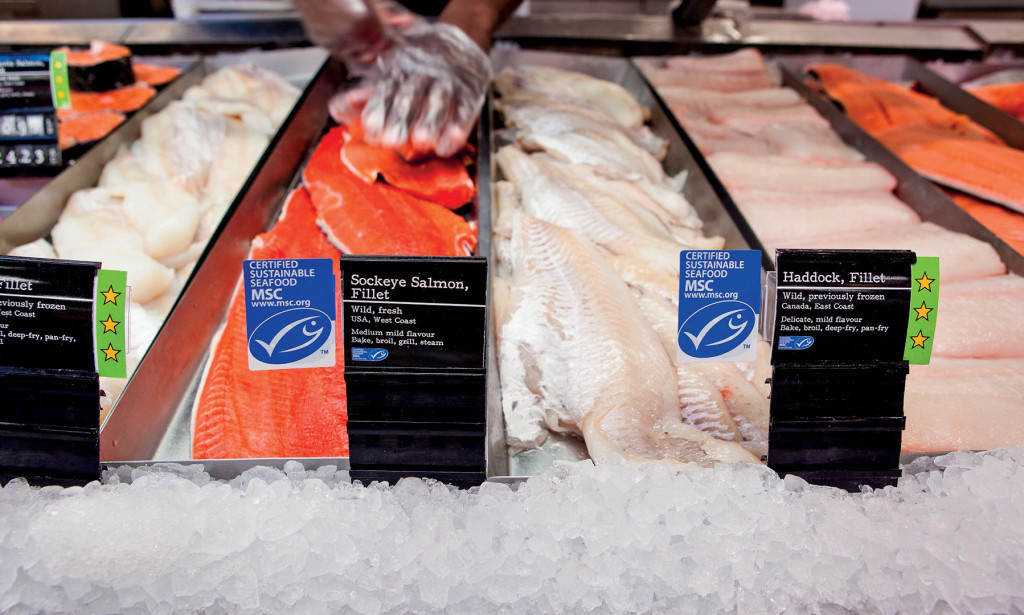 When you go to a store or restaurant there are so many factors you may take into consideration, whether consciously or not, when deciding what to buy: Will my family enjoy this? Is it healthy? How much does it cost? What you may not think about as immediately or at all is: Where did this product come from? Who harvested it? Did they receive a fair wage? What is its environmental impact?
These questions help us fully appreciate the true cost of food and are essential considerations in making the U.S. food supply more nourishing, equitable, and sustainable. This is important for all of us who eat, as well as for decision makers, advocates, and corporations whose actions influence our choices. The ocean supplies a big part of what's on American dinner plates, in our lunch boxes, and served on cafeteria trays – and we must consider the challenges and opportunities of fish and seafood.
Measuring Our Food System
Understanding the true impact of food production and consumption is a huge undertaking; in July 2021, the Rockefeller Foundation attempted just that, and released the "The True Cost of Food" report. The report found that although Americans spend an estimated $1.1 trillion on food annually, the true cost is closer to $3.2 trillion per year when impacts on human health, the environment, biodiversity, animal welfare, resilience, livelihoods, and the economy are considered1. These numbers underscore the importance of the choices we make, and yet, the analysis looked only at land-based food production. When we factor in the contributions made by the ocean, rivers, and lakes, the equation changes.
Sustainable Fisheries' Impact on Food and Economic Security
Fish and seafood are important contributors to food security, and—when we take care to protect aquatic ecosystems and biodiversity—offer sustainable employment opportunities and contribute to the economies of coastal communities. Seafood is a nutritious and affordable protein packed with many that are key to a healthy diet no matter your age, including vitamins A and D, iron, selenium, zinc, and essential omega-3 fatty acids. More than 3.3 billion people around the world get at least 20% of their daily animal protein intake from fish2.
Healthy fisheries also offer well-paying employment opportunities in coastal communities. Take the West Coast Groundfish fishery, for example. Until the 1990s, fishing communities up and down the West Coast of the U. S. relied on these stocks. Unfortunately, populations of key species of rockfish began to decline and by 2000 the fishery was declared a federal disaster by the National Oceanic and Atmospheric Administration (NOAA)3. After years of careful management, diligent data collection, and cross-sector partnerships among fishermen, conservation groups, and scientists, the depleted species recovered.
Fourteen years—and a lot of hard work—later the fishery achieved MSC certification for its sustainable fishing practices, which confirmed that fish populations were healthy, it was supporting a healthy ecosystem, and it was well managed. West Coast Groundfish is just one great example of a sustainable U.S. fishery that has achieved MSC certification – the vast majority, over 82%, of commercially landed seafood in the U.S. is MSC certified4.
A Climate Friendly Future Filled with Seafood
Sustainable seafood is increasingly important to the food supply and food security for people around the world given global environmental challenges like climate change.
Food production and packaging accounts for about a quarter of greenhouse gas emissions – described in terms of carbon dioxide equivalents (CO2e). According to the "True Cost of Food", impacts on climate change, pollution, and biodiversity make the environmental costs of food production the second most significant driver of those true costs after human health.
But wild seafood can be a low-carbon protein option. One example of this is Alaska pollock, a flaky whitefish found in a wide variety of seafood products from fish sticks, and surimi to the McDonald's Filet-O-Fish® sandwich. A recent study found that emissions needed to produce a single Alaska pollock fillet are 3.77 kilograms of the CO2e per kilogram of protein, which is significantly lower than comparative statistics reported for other protein sources such as chicken, pork, plant-based meat, and beef5. From this perspective, seafood has an important role to play in a more climate friendly future.
Building a Healthy Food System for All
Food system sustainability is critical for US food security, nutrition, and environmental sustainability. We cannot afford to ignore the benefits of US fish and seafood as contributors to a healthy food system. As a food consumer, caring about where your food comes from means caring for our natural resources, the people involved in harvesting it, and the benefits to you and your body as a result of eating it.
Building a healthy food system requires a healthy ocean that depends on healthy, thriving, sustainable fisheries. With the growing global population and the increasing appetite for seafood, the need to ensure fishing is done sustainable is critically important. To truly address the overall costs of the food system and increase the benefits, or "total return", from the food system, we must include food from the ocean, rivers, and lakes.
-----
4. Figures accurate as of July 2021.