Shetland is one of the few places I've visited in the UK that still feels wild. Its undulating hills are sparsely populated, winds are fierce and unrelenting, and coastlines are characterised by soaring, jagged cliffs and craggy rock formations. My time spent travelling around this rural island archipelago with the Marine Stewardship Council (MSC) and the amazing photographer David Loftus for Sustainable Seafood Week 2022, cooking with the seafood that it's famed for, gave me a unique insight into how Shetlanders have come to embrace and be shaped by this exposed but beautiful landscape.

Ocean lives
Lying with the Atlantic Ocean to the east and the rolling North Sea to its west, there are vast, pristine waters surrounding the islands, so I wasn't surprised to find that life on Shetland is deeply connected to the sea as well as the land. Fishing is Shetland's largest industry, before energy and farming, and I was fortunate enough to spend time at the heart of its age-old community for a short but inspiring time.

Scallop fishing is a rich part of Shetland's history. Whalsay – a tiny, peat-covered island with a population of just over 1000 – is the hub of scallop fishing in the region. In 2012, the Shetland scallop fishery, along with brown crab, gained MSC certification, meaning it fishes for shellfish sustainably – working hard to keep stocks healthy and taking measures to safeguard the wider marine environment. It's held this for an incredible ten years now.

In early June, while England was basking in glorious sunshine, I braved the northerly elements with the MSC and journeyed to Whalsay Island to cook freshly landed scallops and get to know the fisherman who have been traversing Shetland's seas for decades. I was keen to explore the history of this small community living in harmony with the ocean, and really get inspired by the culture and rugged scenery of the island for my sustainable scallop supper.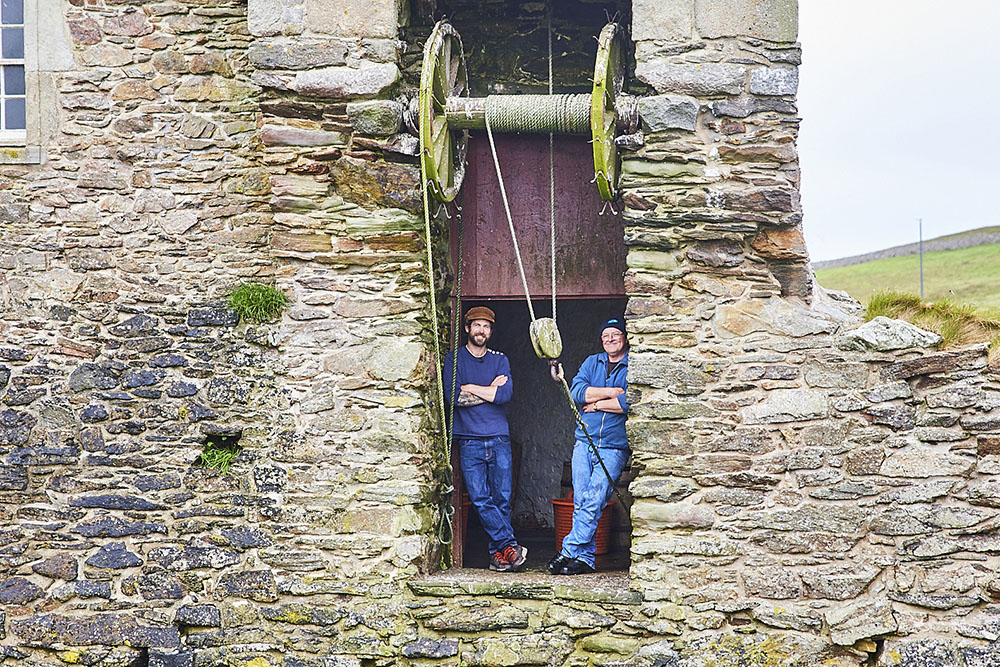 A wild journey
Our day began with an early morning wake-up call at the Old Manse guest house in Clousta, a remote village on Shetland's mainland, and a 30-minute drive to Laxo. From Laxo, we caught the ferry over to Symbister in Whalsay. Despite cloudy skies and cold winds, the water was mesmerisingly clear and we kept a hopeful watch for orcas and dolphins that are often sighted on the ferry pass.

We soon coasted into Symbister, Whalsay's main port and home to its infamous fishing fleet. Greeted by George Andrew, Andy (George's son), Michael and Gary on the dock, a crew of hardy but welcoming scallop fishermen, I watched as they unloaded their catch from their vessels Radiance and Sondra, eyeing up the biggest, tastiest looking shellfish for my days of cooking that lay ahead.

With the catch in tow, I was driven to the Pier House Museum to set up my temporary kitchen for a busy day of cooking, filming and getting to know the locals. Situated just across the bay, this quaint little building was at the centre of the trade of dried and salted fish between Britain and Northern Europe during the medieval period. Made of mossy brown stone and filled with relics of its maritime past, like a rusted anchor and an original wooden winch, the pier house had a rustic charm and certain air of mystery – the perfect setting for fuss-free cooking with ingredients straight from the sea.
"It's such a small community… that [scallop fishing] keeps everything going here. If we can get it sustainable, we actually have a future. It means we can keep life going, if we look after it"
Getting to know the locals
First, though, it was time for a lesson in scallop shucking from an expert. George Andrew met me outside the pier house to show me the most efficient way of removing a scallop from its shell. It was great fun and incredibly helpful to learn some top tips from a lifelong Shetland resident that came from years of fishing experience. We sat and chatted whilst shucking away and the result was a bunch of fresh scallops, prepped and ready for me to cook with. It was a privilege to listen to George Andrew sharing his thoughts on sustainable fishing and appreciation of good food. He's a humble and generous man who made me feel genuinely at home on Whalsay.

With my shucking skills refreshed, and a few local tricks adopted, I was really excited to jump into the cooking. There's nothing quite like working with seafood caught just moments before, and I wanted to serve up something delicious to the fisherman who had worked hard to bring it to shore. As a chef, I absolutely love cooking with scallops. Their texture and sweet flavour bring something so clean and light yet robust and meaty to a dish. I wanted to pair mine with something local, so it had to be a wee bit of haggis.

Preparing and sharing my scallop skipper sandwich with George Andrew was a great chance to chat all things sustainability and understand how the Whalsay community relies on scallop fishing to maintain its way of life.

"It's such a small community… that [scallop fishing] keeps everything going here. If we can get it sustainable, we actually have a future. It means we can keep life going, if we look after it" he told me.

While I was cooking, friendly fishermen and other locals didn't hesitate to dash to their homes and help with supplying crockery and tablecloths for our filming. George Andrew welcomed us into his home so that we could take respite from the chilly winds, and, for those few hours, I didn't feel like a stranger to Shetland at all.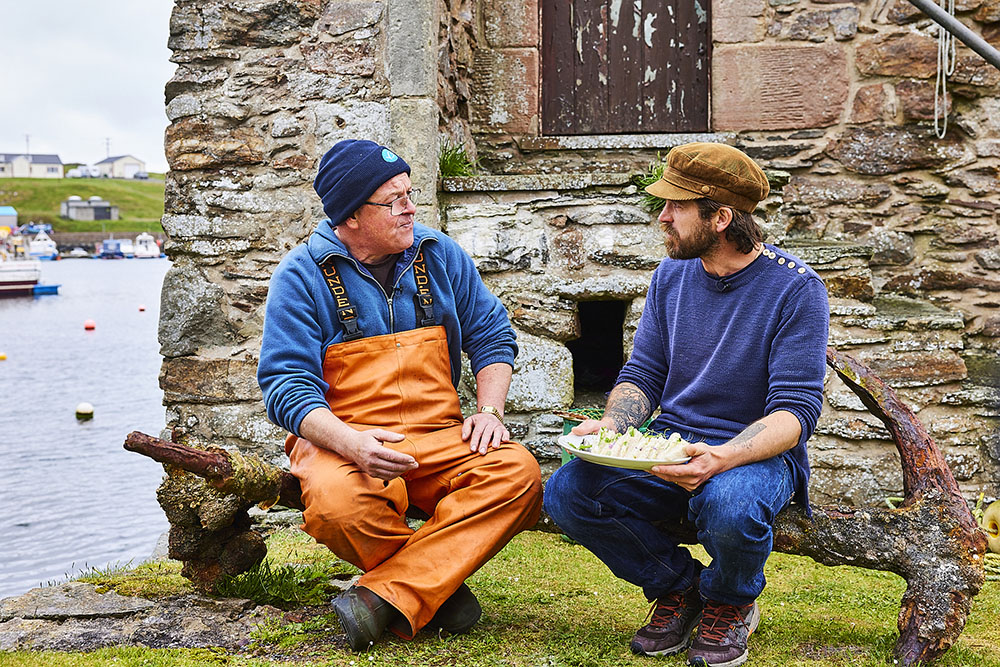 Fishing for the future
What I loved about life on Whalsay was the way the locals had an authentic respect for its surrounding waters and had managed to build a unique, reciprocal relationship with the sea. Sustainable seafood is truly a way of life and an approach to fishing, which was evident in the sense of community, cohesion and respect for the industry on the island.

My time on Whalsay provided a special insight into a rural, hardworking community and I really grasped how the role of science, retail, fishing and sustainable practices are deeply interwoven across Shetland. As a chef, there is nothing more important when cooking food than choosing ingredients that make a positive impact on the environment and taste good – the scallops from Whalsay tick all my boxes.