"To this community in Whalsay the seafood industry is everything," says scallop fisherman George Andrew Williamson. "Engineers, shops, everything, all the jobs are more or less related. If you took the seafood industry out of
Whalsay
, it would be finished."
Whalsay, nicknamed the bonnie isle by visiting fishermen in the 19th century, is a 30-minute ferry ride from Laxo on Mainland, Shetland, Scotland's most northern island archipelago in the North Sea. The population of Whalsay at just over 1000 is close-knit and the fishermen look out for one another.
George Andrew's boat sits in the port of Symbister where large demersal trawlers berth alongside the small colourful vessels of the scallop fishermen, and other, even smaller, crab creelers. It's as great a display as any, of the sustainable fishing community, and of harmony between big and small modes of fishing.
Giving me a tour of his vessel Radiance, George Andrew, 54, explains that you need to be laid back to do his job.
"If you are too highly strung, it's not the job for you," he says. "You also have to be very on the ball and with reasonable reflexes."
George Andrew has been a fisherman for much of his life. He started out in scallops as a teenager with his father before they both went into farmed salmon, and later farmed cod for a number of years, before returning to
wild-caught scallop fishing
. Following his father's retirement, it is George's middle son Andy, 28, who goes out to sea with him.
"My father had to put up with me – now it's my turn!" he laughs.
""To this community in Whalsay the seafood industry is everything.""
Helping each other out
Moored alongside Radiance is Michael Eunson's boat Sondra.

"If I get a big haul, we try and work together and help each other out," Michael explains. "This means if something goes wrong, you have back up."

Michael, 37, started out fishing but then spent several stints in the merchant navy in between years back fishing, before finally returning to scallops for good after buying his father's boat from him.

"I didn't look back from then," he says. "I just deeply enjoyed it."

Fishing for scallops requires "a lot of experience and a lot of luck due to the weather", says Michael and sometimes "sheer determination!"

"We try and work Monday to Friday but if it's poorer weather in the week we go over the weekend or if it's going to be a really nice weekend we work the weekend," Michael explains. "I'll not go if it's wind force nine or more. I will go in a force eight – except if it's easterly, anything over seven is bad on this side of Shetland."

In the summer months, the fishermen leave around 5am so they can be at the fishing ground for the opening time of 6am, in line with regulations from the Shetland Shellfish Management Organisation (SSMO) , but in the winter when it is "dark and miserable" they leave the pier at 6.30am. With a strict curfew of no fishing allowed after 9pm, they haul their scallops just before then to make it to the pier for 10pm.

"We make hay while the sun shines!" Michael laughs.

On a good day, Michael aims for 3000 scallops, which would be 30 bags, although an average day might be about 2,500 a day.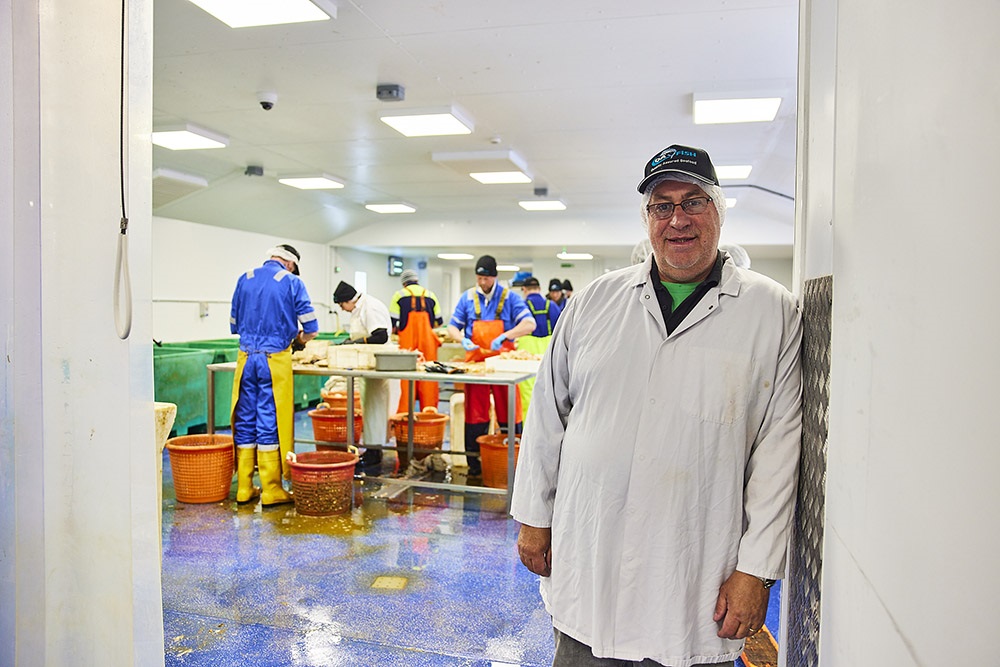 Circular economy
Over at processor QA Fish, in Scalloway, back on Mainland, I watch the scallop shucking, which is the process of taking the scallop meat from the shell and is all still done by hand rather than machinery.

"This maximises the yield," Robert Williamson, the owner of QA Fish and chair of the SSMO explains. "It's difficult to get it done by machine."

The shuckers are dizzyingly fast and we have to shout to be heard over the noise of the shells clacking, like a chorus of Spanish castanets.

"The faster they go the more they earn," Robert explains.

One of the shuckers Frank Curran, who has been doing the job for 15 years, tells me that it can take "three months to get up to speed".

"You have to go through months of having really sore hands and some people can't stick it," he says.

Asked who is the most skilful shucker, Sammy Sjoberg, 67, who has worked in seafood his whole life, first with herring and then scallops, laughs: "I am the best!

"There is a knack for getting it from the shell," Robert says. "You need to be careful you don't damage it."

Robert used to pay to dispose of the shells in landfill. However, after getting the crushed shells analysed he saw they could be a good natural fertiliser for local farmers. With a grant from the European Maritime Fishing Fund (EMFF) to kick start the project, a new recycling venture was borne.

"Now, we can't produce enough of it for demand," he says. "It's a win win for the farmers and us."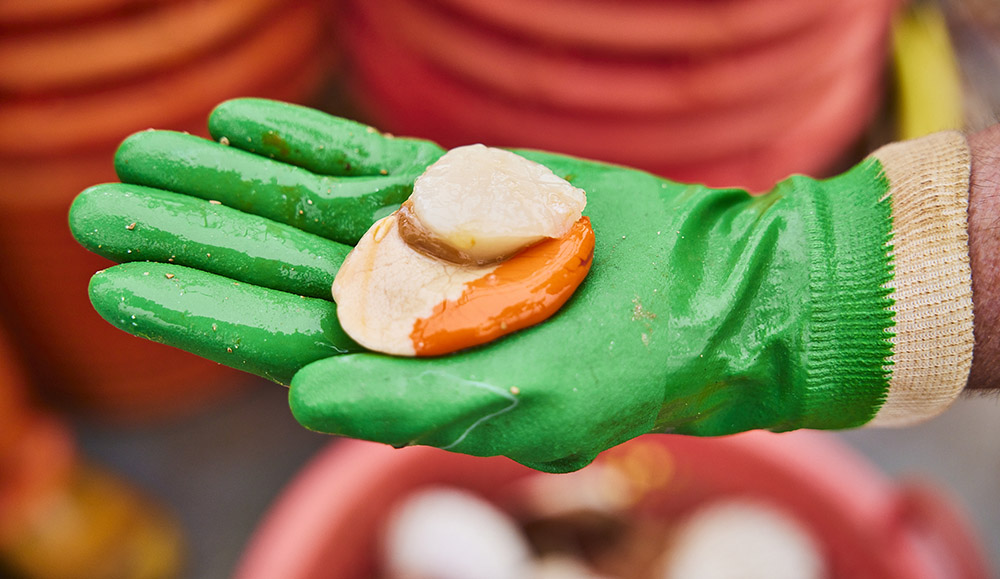 From boom and bust to sustainability
At the Shetland University of Highlands and Islands (UHI) campus, a short drive along the quayside from QA Fish, I meet with Beth Mouat, Joint Head of Marine Sciences and Technology, who has been working with the shellfish industry for seventeen years.

She explains that the SSMO, which manages the shellfish fisheries for Shetland within its six-mile inshore limit and was responsible for the fishery gaining MSC certification in 2012, came about through a desire for more local control. The SSMO was formed in 2000, as a partnership of organisations with a strong and shared interest in the future of Shetland shellfish. It was granted the legal right to manage The Shetland Islands Regulated Fishery Order, which was the first of its kind in Scotland and gave local powers to Shetland over inshore fisheries management.

"To have that local control you need to understand the stocks," Beth says. "So as part of the regulatory order, fishermen have to submit log sheets, and those log sheets come to us to be stored on a bespoke database. We use them to capture trends in fishing activity. And more laterally, environmental information on endangered, threatened and protected species too, so looking at the fishermen's habitat and species impact. So that is one of the streams of data we manage on behalf of the SSMO."

Before the regulatory order was put in place, the inshore fisheries were very boom and bust, Beth explains.
""...Fishermen have to submit log sheets, and those log sheets come to us to be stored on a bespoke database. We use them to capture trends in fishing activity.""
Cultural and social importance
"For fishermen it was challenging for a business to be living in these circumstances," she says. "Whereas now, for the majority of fisheries, they're relatively stable. Scallop fishing has been very stable over the past ten years and the stock is slightly increasing. It's not just about biological sustainability, It's about economic sustainability as well. It's such a hugely important resource locally. Culturally and socially it's really important to Shetlanders too."

Dredging for scallops often gets a bad rep, with some conservationists claiming that dredging can never be sustainable. However, as Beth explains: "There are lots of wonderful marine environment areas in Shetland, but they're not all areas that are fished. And in fact scallop fishing is quite often in areas that are just large areas of sand. Some areas are quite high energy sites, scallops grow well when there is a good flow of water as they are filter feeders.

"So, to my mind, the impact that scallop dredging may have on a place like Shetland may well be minuscule compared to what the winter weather does to some of these sites. So, it all depends on the context."

Back on Whalsay, Michael says MSC certification has made a difference to the fishery in terms of the price.

"It has been steadier, it doesn't fluctuate so much and it's also been a bit higher," he says.

George Andrew, who is busy frying up freshly caught scallops and chips in his kitchen for lunch, agrees.
"During the covid pandemic, we wouldn't have sold the scallops if it wasn't for MSC," he says. "It made a huge difference. It was the difference between getting scallops sold or not getting scallops sold."

George Andrew has experimented with cooking scallops with herbs, chilli sauce, hoisin sauce and piri piri sauce but says the best way to cook them is: "Fry them in butter, keep it simple!"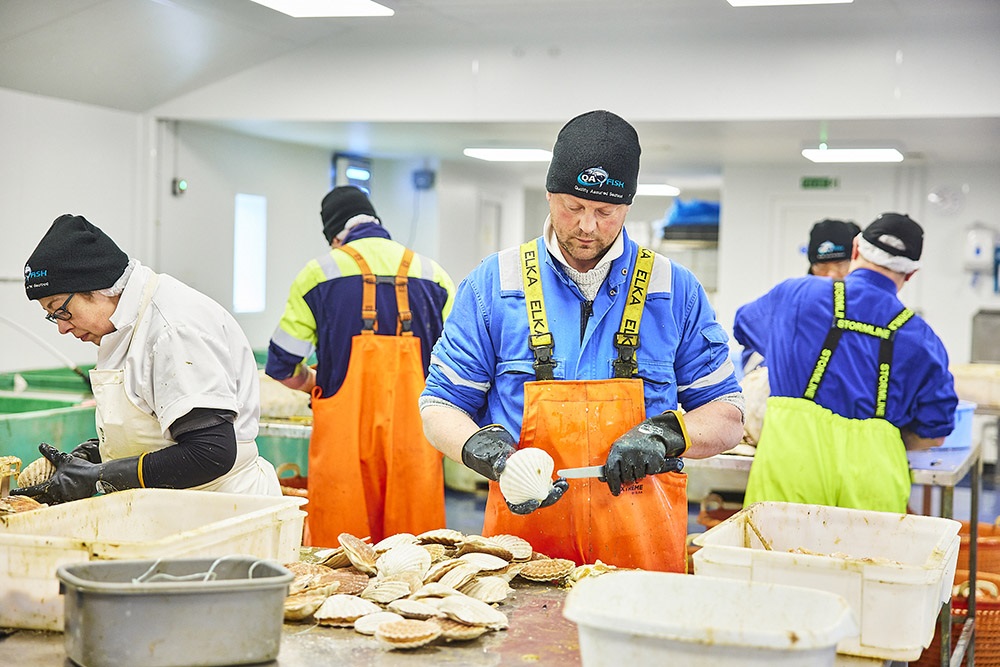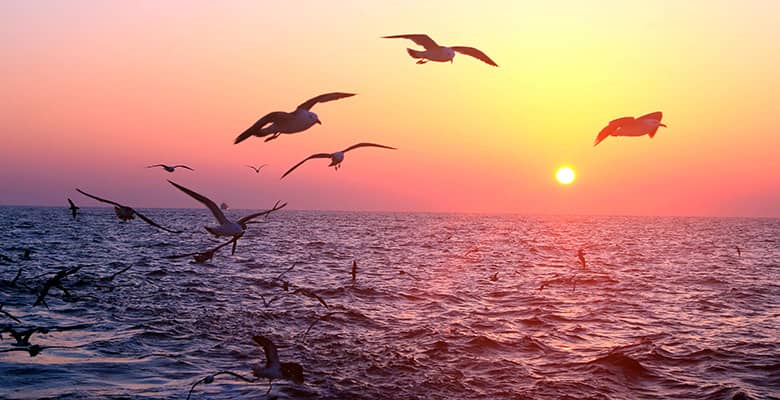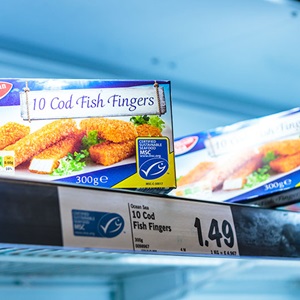 Enjoying sustainable fish doesn't need to cost the ocean, or the earth.