Fabrizio Ferrari is considered one of the leading seafood chefs in Italy. Though he was raised around kitchens, Fabrizio graduated in law before he ever wore a white chef's jacket. Discovering passion for cooking, he chose to "study" by working with famous chefs. These included the two Michelin-starred Renè Redzepi at Noma in Copenhagen and Mauro Uliassi in Senigallia, as well as Enrico Crippa of Piazza Duomo restaurant in Alba (three Michelin stars).
Fabrizio has received awards with his restaurant Al Porticciolo 84 on Lake Como, including a Michelin star in 2006, at the age of just 25.
In 2016, Al Porticciolo 84 was the first restaurant in Italy to obtain MSC Chain of Custody certification. The same year, Fabrizio won the Global Taste of Korea contest and has since been working in the country, appearing on the popular TV show "Korean Food Battle".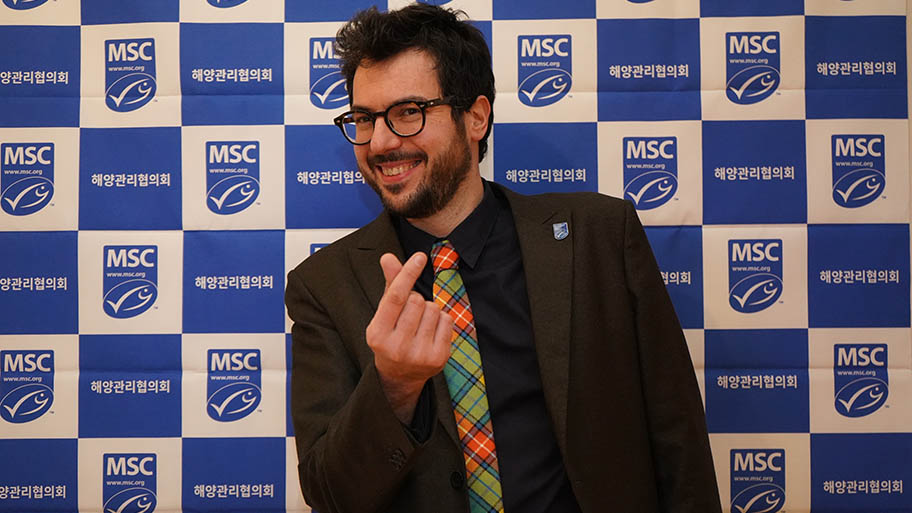 Ocean Ambassador Q&A
When and why did sustainable seafood first become important to you?

About 5 or 6 years ago I started noticing that the availability of some seafood I was used to using for my dishes was getting more and more difficult to find. I started researching and found out some species were overfished. So, I started to change some of the dishes on my menu and I switched to some lesser known but more sustainable fish. In 2015 I heard about the MSC and what they were doing, so I decided to approach those ideas and philosophy...and now I'm proud ambassador!

Have you seen a change in the sourcing of sustainable seafood in the hospitality industry?

Yes, for sure, many restaurants, fish shops and even the wholesale suppliers are now giving value to sourcing and selling sustainable seafood - because consumers are becoming more and more aware. And from a business point of view it can also be a strong marketing point.
Tell us about your childhood experiences with the sea and seafood.

Italy is long and thin and stretches right into the Mediterranean Sea, so most Italians have a special bond with the sea. I did 5 or 6 weeks of "seashore summer life" every year from when I was 1 until I was 18. I always bring with me the joy of being close to the water and the sound and smell of the sea! When I was 5, my parents opened Al Porticciolo 84 and there started my love story with seafood. In the mornings I was always going with my father to buy fish at the big market in my town.

Your restaurant, Al Porticciolo 84, has held a Michelin star since 2006. Is it harder to gain one or keep one?

It is hard to get one but it's even harder to keep it, because once you have one there's the fear that it will be taken away. But it's a very precious gift, and in my case, also shaped my life and career...now after 15 years, I can consider myself satisfied. We will see what happens over here in Korea, who knows?

What's your favourite thing to do outside of work, do you spend a lot of time on nearby Lake Como?

During my free time I like to enjoy life with my partner, Anna, and my lovely daughter, Frida. We like to spend time in nature and the area where we live is perfect for that, there's the lake and a lot of mountains all around.

When you're too tired to cook at home, what do you prepare?

Pasta al pesto! That's easy and delicious!

What's your favourite drink to serve alongside seafood?

Well, there are two things that I enjoy with seafood and they are very different! One is a cold and high quality italian sparkling white wine, something from the Franciacorta area, the other one is...green tea! Yes, that pairs very well with seafood, I like the contrast of temperature and the clean taste of the tannins.

Would your last ever meal be Italian or Korean...or something else?

This is difficult! Some years ago I would have just said pizza (a well done Italian-style one) but now, I would say…a pizza with some korean banchan on the side!

If you could be a Michelin starred dish which one would you be?

Recipes are very personal so it would be one of my dishes: "Brighton Crab".
Brown crab meat, Worcester sauce emulsion, English mature cheddar, crunchy pork rinds and red mustard salad. Crab is probably my favorite crustacean.
Fish or crustaceans?

Both! I couldn't live without either of them - they're part of my life since the very beginning and I really enjoy cooking with them and, of course, eating them. Before coming to Korea, fish and crustaceans along with vegetables and grains have been my main diet.

Any tips for preparing seafood?

Cook it as little as possible!

Fabrizio Ferrari: From gnocchi to kimchi
Fabrizio Ferrari: From gnocchi to kimchi
Meet all the Ocean Ambassadors
From award-winning chefs to adventurers to photographers, the Ocean Ambassadors are united by a love of the oceans and the seafood they bring us. Meet these advocates of healthy, sustainable seas.