Jesper was the first ever Finn to enroll at the Tokyo Sushi Academy. He is now head chef and mentor at the Hanko Sushi chain, overseeing food quality and developing new menus and dishes.
Having worked with sushi for over 10 years now, Jesper has developed a sense of patience as well as appreciation for details and accuracy. He has sought inspiration for making sushi the Nordic way from around the world and especially Japan.
Hanko Sushi became MSC certified in 2019.
Ocean Ambassador Q&A
When and how did sustainability first become important to you? 
I can't really say it was just one moment when I realised it. I think it was the sum of many things. We hade a couple of summer restaurants by the sea in the archipelago. And there it kind of felt weird that we could not even get decent quality local fish. That lead to the question "Why?" So, from that the thoughts started moving more to how wild fish was caught? What is happening to its habitat? And what possibilities do we have to change that? Could it be done differently?
After the season we would sail home and take a few days off. The journey gave me a chance to enjoy the sea and gave me time to reflect on these questions. On the boat I would think what effect my own actions had on the state of the sea. So we always made sure to keep the archipelago as clean as possible as we went on.
That and visiting Tokyo's Tjukiji fish market and hearing stories how many and how big the fish used to be. That was a totally different surrounding, but there it was clear that we can't go on like we have before if we still want to enjoy fish in the future.

What's your favourite sustainable fish dish? 
This is a hard one, but I think I have to say that in its simplicity it's salmon sashimi with just a bit of soy sauce.

When you're too tired to cook at home, what do you eat? 
This has not happened to me yet…

What is your favourite fish dish to cook at home?
If I'm cooking at home, like many Finns, I use a lot of salmon. If you get a good quality fresh fillet, it's really versatile. You can do different things with it and have delicious meals for a few days. Start with some sushi and what's left of the fillet, bits and tail are great for smoking. Then make a smoked salmon pasta and use the rest of the salmon for a smoked salmon and rye bread sandwich the next day. Perfect!

What do you like to drink with a seafood dish?

Sake or white wine.

What advice would you give to someone who is new to cooking seafood?
I would just encourage them to try something! Seafood is a great source of protein and you can find a lot of good sustainable products in the local stores here. Frozen, fresh or canned. And that really gives you quite a range of options. The great thing with seafood is that it's super versatile.

Do you have a favourite kitchen gadget?
Well, it's more an essential tool than a gadget! Has to be my Gyuto Knife, Bettiina! (Yes, it's got a name!)
How do you fill your time during coronavirus lockdown? 
Well, I fed a squirrel in my backyard – beside that its been a lot of cooking and planning for the future. It has been great to have more time to cook at home for the family.
"It is very important to us that our seafood is traceable. Certified product gives me peace of mind and ensures we have sushi to eat in the future."

Hanko Sushi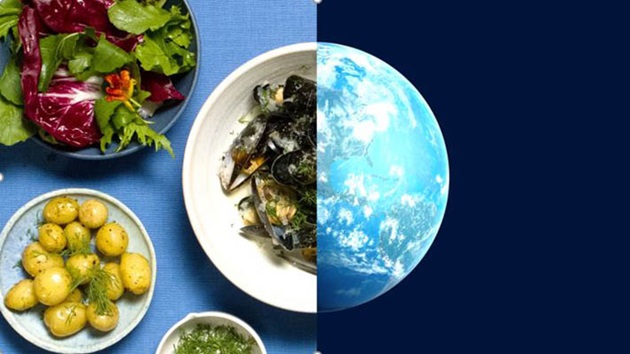 10 amazing chefs from around the world help you cook their delicious, healthy and future-friendly recipes at home. With key species facts to help you make the right seafood choices.
Meet all the Ocean Ambassadors
From award-winning chefs to adventurers to photographers, the Ocean Ambassadors are united by a love of the oceans and the seafood they bring us. Meet these advocates of healthy, sustainable seas.