Tiare Boyes has been fishing off the coast of British Columbia for roughly 18 years. She is an active commercial fish harvester, a marine conservationist, an underwater photographer, an artist, and works as the executive director of the BC Tuna Fishermen's Association under her own consulting company based in Victoria, British Columbia, Canada.
As someone who is passionate about both marine conservation and the fishing industry, Tiare uses her voice to ensure seafood is not left off the table when it comes to global discussions around food security. For the past three years, she has represented her family's fishing company at the Committee on World Food Security as a youth advocate for UN Sustainable Development Goals 2 (Zero Hunger) and 14 (Life Below the Water).
Ocean Ambassador Q & A
What do you love most about the ocean?


I love being immersed in the marine environment, through my fishing work at sea and my photography under the surface. Not only does the ocean provide our planet with oxygen and nutrition, it also provides an endless supply of beauty and, at least for me, a deep sense of wonder.
You grew up in the fishing community. How did that shape the work you do today?

I grew up in the fishing community in Comox Valley; the community I belong to is incredibly strong. Everybody is supportive of the work we do – both at sea and those who have chosen to pursue other careers. At age 12 I had my first paid job as a deckhand on my dad's boat. I went out with another fisherman's daughter and together we made one full deckhand learning to dress fish and working together to lift the heavy halibut into the ice in the hold.
Outside of the fishing community, there was a lot of misunderstanding about what fishing was and who could do it. I was told by the other kids at school "girls can't fish" but, growing up, I had a lot of female role models like my mom who worked on fishing boats. They provided a good example for me that there's room for women to have a strong position in the fishing industry.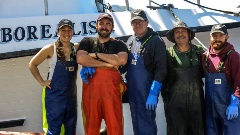 As I grew up, I found there was a different stigma of the fishing industry; students at my university where I was pursuing an undergraduate degree in environmental studies had very negative and misinformed perceptions about what commercial fishing was and how it was operating in BC. When I went back to school to do my Masters in Marine and Coastal Resource Management, I found less extreme misconceptions but I was still the only person who came from a fishing background.
This shaped the work I do today, trying to bridge the gap between fishermen, scientists and the conservation sector. There is so much opportunity for good work to be done in between traditionally polarized issues. Sometimes it feels we have lost the ability to respect people with different opinions but I believe it is imperative we work in the places where we feel uncomfortable because those are the areas where positive change comes from. This is where the work that an ecolabel, such as the Marine Stewardship Council (MSC), is so valuable. The MSC provides a simple and easy way for the general public to make informed, sustainable seafood choices without having to step foot on a fishing boat or wade through the academic studies themselves.
My work in the fishing industry has driven my passion for the marine environment and for my work in food security. If we over-harvest our fish stocks today, we will be unable to meet the nutrition demands of tomorrow; to have a healthy future we need to balance both conservation and harvesting. Working as a fisherman has shaped both my work ethic and my identity. I am very proud of the work we do to feed Canadians and families all over the world.


How does your work in marine conservation compliment your work as a fisherman?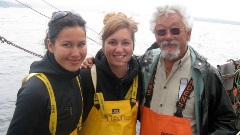 Working both as a fisherman and in conservation is something that I feel goes together very well. I think it's the only option moving forward – to both conserve and sustainably utilize our marine resources so that we can continue to enjoy healthy coastal ecosystems and at the same time employ families and provide all of us with healthy, delicious food well into the future.

Spreading my love of, and fascination with, marine creatures has driven my creativity and my photography career. I hope to show people not only the beauty of our ocean but some of the personalities you can encounter down there. Each species of marine organism has an incredible story to tell, from amazing adaptations, dazzling colors to intricate courtship rituals; there is a lifetime of learning to be found below the waves.
When did sustainable seafood first become important to you?
Sustainable food production has always been a part of how I was raised. When it comes to sustainable seafood, one of the things I learned as I grew up was that not everyone who grew up outside of the fishing community has access to the information to make informed choices about where their seafood comes from. What really helps people make those choices is ecolabels such as the Marine Stewardship Council; you look for that little blue fish and you know that the choice you're making by buying that product means that it's coming from a sustainable fishery, the fish are being treated well, the marine environment is being treated well, the fishermen have labor standards and you can feel good about that choice.
Why do you think seafood should be a bigger part of global food security discussions?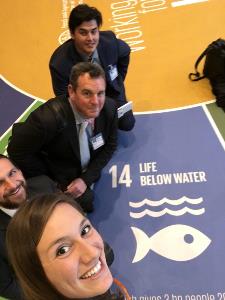 Finding a solution to feed a rapidly growing population over the next 30 years is not an easy task, especially if we put all our eggs in one basket. This is why it's crucial that we expand the conversation from a focus on land-based agriculture and integrate sustainably sourced fish and seafood into the global food security conversation.

Seafood is a vital part of working towards global food security. As the most consumed source of protein world-wide, we shouldn't have to fight to bring it to the table. Fisheries with low fuel requirements can boast some of the lowest carbon emissions for the production of protein. I think when we are developing our policies, they should really take into account the environmental cost of our food production.
You work for MSC certified sustainable fisheries. In your experience, what does it take for a fishery to become certified and what does that mean to you?

The MSC certification is a rigorous, peer reviewed, transparent process which looks into every aspect of a fishery. It is an independent assessment that looks at the fishing practices, the environmental impacts, how the fishermen are being treated, what the status of the fish stock is, what the management surrounding the fish stock is, if these management practices are enforced, and so much more.
Working as a fish harvester in the Wild Pacific Halibut Fishery, the first fishery in BC to achieve MSC certification, brings me a lot pride. There are methods in place that ensure we are held accountable for every single fish we catch – whether released or retained – and we know exactly what was caught and who caught it. We have two video cameras on every vessel that automatically record every single fish that we encounter; so we know exactly how big the fish are, what species they are, and what depths they were caught at – and we use this information to create a database that helps us look at fishing patterns and better understand what's going on in the fishery. Fishermen are able to transfer quota to cover their incidental catch so that no species are over harvested.
I work with the BC Albacore Tuna fishery as well which is also an MSC certified fishery with extremely low impact fishing techniques and extremely low levels of bycatch incidence.
It's really important for me to have a product that I can stand behind and to work with fisheries I believe in.

How has fishing changed over the last 18 years?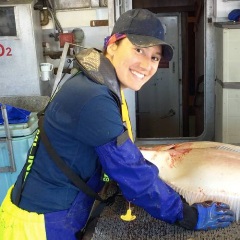 In the BC halibut fishery, the management practices have changed significantly. Before I was involved, it was a derby-style fishery which meant fishermen all went out during a short period of time to catch as many fish as they could; it wasn't good for the fishermen, the marine environment, or for the consumers. We changed to a quota-based fishery, which means our season is open from March to November and there is a specific amount we can harvest. This allows us to take our time and ensure we're fishing safely, that we're not flooding the market with fish all at one time so the product remains best for the consumer, and it's better for the fish stocks since they're not being fished all the same time. The introduction of individual transferable quota was also an important management shift, allowing fishermen to transfer quota between vessels so that non-target species quota are not exceeded.
What changes have you noticed in the seafood market since you became a fisherman?

Right now with all that is going on in our world, it is really easy to feel powerless to make positive change. I know I struggle with that. But when it comes to protecting our renewable marine resources, as the consumer it is important to realize you have a lot of power. Your choices can directly drive positive change in the seafood harvesting industry.
From a fisheries perspective, it can be expensive and time consuming to achieve MSC status, but for the majority of fisheries it is a worthwhile and valuable investment. The fisheries I work with have experienced a positive market influence from our MSC certification as the demand from consumers for transparency and accountability has grown. The MSC provides an independent assessment of fisheries consumers can trust that fishermen are not able to provide for themselves.
Why do you support the MSC?

The Marine Stewardship Council's mission to end overfishing and safeguard sustainable seafood deeply resonates with me; it's what I'm working towards personally. I think it's really important to balance utilizing our sustainable seafood resources and conserving them so that future generations can have the same opportunities we've had.
And finally, what is your favorite sustainable seafood recipe?
It would have to be wild pacific halibut with a creamy dill and caper sauce… or maybe BC wild-caught albacore tuna poke bowls.. or maybe BC spot prawns cooked in garlic butter. It's impossible to choose just one!