Couscous tuna salad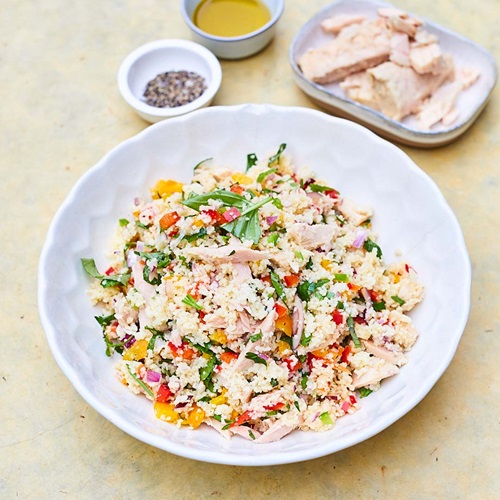 130 g couscous
1 chicken or vegetable stock cube
Olive oil, extra virgin
Juice of ¼ lemon
1 bell pepper, seeds removed, diced
1 red onion, in rings
2 tins MSC certified tuna in olive oil, drained (drained weight 100 grams per tin)
2 stems basil, leaves coarsely chopped
2 stems parsley, leaves coarsely chopped
2 stems mint, leaves coarsely chopped
Salt and pepper
Prepare the couscous according to the instructions on the packaging. Use stock instead of water for more flavour.
Allow the couscous to cool and break up with a fork.
Season with a few spoonfuls of olive oil, lemon juice, salt and pepper.
Add the bell pepper, red onion and tuna to the salad.
Mix in the herbs, reserving some for garnish.
Garnish the salad with the reserved herbs.
Photo credit: David Loftus