Hake 'viskoekies' (fish cakes)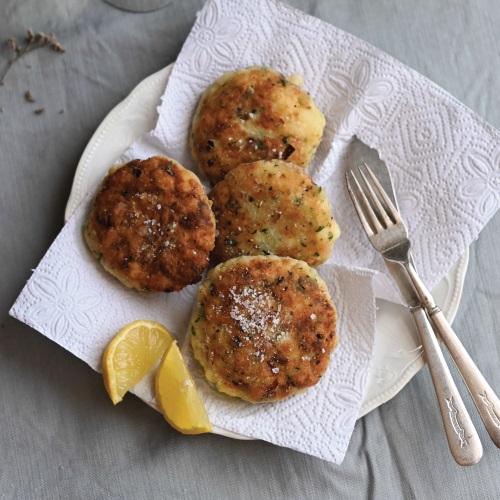 For the fish cakes:
800g MSC certified hake loin fillets
500ml milk
2 cloves of garlic, crushed
1 bay leaf
3-4 large potatoes, peeled, boiled, mashed and chilled
1 egg, beaten
1 small onion or 2 shallots, finely chopped and excess liquid drained
2-3 sprigs of fresh parsley, finely chopped
2-3 sprigs of fresh chives, finely chopped
1 large lemon, zested
250ml plain flour
Coarse ground sea salt and black pepper
Coconut or any other neutrally flavoured oil, for frying
Lemon wedges, for serving
For the tartare sauce:
300ml good quality mayonnaise
4-6 gherkins, finely chopped
7-8 capers, finely chopped
2 sprigs of fresh parsley, finely chopped
2 tablespoons lemon juice
Coarse ground black pepper
Pour the milk into a saucepan and add the hake fillets, garlic and bay leaf.
Poach the fish over medium heat for 8-10 minutes or until flaking. Carefully drain the hake, use a fork to flake the fish and set aside to cool.
In a mixing bowl, combine the flaked hake, the mashed potatoes and beaten egg. Add in the onion, herbs and lemon zest and use a wooden spoon to combine. Season the mixture with salt and pepper.
Line a baking sheet with greaseproof paper and set aside. Using clean hands, take roughly two heaped tablespoons of the mixture and roll into a ball that can fit within the palm of your hand. Flatten the ball into a patty, pressing in the mixture firmly.
Arrange each 'viskoekie' (fish cake) on the baking sheet and once done, refrigerate for 20-30 minutes.
For the tartare sauce, combine all the ingredients together and chill until required.
Remove the fish cakes from the fridge and heat up about 2cm of coconut oil in a large frying pan. Dust each fish cake with seasoned flour and carefully place into the hot oil, taking care not to crowd the pan. The fish cakes should only require a few minutes on each side to brown. Once golden and crispy, drain the fish cakes on kitchen towel and sprinkle over some sea salt.
Serve immediately with the tartare sauce and extra lemon wedges.
Did you know: 'Viskoekie' is the Afrikaans term for fish cake.
Thank you for subscribing to the newsletter. Look out for delicious sustainable seafood recipes in your inbox soon.
Subscribe to the Simply Seafood Newsletter to receive freshly curated sustainable seafood recipes.
YOUR DATA PROTECTION CONSENT