Hake fried in 'bokkom' butter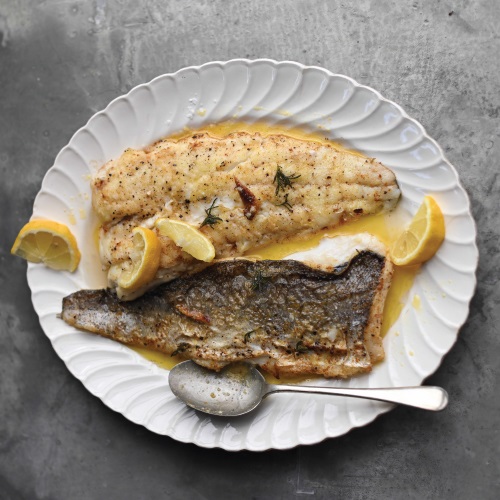 2 large hake fillets, MSC certified
Plain flour
200ml melted butter
1 lemon, juiced
2 cloves of garlic, crushed
1-2 tablespoons of grated 'bokkom' fillet
A sprig of 'kapokbos' (Eriocephalus africanus). Mediterranean rosemary can be used in replacement.
Coarse ground sea salt and black pepper
Season the hake fillets with salt and pepper and dust with a little flour.
Melt the butter in a saucepan until foaming and add in the garlic, lemon juice, grated 'bokkom' and a few 'kapokbos' or rosemary leaves. Stir to combine.
Fry the hake fillets in the 'bokkom' butter for about 3-4 minutes skin-side down before flipping them over and cooking for 1-2 minutes on the other side.
Transfer the hake to a warmed serving dish and serve immediately with extra lemon wedges and a green salad.
Did you know: Bokkoms are little mullet fish, salted and dried along the Cape West coast of Southern Africa.