"The Covid situation showed us who we really are," explains Umar Jamaal, President of the Maldives Seafood Processors and Exporters Association. "The flights stopped, and everyone was laid off from the tourism industry. They returned to fish. There's nothing for us to go back to but fishing."
The Maldives may be best known for honeymoons and luxury huts perched above turquoise waters, but it is the tuna fishery that has sustained the nation for centuries. For the inhabitants of this isolated string of islands in the middle of the Indian Ocean, fishing sustainably is a necessity, not a choice.
2012
Maldives pole and line skipjack tuna fishery achieved first MSC certification
50,000+
tonnes of certified Maldivian skipjack exported annually to Europe and North America.
30,000+
livelihoods supported by the Maldivian tuna industry
Tuna is part of daily life in the Maldives. A fifth of islanders are employed in the industry and tuna forms the basis of many meals. "I think I've had garudhiya [a clear fish broth eaten with rice] every day of my life since childhood until now," Jamaal says, while recounting the many ways tuna is prepared.
Maldivians have fished the same way for generations, catching tuna using the traditional pole and line technique. But while the fishing method hasn't changed, the industry has been transformed from a small-scale, sail-powered operation to a major global exporter of sustainably caught skipjack tuna.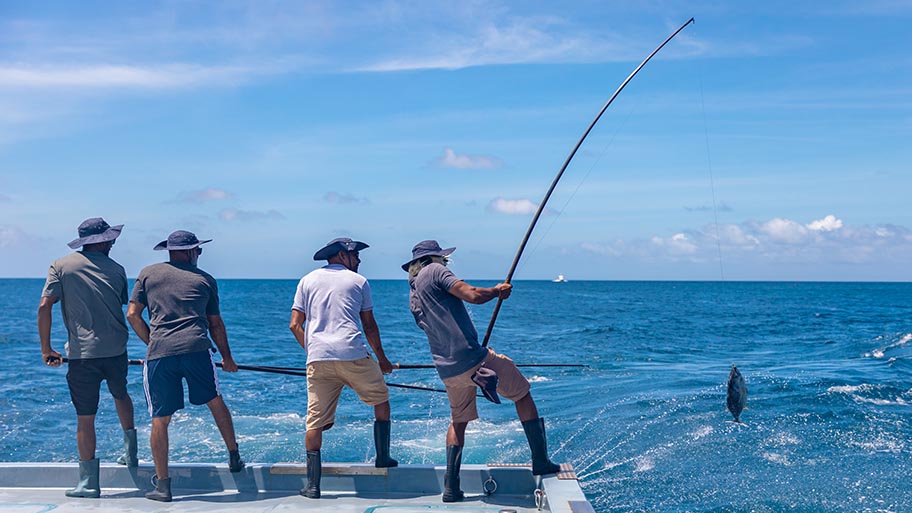 Maldivian fishers catching skipjack tuna using pole and line gear
Evolution of the industry
The Maldivian government took control of the tuna industry in the early 1980s, expanding and mechanising the fleet and developing a processing and canning industry. This followed a turbulent decade which saw the decline of vital exports to Sri Lanka, and a global crash in tuna prices.
The Maldives began selling skipjack tuna to European markets in 2008, but to compete with large-scale processors like Thailand, it was clear the products needed "something special". As consumer demand for sustainably sourced seafood increased, the decision was made to seek certification to the MSC Fisheries Standard.

Progress in sustainability
The pole and line method used by the fishers is highly selective, meaning there are fewer impacts on other marine species. However, the fishery had to consider the wider impacts of all its activities to achieve MSC certification.
"We thought we would have no problem trying to get certified, but it was not that easy at the beginning. There were lots of things we needed to improve that we had not considered – including where our bait came from," Adnan Ali, former Managing Director of tuna processor Horizon, explains.
The fishers rely on using small fish as bait to entice skipjack to the surface – known as 'chumming'. As a condition of MSC certification, the fishery was required to show how it impacts the bait fish populations and develop a plan to manage these stocks sustainably. To achieve this, fishers were trained to gather data on the amount of bait caught, different species and locations, and record interactions with endangered species.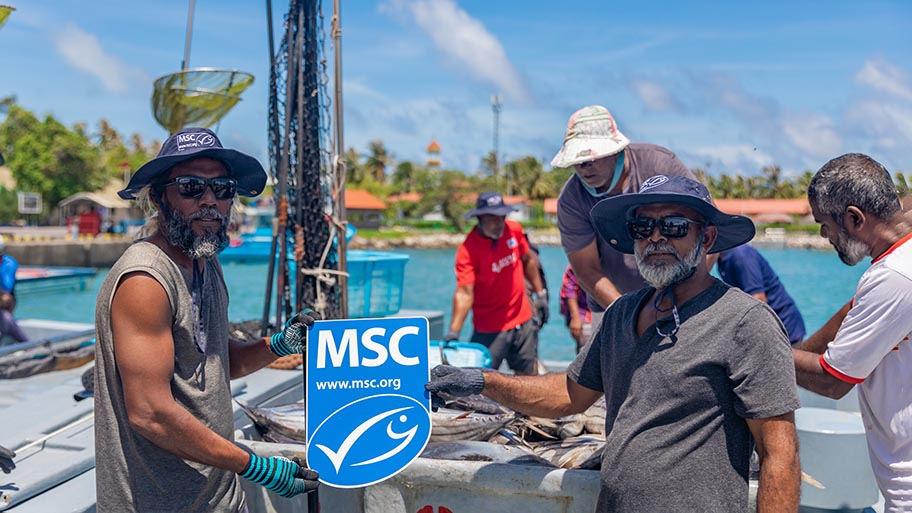 Maldivian skipjack tuna fishers holding an MSC ecolabel
A supermarket staple
Efforts to operate sustainably paid off, and MSC certification opened the door to international retailers and the food service industry. Now certified for over a decade, the Maldives supplies more than 50,000 tonnes of sustainably caught certified skipjack tuna to Europe and North America every year.

"MSC certification has been a blessing – it helps us stand out. Without it we'd just be like everyone else"

Maldives Seafood Processors and Exporters Association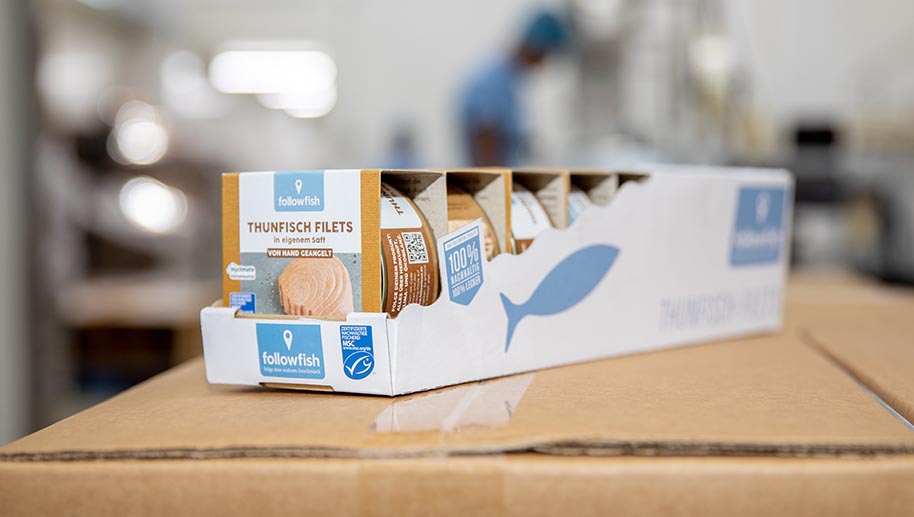 MSC certified skipjack tuna processed and canned in Malé, Maldives
Staying ahead of the curve
Fishing sustainably is a source of national pride, and industry leaders are determined that the Maldives remains at the forefront.
Current efforts are focused on improving monitoring, with funding from the World Bank supporting the adoption of new systems to track vessel location, electronic logbooks, and on-board cameras to verify catch.
"We want to stay ahead of the curve. We want to be the best of the best," Adam Ziyad, Director General of Fisheries at the Maldivian Ministry of Fisheries, Marine Resources and Agriculture, says. "We want to be ready for when real-time reporting is essential - and it appears we are heading in that direction."
Unsurprisingly, the Maldives has gained a reputation as a leader in sustainable tuna fishing and is called upon to share knowledge and support other fishing nations. This includes a new $64 million project, funded by the World Bank, to improve sustainable fishing and strengthen collaboration across the Southwest Indian Ocean.
"Tuna are highly migratory, so we cannot claim it is our stock," Ali explains. "Unless we all agree, it's very difficult to sustain the stock. The Maldives can't do it alone."

While the stock is currently a healthy size, the catch limit for skipjack has been exceeded every year since 2018, when it was first adopted.

Climate change challenges
The Maldives also faces an existential threat from climate change, with the majority of islands less than one metre above sea level. But it's not only the land that's at risk; rising ocean temperatures are impacting the marine ecosystem.
"Our bait fishery is nested within a coral reef – and coral bleaching now happens almost every year. If the reef environment is damaged beyond a reversible point, it would have a serious impact on our tuna fishery," explains Ziyad.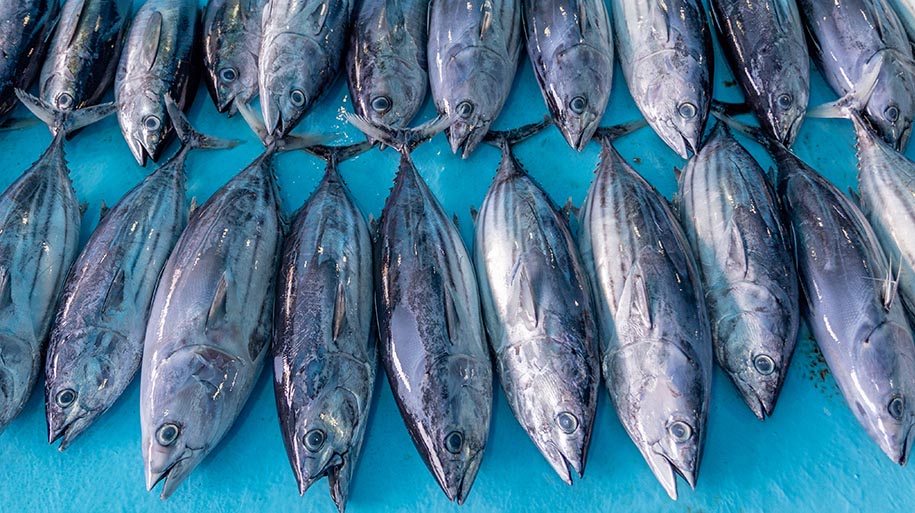 Freshly caught skipjack tuna at a market in Malé, Maldives
Hope for the future
Despite these challenges, there remains hope throughout the Maldives. "There is a bright future for sustainable fishing in the Maldives!" exclaims Nazeeha Ahmed, General Manager at the state-owned Maldives Industrial Fisheries Company Ltd (MIFCO). "As long as we're committed to the practice of fishing, we can maintain the importance of it in the economy while preserving the environment."
Many fishers look to young Maldivians to secure the future of the sustainable skipjack tuna industry. Aswaad Farooq, a third-generation tuna boat skipper, has spent most of his life at sea and is now committed to sharing his knowledge and experiences with young fishers.
"My father and grandfather [were] also skippers, I am involved in this work purely out of my deep passion for it," explains Farooq, "Currently, young adults are starting to join [the industry] gradually in the southern islands. I encourage young adults to join the industry, as I believe that tuna fishing families should continue to emerge in the future."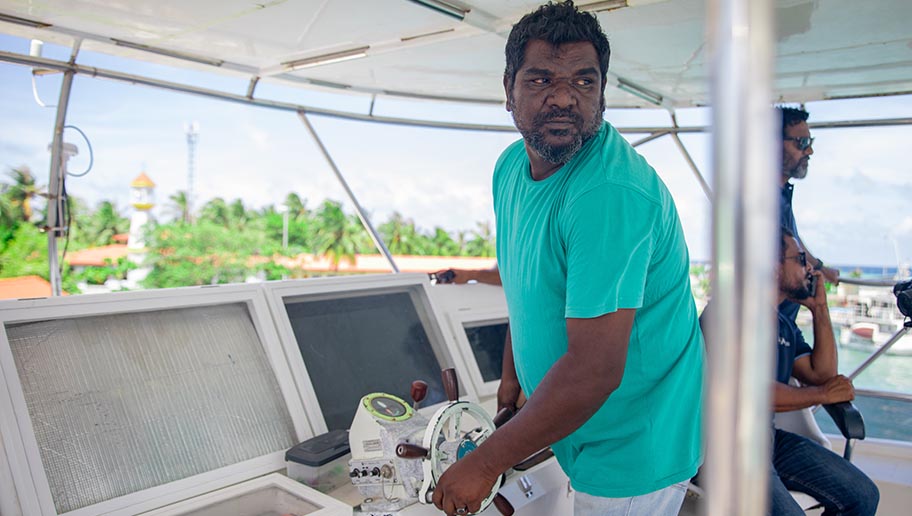 Tuna skipper Azwaad Farooq on the vessel Season Dhoni, Kooddoo Island, Maldives
Encouragingly, fishers report that awareness of sustainability issues is on the rise, and the industry is increasingly seen as a rewarding career for young Maldivians.

With enthusiasm from the fishing community, and a continued commitment to fishing sustainably and meeting the MSC Fisheries Standard, this traditional industry can be confident that it will thrive for generations to come.

Visit our tuna hub for more information on sustainable tuna fishing, the latest market trends, and recipes.