More than 65 years since the formation of the Inter-American Tropical Tuna Commission (IATTC) – established to manage fishing efforts between 21 countries – skipjack and yellowfin tuna purse seine fishing by the major Mexican fishers in this region has been certified as sustainable to the MSC Standard.
Vessels fishing in the Eastern Tropical Pacific (ETP) were highly criticized due to poor fishing practices in the 1970s and 1980s. Vessels owned by the Pacific Alliance for Sustainable Tuna (PAST) started fishing in the 1990s, and have spent the last 30 years investing in science, research, management and international agreements which will maintain the resilience and productivity of the oceans they fish in for future generations.
This certification has required robust, independent and extensive analysis of the fishery's impact on the environment, including fish stocks and ecosystems. It also required evidence of effective management systems.
A unique tuna challenge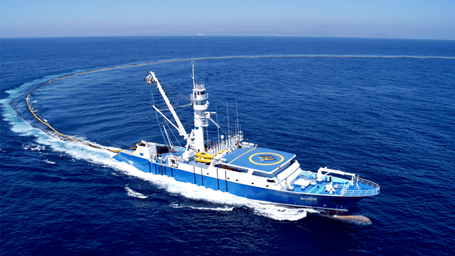 Pacific Alliance for Sustainable Tuna (PAST)In the ETPO, adult yellowfin, and to some extent skipjack, have distinct schooling behaviour which is more common in this ocean than in others around the world. In the ETP, adult tuna swim beneath pods of dolphin. The reasons for this are not well understood or studied, but young, smaller yellowfin, and most other tuna species, don't exhibit similar behavior. This behavior provides unique opportunities to fish for tuna, but also creates significant challenges.
Sustainable fishing requires consideration of the whole ecosystem: Fishers need to catch fish in a way which leaves enough breeding stock and genetic diversity in the sea to reproduce. They also need to minimize impacts on the environment and ensure that fishing activity doesn't pose a threat to the long-term survival of any species living within the ocean. This approach to sustainability sits at the very heart of the MSC's science-based Fisheries Standard.
Fishers in the ETPO have found a way of using the unique schooling behavior of yellowfin to achieve these objectives. By looking for tuna swimming beneath pods of dolphin they naturally select to catch the larger adult fish, leaving younger yellowfin in the ocean to grow and breed. This way of fishing results in lower levels of bycatch of juvenile fish and other species such as shark and turtles, which can be associated with other fishing methods.
However, it does present a critical challenge – how to catch the tuna without harming the dolphins. This issue was the focal point of campaigns in the 1980s and 1990s, shining a spotlight on fishing practices and ushering in consumer campaigns against tuna caught from dolphin-associated purse seine fisheries in the ETPO.
Joint action leads to improvements
Between 1985 and 1997 dolphin mortalities in ETPO purse seine fishing dropped by 99%.
This dramatic improvement was driven by several actions, including a series of international agreements, supported by eNGOs such as Greenpeace and WWF to ensure the long-term sustainability of tuna fishing in the region. The voluntary La Jolla agreement of 1992 established dolphin mortality limits and mechanisms to monitor compliance. This agreement was followed by the 1999 Agreement on the International Dolphin Conservation Program (AIDCP), formalizing and legally binding the programs established by the La Jolla agreement. The AIDCP was awarded the
Margarita Lizárraga Medal
by the United Nations Food and Agriculture Organization in 2005 and was hailed an "unqualified success" in ensuring the sustainability of tuna stocks and associated species.
Through these commitments, the design of fishing equipment and techniques was improved to ensure, as far as possible, that dolphin and other non-target species are not harmed by fishing. Measures have been implemented such as escape hatches and divers to ensure dolphins swim free of nets. Captain and crew trainings, proper net alignment practices, as well as avoidance of dusk or night-time sets have also led to reduced mortalities. Independent observers accompany all fishing boats to accurately record their practices. (
This IATTC video explains in more detail
).
Verifying sustainability

Pacific Alliance for Sustainable Tuna (PAST)By 2014, Pacific Mexico's tuna fishers felt that enough progress had been made to put their fishery forward for assessment to the leading standard for sustainable fishing. By voluntarily entering their fishery for MSC assessment they began more than two years of detailed scrutiny and questions from a team of independent experts led by conformity assessment body,
SCS Global Services
.
This team included experts in marine mammal research, tuna fishing, fisheries management, auditing and data assessment. In 2015 the team of four was joined by Dr Bruno Cozzi, a professor in Veterinary Anatomy specialising in dolphin physiology.
The team assessed all the available science, evidence and data on the fishery to determine if it met the high bar set by the MSC Fisheries Standard. Stakeholders, including relevant conservation organizations and researchers were also asked to contribute. Their findings and recommendations were then peer reviewed by two leading fisheries scientists, Don Aldous and Derek Hamer.
The team's report was then published for public review and consultation. Close to 300 pages of comments from stakeholders were reviewed and considered. The assessment team also reviewed and approved a comprehensive action plan for areas of improvement.
In October 2016, the SCS team published the final report and determination, opening a three-week window for objections. During this time, WWF-Germany and US raised concerns in relation to the impacts of the fishery on dolphins, triggering independent adjudication to ensure that these concerns were addressed.
This objection process was overseen by independent adjudicator Melanie Carter, a legal expert with extensive fisheries, law and mediation experience. Melanie heard, considered and responded to the objections raised, requiring SCS to reconsider its scoring in relation to evidence demonstrating the recovery of dolphin populations. In concluding this process, she upheld the recommendations of SCS, and required that the Public Certification report contain updates from the Objection process. The fishery was certified on September 7, 2017.
Read more about the assessment team and the full report on our Track a fishery site
.
Ongoing improvement
Pacific Alliance for Sustainable Tuna (PAST)The assessment team's recommendation was to certify the fishery with a number of conditions. The fishery has committed to an ambious action plan which will amount to a total of seven years' respite from fishing Pacific Bluefin tuna, a greater level of transparency in public reporting and review of management, improved training, greater protection for species of shark, rays, and Bluefin tuna and significant financial investment in dolphin population surveys.
Continued certification is dependent upon these conditions being met. Certification will last for five years at which point a complete reassessment will be required.
This fishery is not at the end of its journey to improvement. However, as the comprehensive assessment by the team from SCS Global Services has shown, these fishers now achieve world-leading standards for sustainable fishing.
It is exactly this type of transformational approach that the MSC program was established to incentivise, recognize and reward. I commend the Northeastern Tropical Pacific tuna fishers for their efforts. They are helping to preserve this beautiful part of the ocean, its wildlife and many communities dependent on fishing in this region for their livelihood.