One of the 2016 recipients of our Global Fisheries Sustainability Fund (GFSF), Masyarakat Dan Perikanan Indonesia (MDPI), are an independent foundation based in Bali, Indonesia. Their work focuses on small-scale artisanal fisheries and supports fishing communities and supply chains in moving towards sustainability. Their Director of Programs and Research, Momo Kochen, talks about the progress of their project working towards improving traceability within tuna supply chains in Indonesia.


Indonesia is one of the leading producers of wild capture fish and the biggest tuna-fishing country in the world. Indonesia exports much of its tuna, so while fisheries in the region work towards environmental sustainability, supply chains are also developing solutions to be considered sustainable and transparent.
With Indonesian tuna fisheries aiming to move towards MSC assessment in the near future, local supply chains need to ensure they are working towards the
MSC Chain of Custody (CoC) Standard
. This ensures that an MSC certified product can be fully traced from fishery to final sale.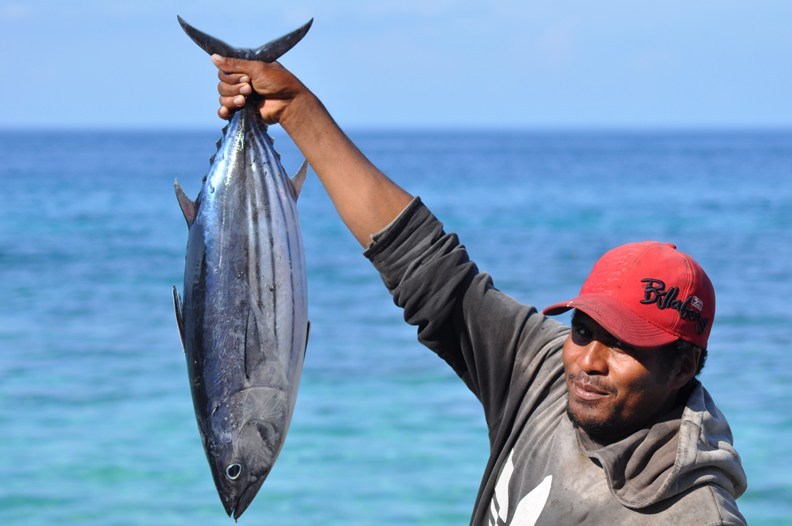 Using the Global Fisheries Sustainability Fund
As one of the 2016 GFSF recipients, we are using the fund to improve traceability in the handline and pole and line tuna supply chains in Indonesia. This means that in the event of a fishery gaining MSC certification, products will be able to access the market quickly.
The project is well underway with mock MSC audits on a range of supply chain types already conducted. The results from the audits along with practical industry recommendations are a positive start. They offer valuable insight on how supply chain companies can develop action plans to improve their traceability. Heri, the project's specially hired traceability specialist, is on board to support the companies in the development of these plans and implementation of improvements.
Collaborating to achieve sustainability
As part of this project, we are working with partners including the industry association
Asosiasi Perikanan Pole and Line dan Handline (AP2HI)
, the
International Pole and Line Foundation
, and the
United Nations Industrial Development Organization
. Recently we held a collaborative workshop bringing together industry members of AP2HI – ranging from vessel owners to processors – who are working towards sustainability within Indonesian tuna fisheries. The workshop looked at how supply chain improvements could be practically and cost-effectively implemented and helped enhance understanding of the CoC Standard's requirements.
We are also collaborating with partners to introduce simple and innovative technology to improve traceability. We've introduced Spot Trace units – devices that provide satellite-tracked locations of tagged items. We're testing Ourfish, an app developed by the Smithsonian which records fish production data and are working on the development of an internal production and traceability tool for processors.
We are working with the International Seafood Sustainability Foundation to get small scale fishers to adopt
Proactive Vessel Registration
. Elsewhere, we're introducing technologies under the
Improving Fisheries Information and Traceability for Tuna (IFITT)
project in collaboration with Wageningen University and others. Basically it's been go, go, go!
Next steps
As the process moves forward, we'll work ever closer with companies to ensure they have the knowledge and tools to meet increasing traceability demands – not just from certification bodies, but from retailers and consumers. There is also an increased focus by the Indonesian government and regional bodies on seafood traceability and catch documentation, motivated in part by the need to deter illegal, unreported, and unregulated (IUU) fishing.
Looking ahead, Stephani (from the MDPI team) and Heri (from AP2HI) are going to be very busy, with Stephani ensuring that the various technologies we have tested are scalable and Heri working with the AP2HI member companies to ensure their action plans working towards gaining MSC CoC certification are implemented. It's a tough but interesting road ahead.