The UN's 5th Global Biodiversity Outlook report reveals a decade of failed promises. None of the global targets set 10 years ago to protect the world's biodiversity have been fully met. Though good progress has been made towards the sustainable management and harvesting of fish on a global level, the future of the world's food supply depends on the protection of all biodiversity. That includes the choices consumers make now, explains MSC's Fishery Assessment Manager, Matt Gummery.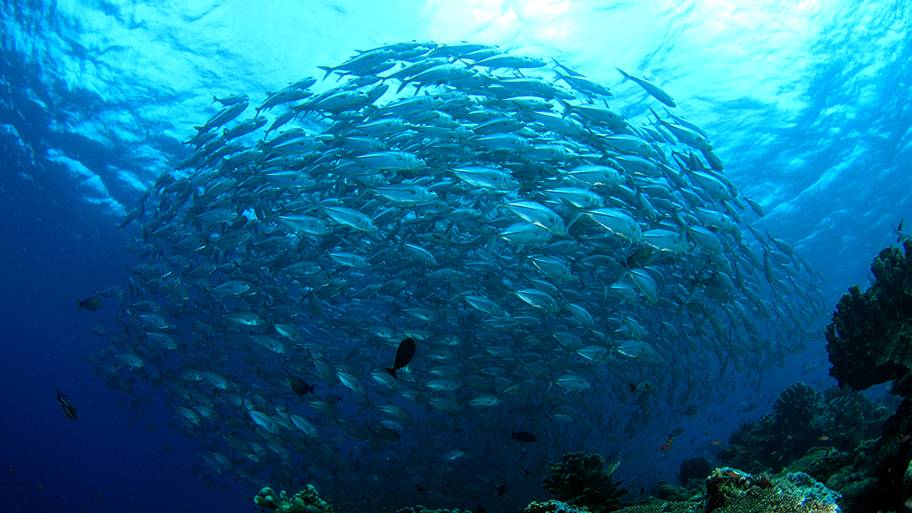 A global commitment to halt biodiversity loss
Actions to address the rapid decline of biodiversity around the globe were agreed by world leaders in Rio de Janeiro in 1992. An international treaty, the Convention of Biological Diversity was ratified by 196 countries.
The aim of the convention was to stop the massive decline of biodiversity through sustainable and fair use of natural resources. In 2010, five strategic goals and 20 targets – known as the Aichi Biodiversity Targets -- were set to help slow the decline. Today's report reviews the progress made over the last 10 years in achieving these targets.
Substantial progress made towards sustainable fishing
While none of the 20 targets have been fully achieved at a global level, six have been partially achieved, Sustainable management and harvesting of fish (Target 6), has "made good progress", with 37% of countries either on track to meet or exceed their national targets.
Despite the overall negative trends, there is evidence of previously depleted marine fish stocks being rebuilt successfully. This has happened when improved fisheries management has been implemented and illegal, unreported and unregulated fishing tackled, or where fisheries policy has been reformed.
Protecting marine ecosystems
Many countries are also taking steps to protect endangered species. 95% of countries reporting data for the UN's Food and Agriculture Organisation (FAO) Code of Conduct are acting to prevent impacts on endangered species and prohibiting destructive fishing practices. However, more information is needing to understand how effective these measures are.
Sensitive ocean habitats like coral reefs continue to be impacted by multiple human threats, including overfishing, nutrient pollution and coastal development. Acknowledging the wider impacts that unsustainable fishing has on habitats is important. This is why the MSC's Standard requires fisheries to show evidence they are not having long-term or irreversible impact on vulnerable marine ecosystems. We know how precious resilient and functioning marine food webs are to billions of lives around the world.
Driving change through MSC certification
The report also highlights that MSC certified fisheries have contributed to this progress, not least through doubling the number of landings of fish 'certified as sustainable wild-caught' over the past decade. Over 17% of annual wild-caught seafood is engaged with the MSC program, coming from 400 fisheries around the globe.
The evidence is clear that good ecosystem-based fisheries management is the best way to ensure a sustainable food supply while also reversing the exploitation of biodiversity. Fisheries that are MSC certified demonstrate good fisheries management as they not only protect fish stocks but look after marine ecosystems, endangered species and habitats too.
Yet while substantial progress has been made,
data from the UN's FAO SOFIA report earlier this year stated over 34% of fish stocks are still overfished
. Depressingly, this is higher than 10 years ago, and there is still much more that needs to be done for all fisheries to be harvesting at sustainable levels.
The wider outlook for a sustainable ocean economy
Out of the 60 individual target elements, seven have been achieved and 38 show progress. Disappointingly, 13 elements show no progress or further decline.
Target 3, to eliminate harmful government subsidies that potentially damage biodiversity, has seen little progress over the past decade. Biodiversity funding is about $80-90 billion a year – a fraction of the $500 billion of subsidies given out each year.
It is hard to see how we will achieve a sustainable ocean economy while over-exploitation is still rewarded. In 2018, only $10 billion was spent on subsidies promoting sustainable fisheries, while $22 billion was spent on subsidies linked to overfishing by expanding national fleets.
5 steps to living in harmony with nature
The failure to meet these targets undermines progress on other global initiatives including the Sustainable Development Goals and the Paris Climate Change Agreement. While the loss of biodiversity continues, these hang in the balance.
We receive a range of benefits from our oceans. The further loss of species and habitats will not only impact the survival of other species, but humans too.
There is no single solution to 'bend the curve' of biodiversity loss back up, according to the UN. Instead, sustained efforts are required to: reduce consumption, increase sustainable food production, reduce drivers of biodiversity loss, mitigate climate change and restore nature. All are needed to halt a further decline in biodiversity – and the resultant negative impacts for humans.
An opportunity for change
As our population and global consumption continues to grow, more people need to be able to make sustainable market choices. Efforts to support sustainable fishing and food production must be scaled up. Covid-19 has put the world on pause, making us re-evaluate our relationship with nature. Let's make this for the better.
Feeding the world and protecting the oceans can only be achieved together. It is only through protecting biodiversity, and living in harmony with nature, that we can secure our own future on this planet.