As demand for seaweed grows, the first joint Marine Stewardship Council and Aquaculture Stewardship Council labelled seaweed products boost availability of sustainable products.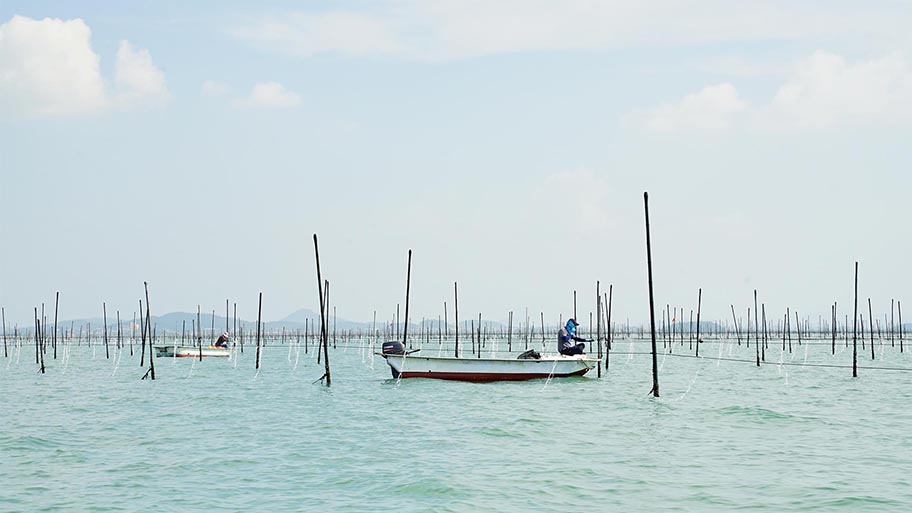 The world's first certified sustainable seaweed to carry both MSC and ASC ecolabels will soon be available to Korean consumers.
The co-labelled products are made from laver, which is extremely popular in Korea. The new certification will significantly increase the supply of sustainable seaweed in a hungry domestic market.
Being a "farmed" product but cultivated at sea with seed supplied from wild stock makes the laver uniquely eligible to carry both sustainability labels.
Production is undertaken by the Sinan Bada Fishery Corporation, located on the Western Coast of Korea in Shinan County.
The area is registered as a UNESCO World Heritage site and is visited by tens of thousands of water birds from across 90 species - including 14 on the IUCN Red List of threatened species. In 2009, the area received the designation of 'Biodiversity Conservation Area' from UNESCO.
The fishery uses a traditional and sustainable way of laver farming, the "fixing pole" method. Despite being less productive, the approach allows the seaweed greater exposure to the air, reducing its risk of disease and enhancing its quality and taste.
Patricia Bianchi, ASC-MSC Seaweed Manager, said: "Commitments to sustainable production such as that made by Sinan Bada will play a crucial role in preserving marine ecosystems. With a growing demand for seaweed globally, it is crucial to demonstrate that seaweed comes from a sustainable source."
The ASC-MSC certified laver will be sold by Pulmuone Food Co. Ltd, as part of a new memorandum of understanding (MoU) between the eco-conscious food brand, the local government of Shinan County and the MSC.
The parties have each made a commitment through the MoU in their own way. The MSC has agreed to participate in education and public events to raise the profile of the eco-labelled seaweed. Pulmuone Food Co. has agreed to participate in developing the market for sustainable seaweed produced in Shinan and the county itself has agreed to support the MSC program in the region, helping expand the supply of sustainable seaweed.
Mark Seo, Program Director of MSC Korea said: "Through this MOU, we will expand the responsible and sustainable seaweed market by actively promoting Shinan's certified seaweed products. This agreement aims to preserve the heritage working with the local community in a manner that is socially responsible."
Sinan County cultivates 46,000 metric tonnes of laver, which is often sold as dried sheets for use in sushi rolls. ASC-MSC labelled products will be available in the second half of this year. For now, products will only be sold in the Korean market but there are hopes to expand to other regions.