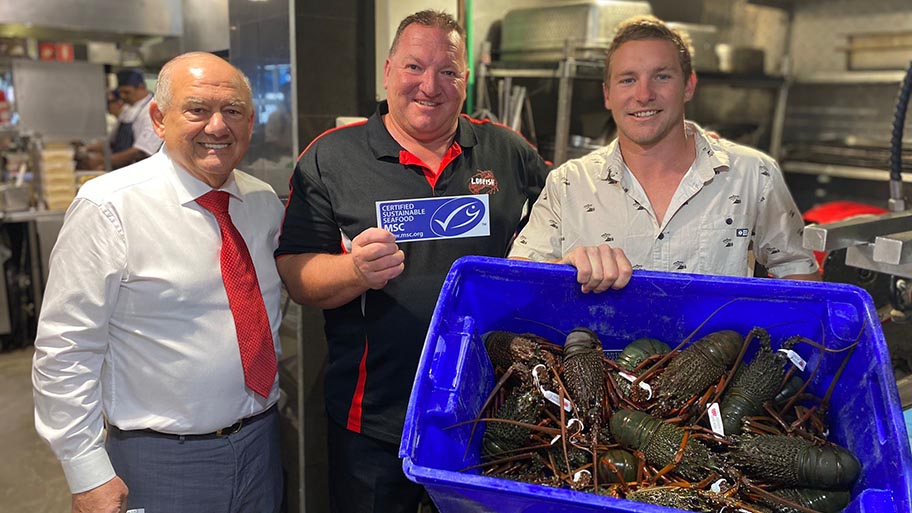 In a historic moment for New South Wales (NSW) the Eastern Rock Lobster (Sagmariasus verreauxi) becomes the Australian state's first fishery to achieve MSC certification.
Eastern Rock Lobster celebrated their efforts to ensure the health and longevity of the lobster stocks at an event on Friday 6 October at Nick's Seafood Restaurant in Sydney. Chris Minns MP, Premier of New South Wales said: "Sustainable fishing practices exemplify "win-win" thinking – (they're) good for the environment, for fishers, and for seafood lovers everywhere".
The economically significant artisanal fishery is supporting the jobs of 131 small scale fishermen. Mark Horne, who has been catching lobster for more than 20 years welcomed the recognition, "I think we have one of the best fisheries in the world. We are a network of lobster fishers, and we communicate with each other so we can share if we see any problems or any difference in catch rates that shouldn't be there. The work we've done… the research and development the fishermen have applied, we're now seeing the rewards."
The world's largest-growing spiny lobster, the Eastern Rock lobster is typically found in the rocks and crevices along the length of coastline from southern Queensland to Port MacDonnell in South Australia. The species is highly regarded as premium produce in the seafood industry and much of the fishery's catch supplies local restaurants.
The Eastern Rock Lobster fishery uses 'beehive' lobster pots from which the fishers sort the lobsters by hand to ensure they are the correct size before storing them carefully in tanks. Each one is individually tagged so they are not mixed up with non-certified lobsters.
The long journey toward sustainable certification has been worth it for Mark Horne: "The final icing on the cake for the fishery is the abundance of stock now far outweighs what it was when I started, in the early days I put out in excess of 100 pots - now I run 40 and catch more. The research, the tagging, looking at where the lobsters were going, breeding, the size limits, they all tick the boxes for the MSC. I admire the process that was so rigorous to get us through. The fishery will not only be there for my son, but for his son and other sons thereafter if we maintain this rigour."
Australia has a long history in pioneering sustainable fishing and over half of the nation's wild-caught seafood is now certified to the MSC Fisheries Standard. Eastern Rock Lobster joins 22 other MSC-certified fisheries across the country, giving consumers that want their seafood to be sustainable even greater choice.
MSC Asia Pacific Director, Patrick Caleo says: "This certification is a testament to Australia's continued leadership in a crucial mission to protect the ocean and safeguard seafood supplies for generations to come."
Hear more from fisher Mark Horne on the FishTales seafood podcast
---