Over the past year, close to 20 improvements have been made by fisheries involved in the multi-stakeholder initiative, Project UK, as shown in its annual report published today.
12 fisheries from across the United Kingdom are now taking part in Project UK, an initiative set up to address environmental challenges through eight fishery improvement projects (FIPs).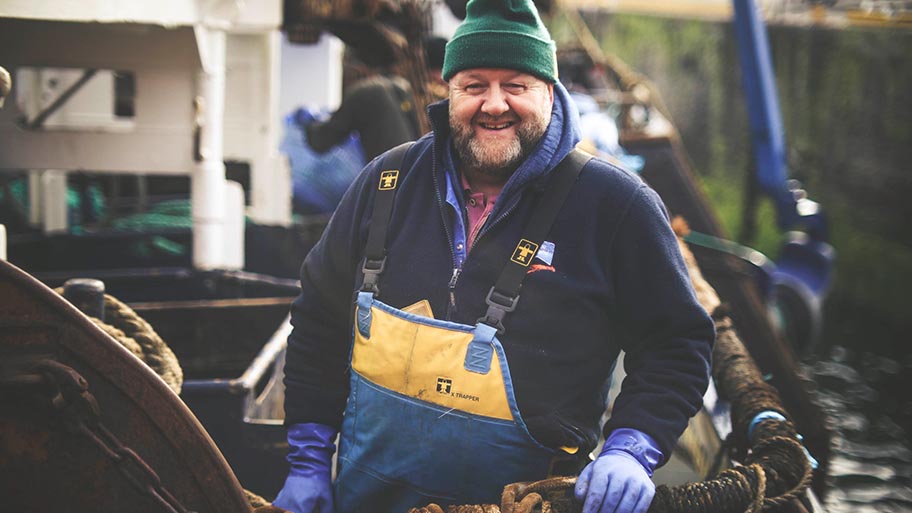 Project UK fisherman © Nina Constable/ MSC
Improving fishing practices through Project UK
The Project UK FIPs cover a range of target species, gear types, locations and fishery sizes, and were selected due to the commercial, economic and cultural benefits they bring to fishing communities and supply chains within the UK.


Legend: Round 1 FIPs include Channel scallops, North Sea plaice and lemon sole, South West crab, lobster and monkfish. Round 2 FIPs include Nephrops and UK scallops. © Mindfully Wired Communications

34 fishery improvements made to date
Following pre-assessments against the
MSC Fisheries Standard
, the eight FIPs developed action plans to address the improvements needed. ing to be made. These action plans set out a total of 61 individual actions, with multiple milestones over a five-year period. While these fisheries are not obliged to enter full MSC assessment at the end of the project, they are classed as 'comprehensive' FIPs by
fisheryprogress.org
, meaning they are aiming to improve their performance against the MSC Standard to a level that meets global best practice.
Since the first tranche of Project UK FIPs (Round 1) were launched in 2017, 34 improvements of the 61 improvements identified, have been made. Over the past year alone, the FIPs made a total of 19 improvements.

Of these 19 improvements, 17 saw scores improving from the minimum acceptable performance to a best practice score. This included a report and recommendations following a two-year Bangor University Post-Doc, which provided evidence on the impact of scallop dredging on commonly encountered habitats and vulnerable marine ecosystems.

Two improvements raised fisheries' scores from an automatic fail (<60), to the minimum acceptable level. For example, the Nephrops Steering Group completed a comprehensive review and assessment of alternative measures to minimise unwanted catch, including a database of studies and comprehensive written report.

However, uncertainty around legislation on the UK's exit from the European Union has impacted these fisheries' ability to implement effective fisheries management processes, which is a requirement under Principle 3 of the MSCC's Standard. As a result, some fisheries' scores have been lowered from best practice to the minimum acceptable level. An external review considered that these scores would increase again over the next year as clarity arises over the legislative process.
A collaborative process
Transparency and accountability are key to the success and credibility of the FIPs. Each FIP is listed on fisheryprogress.org, where all associated project documents are publicly available. The FIPs receive expert advice from independent consultants, and each is supported by a Steering Group, formed from a range of stakeholders from the supply chain, scientists and non-governmental organisations (NGOs).
The Steering Groups make all decisions about the FIP, have a direct role in implementing the actions, and are accountable for maintaining progress. Members of the Steering Group will play a key role in deciding whether the fishery will enter full MSC assessment after all improvement actions have been made.
The MSC's role in Project UK is to facilitate and provide logistical support as the secretariat . For example, we coordinate meetings; take minutes; maintain the website; update FisheryProgress.org; seek funding for additional actions not covered by core funds; and Chair meetings when needed. Project UK uses independent consultants to provide advice to the Steering Groups, in how to meet the Standard, and benchmarking progress with annual reviews. Project UK is a project within the MSC's Pathway to Sustainability program, which was set up to support fisheries committed to making the improvements needed to meet our Standard. Through the Pathway we provide tools, training programs and technical support for fisheries and work with stakeholders to improve fishery management on a wide scale.
Next steps for Project UK
With the six Round 1 FIPs now entering their final year within the project, it is a crucial moment to consider how best to focus time and resources for maximum impact over the remainder of the timeline. The remaining Round 2 FIPs are also entering a critical moment, having now completed two years and planning to demonstrate real change on the water as they reach the halfway point. The action plans provide target dates to achieve specific milestones and can be found on FisheryProgress.org and the Project UK website.
You can read more about the improvements made over the past year in the Project UK Annual Report (2020/21).
Thank you to all Project UK funders, and Steering Group members for your ongoing support, both financially and in-kind; and to the independent consultants, Poseidon, for your ongoing advice and input to all the FIPs.