With the rising cost of living, and the need to reduce spending on food, buying sustainable products can seem unjustifiable or simply out of reach. However, supermarkets have many good value and easy-to-cook sustainable seafood products, so you can enjoy the fish you love while helping to minimise your ocean impact.
A wide variety of more affordable fish and seafood products are on offer in many different aisles of the supermarket with the blue MSC ecolabel on (find out more about what the MSC ecolabel means when you see it in stores).
From the products and species to look out for, to nifty tricks and recipes from foodie influencers, read on for four ways you can enjoy sustainable seafood while helping keep the costs down – for the ocean and your pocket.

1. Get creative with cans
Tinned fish is enjoying a renaissance.
Everyone from TikTok creators to serious foodies have been extolling the charms of this easy fish supper. We couldn't agree more. If you know which cans to buy and what to do with them, they can create deliciously satisfying low cost meals.
Products to consider
Try out Dr Sophie Ruston-Smith's (@TheCornerPlot) baked cheesy sardine pasta using MSC certified Cornish sardine fillets at Tesco.
Neha Gandesha (@squashedpickle) also uses MSC certified canned tuna to get sustainable fish into her kids' diets at a reasonable price. She rustles up quick mini pies with tuna, potato, spinach, and cream cheese inside a puff pastry case for a simple recipe that's delicious and packed with protein, vitamins, and minerals. "Great for picnics and a little on-the-go snack!"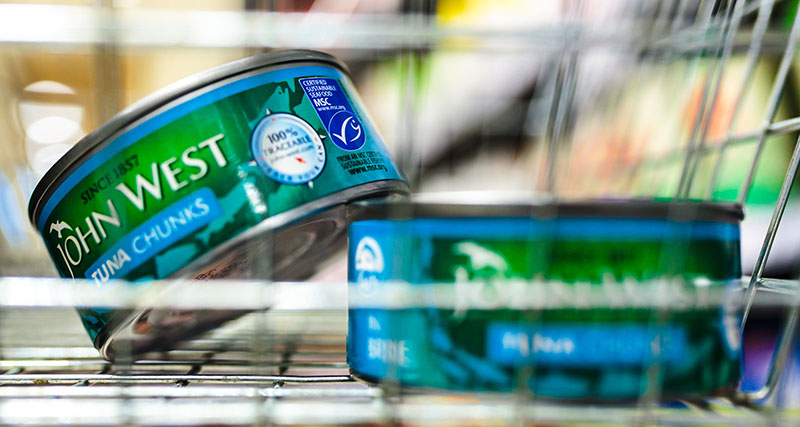 2. Don't fear frozen
The frozen vs fresh fish debate is still a hot topic among seafood lovers. We want to end the rumour that fish loses its taste, freshness and nutrients when frozen – it doesn't! Most fish is frozen as soon as it is caught, quickly preserving all its flavour and nutritional goodness.
Eating frozen MSC certified fish is one of the best ways to eat seafood sustainably. It dramatically cuts household food waste and is a great way to bulk buy and maximise your mealtime ingredients.
Products to consider
For a fun and thrifty recipe, give Theo Michaels' (@theocooks) sustainable fish finger taco recipe a try. Crunchy fish fingers paired with lettuce, mayo, pickled red onion and herbs in a soft tortilla are an innovative way to get your healthy fix of fish and veg.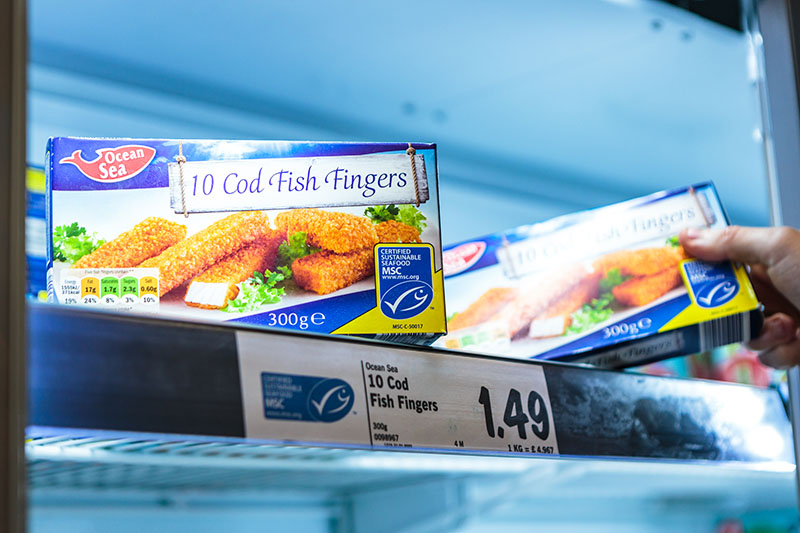 3. Switch up your species
Are you crazy for cod or a stickler for salmon? In the UK, the most popular fish species among seafood eaters are known as the big five: cod, haddock, tuna, salmon and prawns.
While you can buy many of these species at a relatively good price, and with the blue MSC ecolabel, there are lots of other lesser-known alternatives that may be cheaper, sustainable and equally as tasty.
Coley, sometimes known as saithe, or just whitefish, is a delicately flavoured fish in the same family as cod. It works really well pan-fried or in batch-cooked dishes like fish pie; you can find a bag of 6 MSC certified frozen coley portions in Waitrose. Try this nutritious coley with winter vegetables dish with low-cost seasonal veg and frozen fish from MSC UK ambassador James Strawbridge, created for our Ocean Cookbook 2023.
Hake is another great whitefish alternative. With flaky, firm flesh and a subtle flavour, it's delicious in the pan or under the grill. Try these smoked MSC certified fillets at Aldi.
4. Get shellfish savvy
Shellfish is simple to cook, has a low ocean impact (if MSC certified), and can be found at affordable prices in many UK supermarkets, proving it's not just reserved for fancy restaurants or seaside establishments.
Mussels, for example, are a brilliant sustainable choice. They have a very low carbon footprint compared to other protein sources because they need very little to thrive, feeding off organic particles found in the ocean, and can actually improve the water quality around them by filtering out nutrients and phytoplankton.
If you want to bring a fresh taste of the ocean home, then look out for our pick of some of the best low-cost shellfish available with the blue MSC ecolabel.
Products to consider
There's lots of affordable and sustainable seafood available in the UK, you just need to know where to look and how to identify it! Head to our handy shoppers guide on where to find MSC certified products to see where else you can pick up delicious fish that doesn't cost the ocean, or the earth.