International Pole and Line Foundation (IPNLF) and the Kendari pole and line skipjack and yellowfin tuna fishery
Amount awarded: £49,980
This project supports cross-sector collaboration towards the sustainable certification for Indonesian tuna fisheries. It aims to demonstrate the effect of good fisheries management and its benefits to the livelihoods of coastal communities.

The MSC's Ocean Stewardship Fund is supporting plans to improve transparency in the Indonesian tuna supply chain. This could enhance market demand and access for sustainable tuna fisheries.

The project is driven by the Fisheries Improvement Project Steering Committee which includes:
Its progress is verified through the In-Transition to MSC Program which is required for the fishery to be eligible for Ocean Stewardship Funding.
The fishery is also part of Fish For Good which is a four-year project aimed at guiding fisheries in South Africa, Indonesia and Mexico towards more sustainable fishing practices.
Training government certified observers

Despite Covid-19 restrictions and no-sail warnings throughout the summer because of bad weather, the project has made good progress on implementing the fishery improvement project (FIP). They have hired a number of local field staff, facilitated the training of government certified onboard fishery observers and coordinated their deployment with the MMAF.

There is currently a lack of trained observers to cover the fisheries' operations. The observers will be a welcome addition, taking the total observers available in Kendari to cover tuna FIPs, to 10.

IPNLF have also developed electronic-logbook apps to improve observer data collection and mapped the location of unrecorded anchored fish aggregating devices (FADs). AP2HI also implemented a new Code of Conduct, signed by stakeholders, to strengthen their commitment to FIPs.

Mapping the use of fishing gear
Nine trips of up to 30-days long each have been completed by observers, collecting scientific data such as catch composition and bait use. Observers successfully mapped the location of 93 FADs and 14 lift nets – a bag shaped net submerged and lifted out of the water. They also deployed vessel tracking devices to verify the range of the fishery.

This FAD data is being shared with MMAF for their online portal DIVA TUNA. This will help the government better track compliance with new regulations for deploying FADs.
"With this funding we'll be able to help small-scale tuna fisheries engage in fisheries management, collect much needed scientific fishery data, and develop best fishery practices."

International Pole & Line Foundation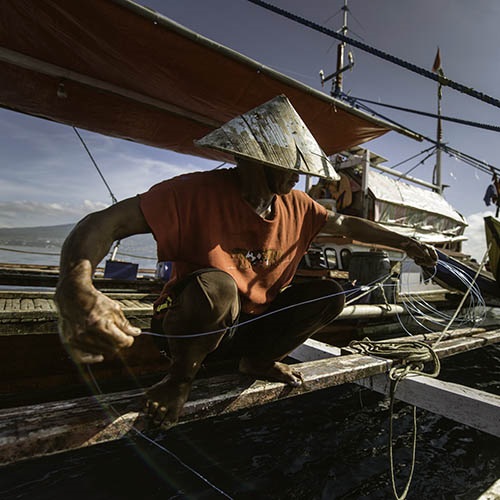 Discover projects supported through the Ocean Stewardship Fund that are helping to grow sustainable fishing worldwide.
The Ocean Stewardship Fund offers grants to both MSC certified sustainable fisheries and improving fisheries.