Initiated by the Marine Stewardship Council, Fish for Good is a four-year project aimed at guiding fisheries in Indonesia, Mexico and South Africa towards more sustainable fishing practices.
Fish For Good | Indonesia
Fish For Good | Indonesia
Why Indonesia?
Indonesian fisheries are working within some of the world's richest and most productive marine ecosystems. Indonesia is the second largest fish producer in the world and catch volumes continue to increase. Fish products account for 54% of the national animal protein intake.

However, some Indonesian fish stocks are being overfished and domestic food security, local socio-economics and marine biodiversity are at risk. To overcome these challenges, the Indonesian government has been working with stakeholders towards sustainable fisheries. Fish for Good supports these efforts and actively works with the Indonesian government, fisheries and other vital stakeholders towards more sustainable fishing practices.
In 2019, the Indonesian Ministry of Marine Affairs and Fisheries (MMAF) and the MSC signed a Memorandum of Understanding (MoU), affirming a joint commitment to strengthening collaboration on sustainable fishing.
6.4 million
people engaged in the fisheries sector
total seafood production value
3.8 billion
US dollars
artisanal fisheries account for
95%
of production
Animal protein
54%
supply comes from seafood (49 kilos per person)
Total annual wild catch
5.8 million
tons
How does it work?
Stage 1 - mapping
The MSC conducts a scan of 50 species in Indonesia and, based on the results, selects 13 species for deeper mapping. Those species are mapped according to their:
economic value
market potential
food security
areas fished
gear(s) used
catch volumes
stock status
environmental impacts
Stage 2 - pre-assessment
The Fish for Good advisory group evaluated the findings and selected fisheries to be pre-assessed against the MSC Fisheries Standard. The pre-assessment process measures the performance of each fishery and identifies areas for improvement. Pre-assessment of the fisheries is undertaken by an accredited third-party assessor.
Fisheries undergoing pre-assessment
blue swimmer crab

snapper/grouper
mud crab
squid
banana prawn
short bodied mackerel
tongkol (mackerel tuna)
anchovy
tiger prawn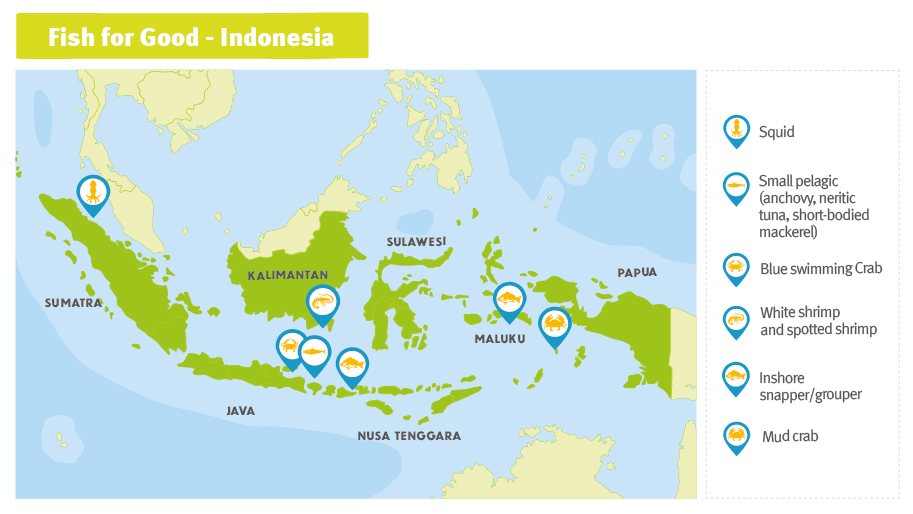 Stage 3 - action plan development
At the end of pre-assessments a report will identify where fisheries need to improve to meet the MSC Fisheries Standard and be certified as sustainable. From this point action plans are developed with proposals for how to make the necessary improvements.

Local organisations develop the fishery action plans. The MSC supports these organisations by supplying them with templates and guidance on global best practice.

Each action plan is different and addresses challenges specific to each fishery. Actions may include:
Adding on board observer programmes
Implementing vessel tracking systems
Improving baitfish management
| | | | |
| --- | --- | --- | --- |
| | Stage 1 | Stage 2 | Stage 3 |
| Due? | Sept 2019 | June 2020 | April 2021 |
| What? | Mapping fisheries in the region | Assessing baseline performance and identifying areas for improvement | Developing action plans to improve fisheries' performance against the MSC indicators |
| How | Building fisheries profiles through desk research and stakeholder interviews | Conducting large-scale gap analysis of fisheries' performance against the MSC Standard | Agreeing on actions and stakeholders' responsibilities to address the gaps defined in Stage 2 |
| By who | External consultant | Accredited third-party assessor | Collaborative stakeholder effort |
| Result | 50 species mapped | 9 fisheries pre-assessed | 9 fisheries' action plans |
Advisory group
Our Indonesian advisory group provides independent advice, views and recommendations about the effectiveness of the activities to deliver the Fish for Good objectives. The role of its members includes providing advice on priorities and fisheries selection for pre-assessment, action plan development and recommendations as fisheries embark on a path towards recognising sustainable fishing practices.

The advisory group in Indonesia consists of representatives of the Ministry of Marine Affairs,World Wildlife Fund Indonesia,Bogor Agricultural University,Coral Triangle Center,Coral Triangle Initiative on Coral Reefs, Fisheries and Food Security,International Pole and Line Foundation, MDPI, Marine Change,RARE and Telapak Society.
Tuna workstream
The Advisory Group for Indonesia has recognised tuna as a priority species.

Following consultation with the Ministry of Marine Affairs, fisheries and NGOs, Fish for Good approved support for 10 pole and line and handline skipjack and yellowfin tuna fisheries affiliated with AP2HI (Indonesian Pole and Line and Handline Tuna Association).

In collaboration with the International Pole and Line Foundation (IPNLF), these fisheries have already developed a pre-assessment and an action plan against the MSC Standard. Fish for Good helps these fisheries review and update these plans so they can start implementing actions need to move towards sustainability.
Two of the tuna fisheries - the International Pole and Line Foundation's Kendari pole and line skipjack and yellowfin tuna fishery and the Kendari handline yellowfin tuna fishery - are also taking part in the In-Transition to MSC (ITM) program. The ITM program supports fisheries committed to MSC certification by offering independent verification of their progress. These fisheries also received support from the MSC's Ocean Stewardship Fund.
Stories
The women of the Indonesia blue swimmer crab fishery
In Indonesia women are at the forefront of a sustainable fishing business. Meet the female processors and factory workers of the blue swimmer crab fishery.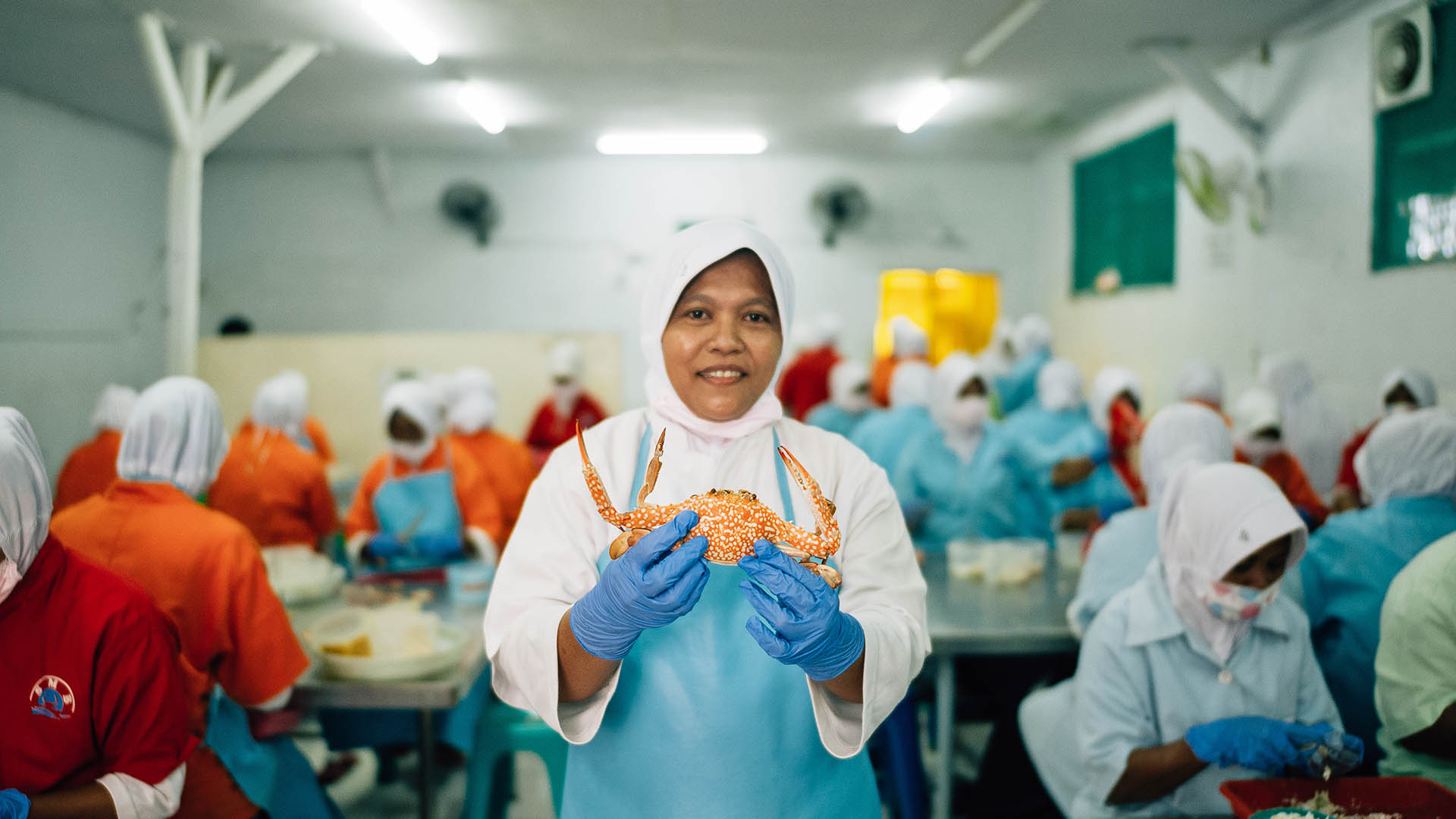 Shifting towards sustainability: Indonesian fishers abandon destructive fishing
Shifting towards sustainability: Indonesian fishers abandon destructive fishing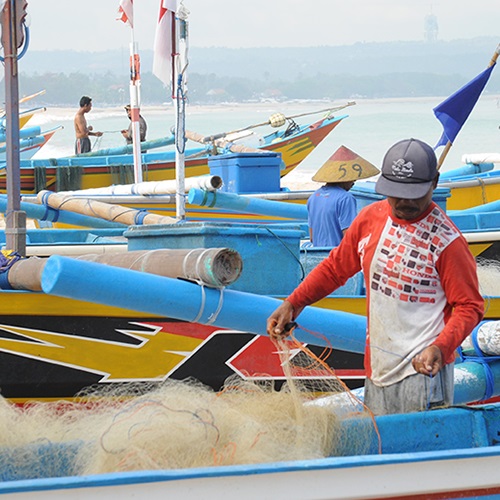 Fish for Good is a four-year project aiming to guide fisheries in Indonesia, Mexico and South Africa on their journey towards sustainability.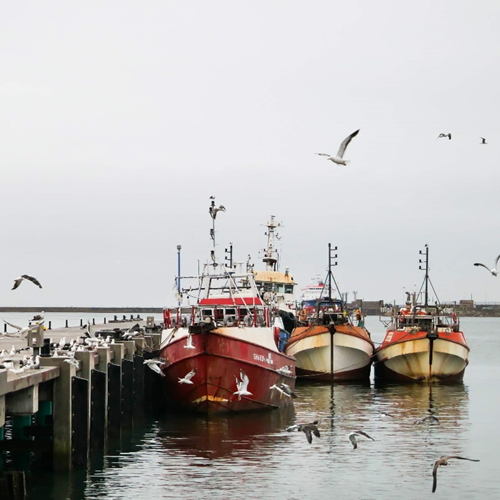 South Africa is flanked by two diverse large marine ecosystems (LMEs). Fishing is important to the economy and for the livelihoods of coastal communities.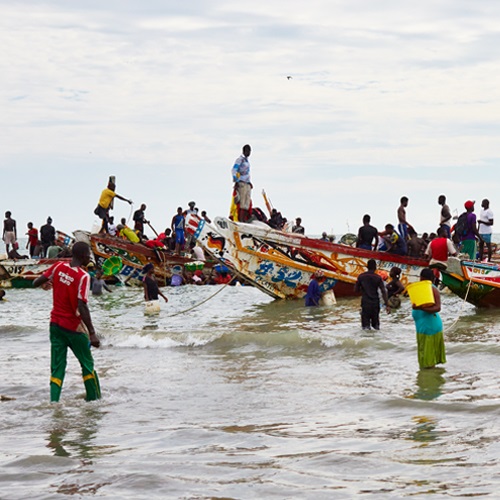 The MSC recognises the important contribution that FIPs can make to improving overall fisheries health and in promoting sustainable seafood. We work to provide technical support and capacity to credible FIPs.