Katharine Leigh at UCSB Bren School of Environmental Science & Management, California, and Indonesia blue swimming crab fisheries
Amount awarded £5,000
This project will develop a model to predict the survival of blue swimming crabs in Indonesian fisheries in response to climate change.
Indonesia currently produces 31% of the world's blue swimming crab. It is the leading exporter with nearly 40,000 tons of blue swimming crab contributing roughly US$179 million annually towards Indonesia's GDP. Fisheries in the Indonesia blue swimming crab Fisheries Improvement Project (FIP) span nearly the entire country, and employ around 275,000 diverse fishers and pickers.
Blue swimming crabs go through many different life stages, each of which depend on distinct habitat types. These all have their own temperature and levels of salinity, oxygen, and acidity. The crab's survival is highly sensitive to these conditions.
It is expected that these environmental factors will change as a result of climate change, thereby transforming the distribution and abundance of blue swimming crab around Indonesia. Shifts in the blue swimming crab fisheries are already being investigated by The Environmental Defense Fund .
This Student Research Grant will support a Masters student to work alongside the NGO and support the Indonesian Ministry of Marine Affairs and Fisheries to develop a climate model. This will have colour-coded maps identifying important drivers and particular life stages impacted by climate change and shifts in populations. These will provide valuable information to fishery managers and help them make climate-informed decisions, so that they can adjust their fishing activity and reduce the risk of overfishing.
"I really wanted to thoroughly explore this modelling approach because I haven't seen anything quite like it yet in the literature, especially for Indonesian Blue Swimming Crab. Seafood is the world's leading source of protein, and our coastal and seafood industries play a major role in the global economy. Ensuring sustainability in this space is critical, and the MSC has been one of the pioneers in this effort."

University of California Santa Barbara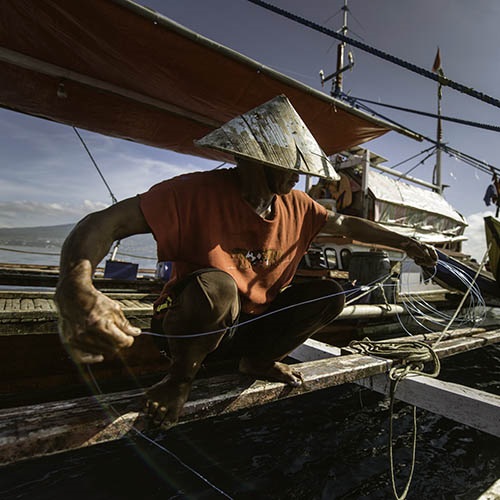 Discover projects supported through the Ocean Stewardship Fund that are helping to grow sustainable fishing worldwide.
The Ocean Stewardship Fund offers grants to both MSC certified sustainable fisheries and improving fisheries.