Tuna Australia and Australian Eastern Tuna and Billfish Fishery
Amount awarded: £50,000
This project will investigate potential sources of sustainable bait for the Australian Eastern Tuna and Billfish Fishery.
The fishery was re-certified to the MSC Fisheries Standard in August 2020, with Tuna Australia becoming the certificate holder. The fisheries have nine conditions of certification that have to be addressed within the next five years. One of these conditions relates to the use of Argentine shortfin squid as bait. These squid are widely used in global tuna longline fisheries due to their shape, size, longevity and attraction to all pelagic (mid-water) species. However, the squid is becoming increasingly expensive to source for sustainable fishing.
In addition to worldwide concern about the impact of illegal, unregulated and unreported (IUU) fishing on stocks, the Argentine shortfin squid is also starting to be sold for direct human consumption. This is putting new pressures on the stocks, meaning that the tuna fisheries will have to look for alternative sources of bait with stronger sustainability credentials. These could be either other squid species or artificial bait.
Through their Ocean Stewardship Fund grant, Tuna Australia will complete research on the fishery's historic bait use. This will help understand how factors including price, availability, target species and characteristics influence the choice of bait. Once alternate sources of bait have been identified, they will be tested on real fishing trips to check how effective they are.
A voluntary Code of Conduct for Responsible Bait Sourcing for Tuna Australia members is also being developed. This will help members identify what other fisheries consider "responsible sources" and encourage their uptake.
This project is supported through our Science and Research Fund, as its outcomes will be valuable to many global tuna longline fisheries around the world.
"The MSC funding provides Tuna Australia with a fantastic opportunity to work in a space that it otherwise wouldn't have the capacity or funds to work in. We've been trying to find ways to meaningfully improve our use of sustainable bait and this grant opportunity allows us to take a holistic look at bait usage. If we can substitute part of the current bait for alternate baits that work just as well – there will be sustainability improvements as well as cost savings to industry."

Tuna Australia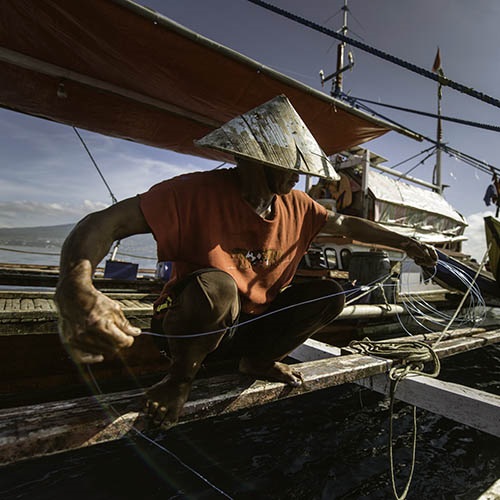 Discover projects supported through the Ocean Stewardship Fund that are helping to grow sustainable fishing worldwide.
The Ocean Stewardship Fund offers grants to both MSC certified sustainable fisheries and improving fisheries.