IPB University, The Happy Seafood Co. and squid fisheries
Amount awarded: £49,061
This project will develop a fishery management plan for several squid fishing communities in Belawan, Medan, in Indonesia. This will include management tools, referred to as harvest strategy and harvest control rules, that will help fisheries in the region ensure their stock remains healthy far into the future.
Since 2011, the main export market for the mitre squid (Uroteuthis chinesis) has been the UK. The importance consumers and retailers place on sustainability led the fisheries to engage and be supported by MSC's Fish for Good project, which helps small-scale fisheries in the Global South work towards MSC certification.
The Fish for Good program is a four-year project supporting more than 25 fisheries across Indonesia, South Africa and Mexico, and is funded by the Dutch Postcode Lottery.
This Ocean Stewardship Funded project will support the IPB University to conduct research, alongside the Indonesia Ministry of Marine Affairs and Fisheries (MMAF), into where the squid stock gathers to spawn. This will help highlight any sensitive areas that fisheries should avoid to protect young squid, and ultimately their future stock.
The project will also collect information on the role of the stock in the wider food web, such as its role as a food source for other animals including shark, marine mammals and birds.
These actions will help ensure the fishery improvement project (FIP) in Indonesian FMA 571 can progress towards full MSC assessment. The fishery is also verified through the In-Transition to MSC Program, making it eligible for Transition Assistance Funding.
"Our research findings will give us a better understanding of the parameters we need to set in order for our fisheries to become sustainable and protect the marine environment"

The Happy Seafood Co.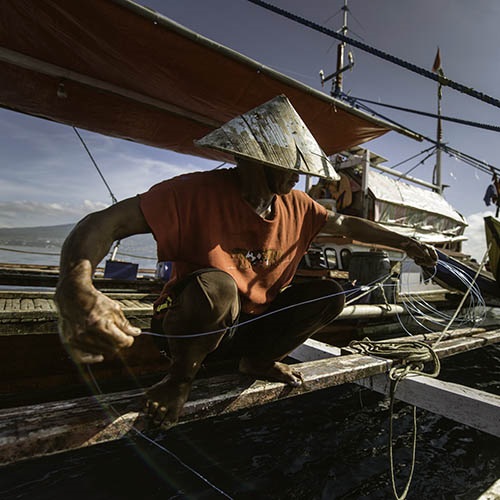 Discover projects supported through the Ocean Stewardship Fund that are helping to grow sustainable fishing worldwide.
The Ocean Stewardship Fund offers grants to both MSC certified sustainable fisheries and improving fisheries.