Department of Primary Industries and Regional Development, Government of Western Australia and Western Australian Peel Harvey Estuarine fishery
Amount awarded: £50,000
This project aims to better understand any recreational fishing impacts on endangered birds living in the nearby wetland of international importance in Mandurah, Western Australia.
The Western Australian Peel Harvey Estuarine fishery was the first joint commercial and recreational fishery in the world to be awarded MSC certification in 2016. It targets both blue swimmer crab and flathead grey mullet and provides social and economic benefits to the local community. However, it must make several improvements as a condition of its latest recertification. Primarily these include better understanding its impact on migratory endangered shorebirds while they are feeding or roosting.
How the project will work
The project, with funding from the MSC Science and Research Fund, will bring scientists, conservationists from Birdlife Australia, and the Peel Harvey Catchment Council together to address priority areas for sustainability and conservation linked to the fishery.
High-resolution aerial imagery collected from satellites and/or light aircraft as well as on-site surveys will provide information on any overlap of fishing activity with wading bird populations.
The research team will use machine learning to quickly identify boats and habitats, so that any changes in recreational fishing activity and subsequent trends in abundance of wading birds can be identified. The number of scoopnet fishers will also be collected to validate the presence of boats.
Trained volunteers will undertake bird counts between September and November during the closed fishing season, so that baseline data of bird abundance can be used for comparison. This work will inform an ecological risk assessment for the fishery in 2024, required by the MSC's program for the fishery to retain its certificate.
"Building our understanding of fisher and bird interactions will allow us to manage the fishery in a way which minimises the impacts of fishers on these threatened or endangered migratory species."

Department of Primary Industries and Regional Development, Government of Western Australia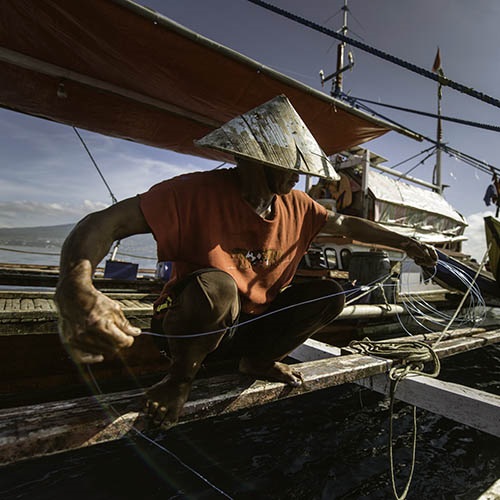 Discover projects supported through the Ocean Stewardship Fund that are helping to grow sustainable fishing worldwide.
The Ocean Stewardship Fund offers grants to both MSC certified sustainable fisheries and improving fisheries.