Saranya A Sankar, School of Industrial Fisheries, Cochin University of Science and Technology and India Kerala Shrimp and Cephalopods – trawl fishery
Amount awarded: £5,000
This project aims to support the India Kerala Shrimp and Celphalopd trawl fishery improvement project (FIP), to progress towards achieving MSC certification by 2024. The Kerala trawl fishery is in a comprehensive FIP and targets shrimp and cephalopod.
The fishery contributes significantly to the marine fisheries sector of India, in terms of production, assets and livelihoods. A combination of high fuel prices, an overdependence on bycatch for sustenance and failure to modernise and adopt sustainable fishing practices means there is an urgent need to properly manage these fisheries.
To do this, PhD student Saranya A Sankar at Cochin University of Science and Technology and the Sustainable Seafood Network of India (SSNI), will be developing a framework that uses management strategy evaluation (MSE) tools to help manage the stock sustainably.
What the project will do
MSE tools use simulation models to test different management strategies on the fishery, so that the impact of new measures – on the target stock or wider ecosystem – can be properly evaluated before being implemented. MSE has the power to greatly improve natural resource management by showing the potential benefits and threats of each strategy.
The study will collect information through a survey with the fishery managers, fishers and researchers, which will be used to develop a MSE framework. This will help prioritise which management objectives are most effective in mitigating any changes from variable environmental conditions. It will help ensure a sustainable future for the fishery.
The project outcomes will also have beneficial applications for the Kerala deep-water shrimp fishery, which was awarded £44,310 in 2021 from the MSC Transition Assistance Fund.
"The MSC stands for protecting the future of oceanic resources [and] encourages everyone to move towards sustainable use of fish stocks without exploiting them. I believe the MSC's work in India will help to achieve sustainability soon."

Cochin University of Science and Technology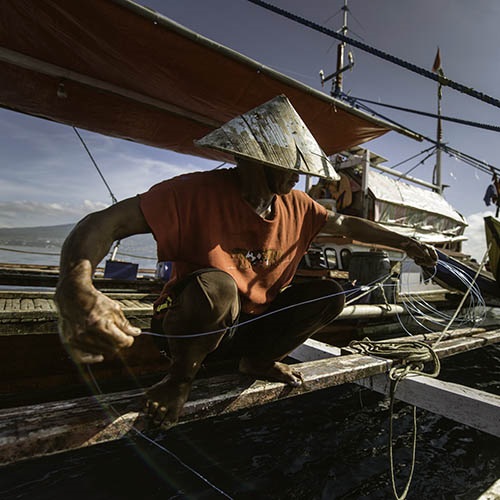 Discover projects supported through the Ocean Stewardship Fund that are helping to grow sustainable fishing worldwide.
The Ocean Stewardship Fund offers grants to both MSC certified sustainable fisheries and improving fisheries.