Tri Ernawati at IPB University and Indonesia snapper and grouper bottom longline, dropline, trap and gillnet fisheries
Amount awarded £5,000
This project will identify different snapper stocks in the Makassar Strait in Indonesia, to help the Indonesian Snapper Group fishery improvement project (FIP) develop a sustainable management plan for the species.
This will help the fishery develop an effective harvest strategy – a vital management tool the fishery will need to become truly sustainable.
To be able to effectively manage fish stocks, it is first important to know whether the stock is one large group, or if it is split into distinct subpopulations.
Although snapper are found in all parts of the Makassar Strait, it is thought that the western areas (Eastern Kalimantan) and the eastern areas (Western Sulawesi) have different population structures. This is likely due to the different depths within the Strait and currents from the Pacific Ocean.
This
Student Research Grant
will support the collection of over 350 tissue samples from two snapper species in Indonesian FMA 713 as part of a PhD research project. The two species being studied are the malabar blood snapper (Lutjanus malabaricus) and the goldband snapper (Pristipomoides multidens). Genetic analysis of the samples will be used to identify different stocks.
Confirming the genetic population structure of each species is a vital step in developing effective stock assessments for snapper. The outcomes will help members of the
Indonesian Demersal Association (ADI)
as well as the Indonesian government to develop effective snapper fishery management plans.
"MSC plays a role in awakening and motivating stakeholders about the sustainability of marine resources. Through the Ocean Stewardship Fund, it is hoped my research will help provide a strong stock assessment which will improve the management of snapper fisheries in the Makassar Strait"

IPB University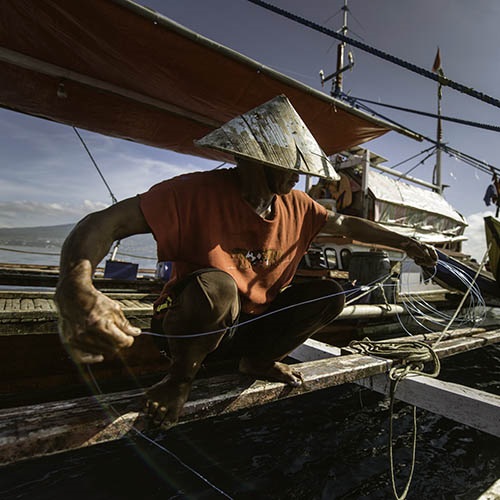 Discover projects supported through the Ocean Stewardship Fund that are helping to grow sustainable fishing worldwide.
The Ocean Stewardship Fund offers grants to both MSC certified sustainable fisheries and improving fisheries.