More of the global tuna catch is certified to the MSC Standard than ever, much of it canned, so there's no excuse for not making sure your next tuna melt is both sustainable and delicious. We show you how...
With work-from-home booming, more people are resorting to comfort-food stalwarts and looking to upgrade their lunch to something quick, hot and satisfying. Tinned or canned tuna is the home workers' store-cupboard ally – it partners well with so many ingredients and is capable of great things with only modest effort. That's why so many chefs make tuna melts in the early hours after a draining shift at a restaurant.
Perhaps not surprisingly during a global pandemic, both sales of sustainable MSC labelled tuna products and Google searches for 'tuna melt' have rocketed between 2020-21. The former is a projected 38% increase in sales compared to 2019-20, while the latter is up more than 250 %. Incidentally, searches for 'tuna melt sandwich delivery' rose during the pandemic signalling that some of us are happy to leave lunch to the experts.
How to make a perfect tuna melt
Wholemeal or white bread? Tinned tuna or fresh tuna? With or without onion? Cooked in a pan or a sandwich maker? The trusty tuna melt is a diner classic that's wide open to personal interpretations.These tailored 'twists' stir up heated differences of opinion. Cast an eye over Instagram and no two tuna melts are alike. They range from what looks like an accident (blackened crusts and an unappetising splurge of pale melted fats) to works of golden art oozing with taste.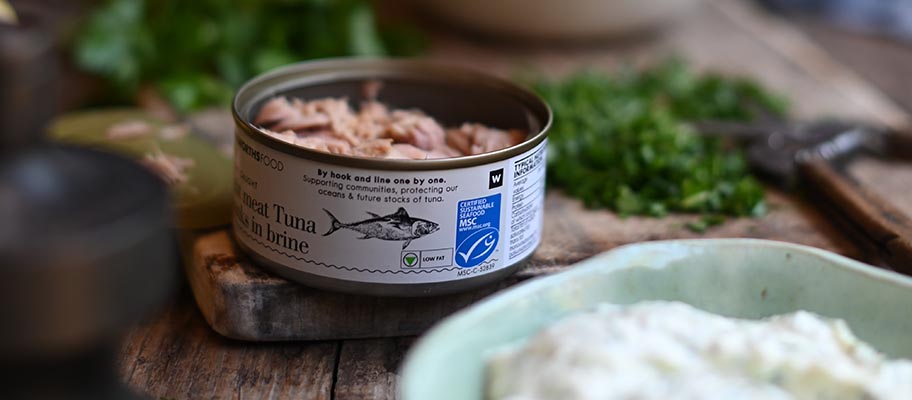 If you're going DIY, then chances are you'll already have all the ingredients... or at least the main ones: bread, butter, cheese, mayo and tuna. At its simplest – and our hungriest – a toasted wrap filled with these core ingredients probably won't disappoint. But with a little more care and creativity this dish can reach incredible heights of good-looking tastiness.
Swedish chef Jennie Walldén makes a spicy tuna melt with spring onions, Japanese soy sauce and sriracha chilli sauce in the basic sandwich mix, adding a final flourish of sesame seeds to the buttered bread. The result is an enviably gooey centre with a jolt of heat encased in crispy fried bread.
Classifying the tuna melt as a Covid-pandemic MVP (most valuable player), MSC Ambassador Bart van Olphen makes his tuna melt with rustic bread, chopped parsley and a dash of Tabasco in the tuna salad and serves it with a home-made ketchup dip on the side.
Bart van Olphen makes the perfect tuna melt and homemade ketchup.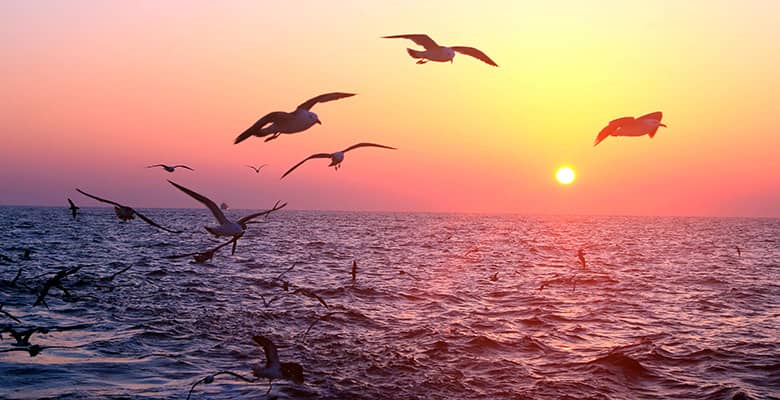 "I crave tuna as a midweek treat when I want to forget about emails and admin and enjoy a nostalgic retreat to simpler times," says Georgia East, a food writer and cook based in South Africa. "I like Woolworths' MSC certified tinned tuna in brine for overall meatiness and its beautiful pale pink hue. It's delicious when combined with creamy mayonnaise, finely chopped chilli, spring onion and gherkin. For my ultimate tuna melt, I spoon this mixture into warmed pita pockets, grate in a little white cheddar and pop the pocket into the toaster; this delivers a decadently oozy filling with just the right amount of piquancy."
Spinach is a popular addition, either chopped or layered, while the Italians like to add sliced marinated artichokes. Further evidence from Instagram indicates that avocado is finding its way into more tuna melts adding not only a healthy slice of green to the visuals but a cool butteriness to the taste.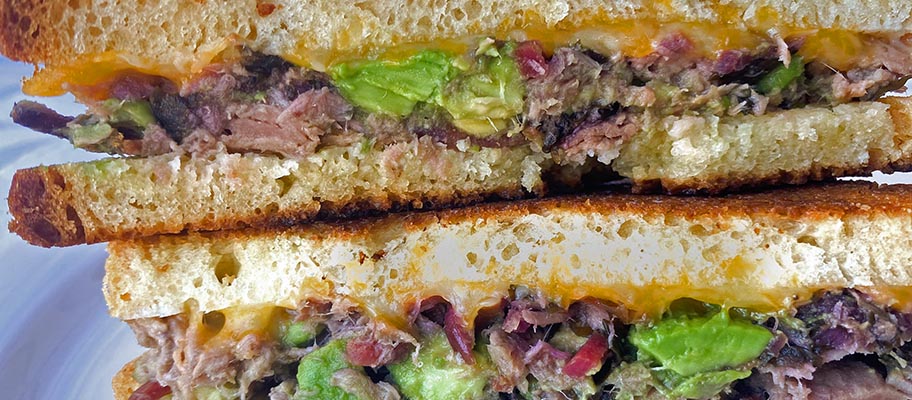 Avocado is also a great alternative to mayo. "We love tuna but we don't love mayo," says Laura Johnson, MSC's senior commercial manager in Western US and her chef husband. "We like to experiment and our latest tuna melt blends MSC certified albacore tuna, a dash of olive oil, healthy sea-beet kraut (a blend of seaweed, sweet ginger and beets), and chunks of avocado. "While we enjoy all types of tuna and you can use any in a melt, albacore wins out because of its firm texture and versatile flavour profile," says Johnson. "During the recent lockdown we even canned some of our own albacore and still have about 50 jars to get through!"
In addition to those already mentioned, the following ingredients crop up frequently in recipes for tuna melts: sun-dried tomatoes, pimento stuffed olives, capers, fresh tarragon, garlic, sweetcorn, various dried herbs and crunchy bread-and-butter pickles made from cucumber in sweet brine. Many chefs, bloggers and home cooks claim that the addition of just one or two of the above 'extras' elevates their sandwich to the next level.
I've heard of dried fruits, walnuts, carrot and Gouda (not the best cheese for melting) finding their way into tuna melts, and a whole host of other ingredients, but for me the ultimate tuna melt is made from sourdough coated in butter, a nutty Swiss cheese (generously grated onto each slice of bread), with a filling of ventresca tuna (a higher quality cut from the fish's belly), a light and fluffy home-made mayo with chopped fennel fronds, something oniony, a smidgen of chilli jam and a squirt of lemon. Cook for 3 minutes on each side. Job done.
How to upgrade your tuna melt to 'gourmet' grade
The 'stick to skipjack' school of thought argues that thick and creamy mayonnaise will mask the flavour of better quality canned tuna, especially as the fish is broken down when the two are mixed together in a bowl. As such a can of skipjack does the job nicely in most cases. If, however, you're treating yourself to fillets of sustainable albacore or fattier chunks of pole-and-line caught ventresca just remember to go easy on the mayonnaise.
A further upgrade goes full-on gourmet and uses fresh tuna. These hot pink steaks loaded into a sandwich with slices of gruyere and avocado look so good they appear to be smiling at you. The result is a tiered mini feast.
US celebrity cook Rachel Ray makes a fancy fresh tuna steak melt with a pissaladière-inspired caramelised onion and anchovy topping. It uses comté or fontina cheese and is served with a frisée lettuce salad and a light vinaigrette; presumably to offset the epic umami hit of flavours.
Whichever type of tuna you decide to use, be sure to choose MSC's blue-tick ecolabel which guarantees that it has been sustainably sourced.
Top tips for making a tuna melt
Bread: It's a personal thing. Sourdough is tangy and airy, which allows heat to get through when cooking while regular white bread gets the job done in a traditional way, absorbing the butter and going uniformly golden and crispy. Open-face tuna melts – often on sourdough – are increasingly popular. However, as many restaurant menus attest, a tuna melt is nothing if not adaptable, and it's possible to make one with naan bread, soft tortilla wraps, pizza and ciabatta. Burger buns, brioche and even crumpets work brilliantly, too.
In most cases bread is fundamental to the success of an authentic tuna melt. It can, however, be swapped out for a range of innovative bases from courgette boats and russet potatoes sliced lengthwise to nachos and sliced beef tomatoes.
Cheese: Like bread, broadly speaking, there are the old-school and contemporary camps. The former uses slices of processed cheese (see 'Tuna melt wars' below), the latter slices of a decent hard cheese like cheddar. Swiss cheeses such as gruyere and emmental are sweet, nutty and aromatic and melt well. Semi-soft cheeses like provolone and fontina are rich and buttery and are also good melters as is pizza favourite mozzarella. The key is to make sure it melts.
How to cook a tuna melt?
Whether you use a skillet, a griddle pan or a toasted sandwich maker, the trick is to make sure it has long enough to heat the ingredients in the middle, to take the tang off the red onion and melt the cheese without burning the bread. Adding butter to the outer side of the bread and a little extra virgin olive oil to the pan helps to keep the crust from burning. Cook on a steady medium heat.
A useful tip if using a skillet or pan is to place a weight on the sandwich while cooking to compress the ingredients. This helps to cook the sandwich quickly and evenly. Try a saucepan with a large tin inside. Even better, invest in a 13oz chef's cooking weight to maximise contact between the food and its cooking vessel.
Tuna melt wars
Where tuna melts are concerned, the microwave is a controversial 'cooking vessel'. When Senator Mark Warner threw together a tuna melt last year using very few ingredients and 30 seconds in the microwave the video went viral. Chef Gordon Ramsay would have been spitting expletives. Fellow Democrat and Vice President Kamala Harris couldn't sit by and witness such a gross food crime. So she set up an Instagram Live broadcast with Warner to show him 'The art of [making] a tuna sandwich'. Harris included diced celery, red onion, a teaspoon of Dijon mustard, a little parsley, a squeeze of lemon and hand-sliced cheese. She cooked the sandwich in a skillet. Warner looked on, aghast. But the VP's assured offering sure trumped his slapdash soggy effort using undrained tuna, cheap mayo and processed cheese on white bread.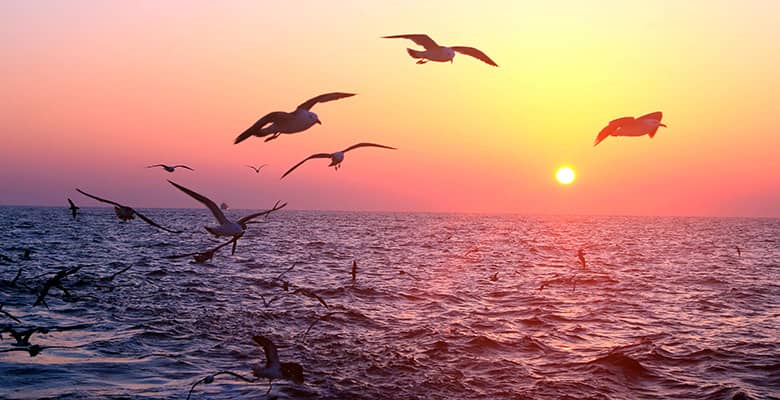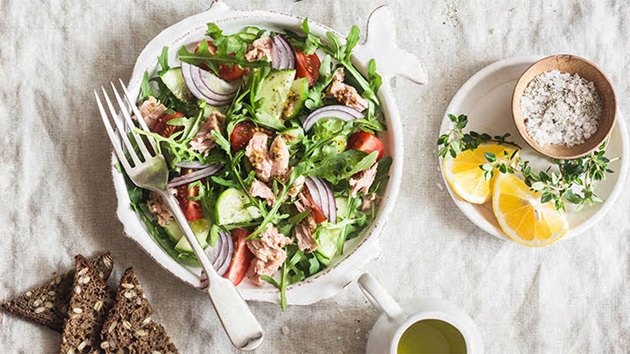 Visit our hub for tuna recipes, stories, questions and answers.