Anchovy and Shallot Focaccia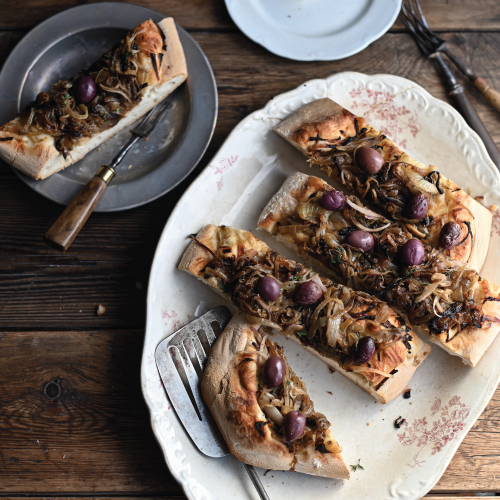 For the dough:
500g Italian "00" flour
7g instant dried yeast sachet
300ml lukewarm water
10ml fine salt
20ml olive oil
For the topping:
Olive oil
15ml butter
6-10 shallots, peeled and finely sliced
2 sprigs of fresh thyme
8-10 MSC certified brown anchovy fillets
200g Kalamata olives, drained and pitted
Black pepper
Parmesan, grated
In a large bowl, combine the flour, dried yeast and salt. Make a well in the center and pour in the water. Using hands, mix the water into the flour until it forms dough. Turn out on to a floured surface and knead until smooth. Place the dough back into the bowl and cover with a cloth for about 30 minutes or until the dough has doubled in size. Knock the dough down and divide or shape as needed.
Preheat the oven to 220°C.
In a pan over medium heat, melt the butter and fry the sliced shallots until tender and translucent – don't let them brown. Strip the thyme leaves from the stalks and add to the shallots. Set aside until needed.
On a floured surface, knock down the bread dough and use fingertips to press it into a lined baking sheet. The shape needn't be perfect.
Spoon the shallots over the top of the dough, spreading them out to cover the surface of the focaccia. Carefully remove the anchovy fillets from their oil and arrange them in a criss-cross pattern over the shallots. Dot the pitted Kalamata olives in between and drizzle over a little olive oil.
Season the focaccia with black pepper and bake for 20 minutes or until the dough has turned golden brown. Finish off with a generous sprinkle of grated Parmesan.
Slice and serve the focaccia with a green salad or alongside a more robust meal like a roast chicken.