Hake and potato bake with mustard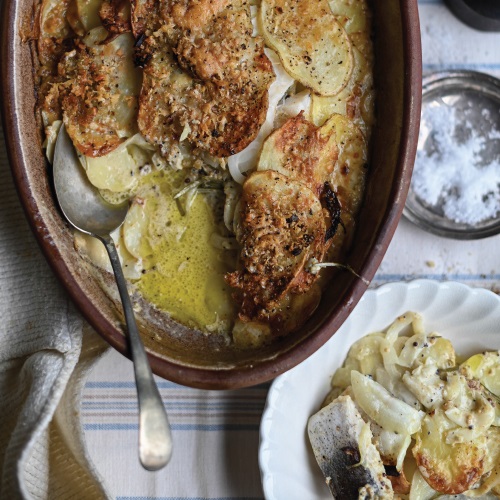 4 - 6 large waxy potatoes, scrubbed
1 large brown onion, peeled
400g MSC certified hake fillets, sliced into sections
250ml cream
4 cloves of garlic, crushed
2 sprigs of rosemary
3 tablespoons grainy mustard
Coarse ground sea salt and black pepper
Olive oil
4 tablespoons breadcrumbs
100g Parmesan, grated
Pour the cream into a saucepan and set over low heat. Stir in the mustard and garlic. Strip the rosemary leaves from their stalks and add to the cream mixture. Season with salt and black pepper. Once combined and slightly thickened, remove the mustard cream sauce from the heat and set aside.
Using a mandolin or a very sharp knife, slice the potatoes and onions very thinly. Place the potato slices into a bowl of cold water to remove extra starch. Drizzle a little olive oil into a large ovenproof dish and cover the base with potato and onion slices. Arrange a few pieces of the hake over the onions and pour over some of the mustard cream sauce. Season with salt and pepper.
Cover with a second layer of potato and onion slices and repeat with the fish, mustard cream sauce and seasoning. Layer and repeat until the dish is full.
To finish it off, layer a final covering of potato, scatter over the breadcrumbs and grated Parmesan and drizzle with olive oil. Bake the dish in a preheated 180°C oven for an hour before increasing the temperature to 220°C for the final 20 minutes. The dish is ready when the top layer is golden brown, crisp and bubbling.
Serve the Hake and Potato Bake with a crisp green salad and garlic bread.
Thank you for subscribing to the newsletter. Look out for delicious sustainable seafood recipes in your inbox soon.
Subscribe to the Simply Seafood Newsletter to receive freshly curated sustainable seafood recipes.
YOUR DATA PROTECTION CONSENT