Japanese marinated tuna rice bowl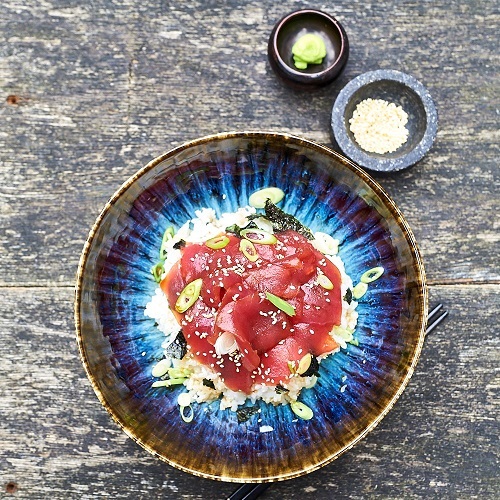 150 g sushi rice
2 tbsp white sesame seeds
4 tbsp (salty) soya sauce
2 tbsp mirin (Japanese rice wine)
2 tbsp sake (or 1 tbsp mitsukan and 1 tbsp water)
150 g MSC certified yellowfin tuna fillet, thinly sliced
1 spring onion, in rings
½ sheet nori, torn into large pieces
Wasabi
Salt
Rinse the rice four times using cold running water. Drain the rice, then set aside for 20 minutes.
Meanwhile fry the sesame seeds in a dry frying pan over medium heat until golden. Remove the seeds from the pan and set aside.
Put the rice in a cooking pot. Add an equal amount of water (to the rice) and a pinch of salt. Bring to a boil, cover and allow the rice to simmer gently for 15 minutes. Now turn off the heat and allow the rice to stand with the lid on for 15 minutes. Allow the rice to cool slightly.
Mix the soya sauce with the mirin and the sake. Marinate the tuna in this mixture for 2-3 minutes. Remove the tuna from the marinade.
Serve the rice in a bowl and top with the spring onion and nori. Add a layer of marinated tuna and garnish with a sprinkling of sesame seeds.
Serve with wasabi.
Photo credit: David Loftus
Thank you for subscribing to the newsletter. Look out for delicious sustainable seafood recipes in your inbox soon.
Subscribe to the Simply Seafood Newsletter to receive freshly curated sustainable seafood recipes.
YOUR DATA PROTECTION CONSENT