Korean fish pancakes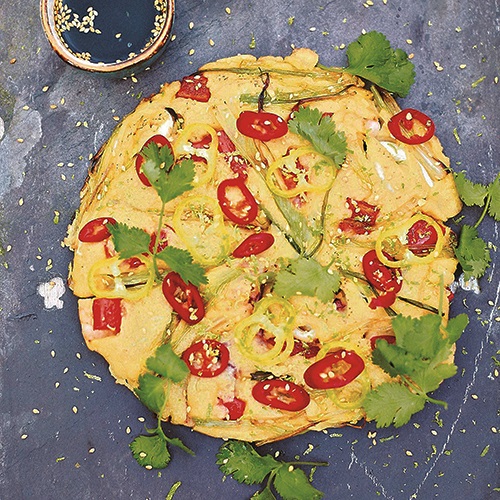 Dip
2 tbsp soy sauce
2 tbsp fish sauce
25 g/1 oz/2 tbsp sugar
1 tbsp lemon juice
1 tbsp rice vinegar
½ garlic clove, crushed
½ red chilli (chile), deseeded and finely chopped


Pancakes
1 tbsp white sesame seeds
250 g/9 oz/1¾ cups plain (all-purpose) flour#
250 ml/8 fl oz/1 cup cold water
2 eggs, beaten
4 MSC certified scallops, removed from their shells
4 MSC certified squid, cleaned and cut into small pieces
4 MSC certified large prawns (shrimp), peeled
12 spring onions (scallions), cut into 4-cm/1½-inch lengths
2 red (bell) peppers, deseeded and diced, plus extra for garnish
2 jalapeño chillies (chiles), sliced, plus extra for garnish
Handful of coriander (cilantro), leaves pulled from their stalks
½ red chilli (chile), thinly sliced sunflower oil, for frying
Salt
Lime halves, to serve
To make the dip, put the soy sauce, fish sauce and sugar in a pan over a low heat and stir until the sugar has dissolved. Allow to cool and then add the lemon juice, rice vinegar and 1 tablespoon of water. Finally, stir in the garlic and chilli (chile).
Roast the sesame seeds for 1–2 minutes in a dry frying pan (skillet) over a medium-high heat until golden. Remove from the pan and set aside.
To make the pancakes, sift the flour into a large bowl. To avoid lumps forming, whisk the water into the flour a little at a time before whisking in the eggs to make a smooth batter. Finally add a pinch of salt.
Add the scallops, squid and prawns (shrimp) to the batter, stirring the seafood in quickly but thoroughly so all the pieces are well coated. This amount of batter is enough to make two large pancakes.
Heat a little sunflower oil in a large frying pan (skillet) over a medium heat and add half the spring onions (scallions), the (bell) peppers and the jalapeño chillies.
Fry for 1 minute until the vegetables have softened and become slightly translucent. Add half the batter to the pan and give it a gentle shake so the pancake will slide out easily when it is cooked. Lower the heat, cover the pan with a lid and fry for 4–6 minutes, turning the pancake over once it has set underneath.
Fry the other side for 1 minute and then remove the pancake from the pan and keep it warm in a low oven (100°C/200°F/Gas Mark ¼) or cover with foil. Fry a second pancake in the same way.
Scatter over the coriander (cilantro) leaves, jalapeño and red chilli slices and roasted sesame seeds. Cut each pancake in half and then into smaller pieces. Serve with the dip and lime halves to squeeze over.
Thank you for subscribing to the newsletter. Look out for delicious sustainable seafood recipes in your inbox soon.
Subscribe to the Simply Seafood Newsletter to receive freshly curated sustainable seafood recipes.
YOUR DATA PROTECTION CONSENT