MSC clams with elderflower & new potatoes

Recipe By


James Strawbridge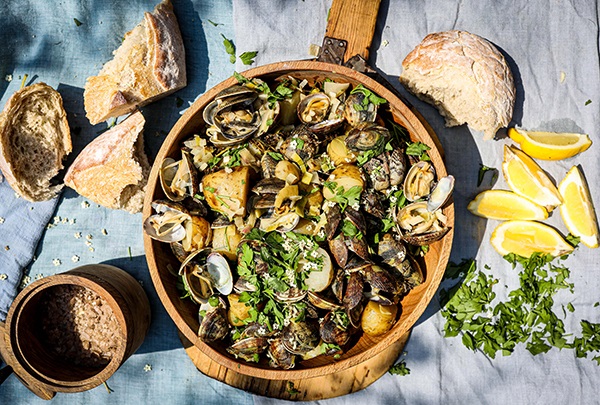 2kg MSC clams
750g new potatoes, boiled
1 leek, finely sliced
1 shallot, finely diced
4 cloves of garlic, finely diced
100ml creme fraiche
2 preserved lemons, finely sliced
2 tbsp parsley stalks and finely chopped leaves
50g butter
1 tbsp olive oil
Pinch of smoked sea salt
175ml rosé wine
Large bunch of elderflower
Bunch of green grapes
1. Sauté the leek, shallot, parsley stalks, preserved lemon and garlic in olive oil for 3-4 mins to soften.
2. Grill the clams in their shells, grapes and boiled potatoes with elderflowers over a hot BBQ for 4-5 mins.
3. Add wine to the vegetables and combine all ingredients in a large pan.
4. Add creme fraiche and cover with a lid to steam for 3-4 mins on high heat.
5. Garnish the dish with more parsley and elderflowers. Season to taste and serve with bread and lemons.
Thank you for subscribing to the newsletter. Look out for delicious sustainable seafood recipes in your inbox soon.
Subscribe to the Simply Seafood Newsletter to receive freshly curated sustainable seafood recipes.
YOUR DATA PROTECTION CONSENT