Roast MSC Cod, Charred gem, Tartar Hollandaise, Pancetta Crumb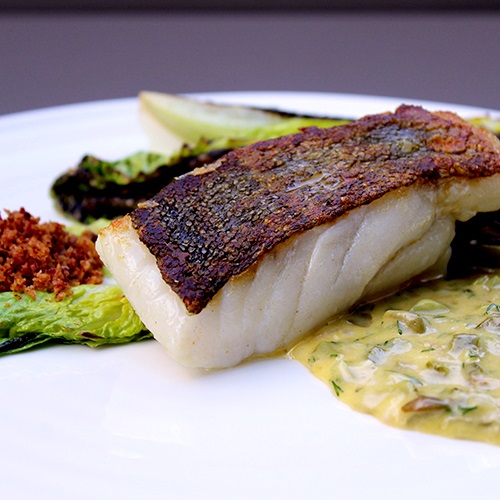 For the pancetta crumb:
40g pancetta
100g panko breadcrumbs
20g butter
For the tartar hollandaise:
3 free range egg yolks
50ml white wine vinegar
50ml white wine
250g butter, melted and clarified
10g shallot, diced
10g capers, diced
10g gherkin, diced
10g dill
The rest:
150g skin on MSC certified cod fillet
1 baby gem lettuce
First, make the pancetta crumb. Slice the pancetta very thinly and cook under a medium hot grill until crispy. Reserve the fat. Blitz to a fine crumb.
Melt the butter in a pot and add the pancetta fat. Add the bread crumbs and cook until golden brown, drain of excess fat, mix in pancetta crumb. Set aside the crumb to cool.
Now make the tartar hollandaise: reduce the white wine and white wine vinegar by half, over a pot of simmering water. Then whisk the egg yolks and half of the reduction until pale and fluffy. It should hold a figure of eight dropped from the whisk.
Remove from the heat and slowly whisk in the butter, emulsifying each drizzle before adding more. Add the shallots, capers, gherkin and dill. You can add more reduction to taste.
Heat a pan over a medium heat, add a little oil and cook the cod skin side down for 2 - 3 minutes to allow the skin to colour. Continue cooking the fish under a medium hot grill for 5 - 6 minutes.
Split the gem lettuce down the middle and remove any loose leaves and any oxidised stem.
Cook on a high heat on a lightly oiled pan to colour. Once coloured cover over and cook for a further 2 minutes.