Roasted mackerel and mixed tomatoes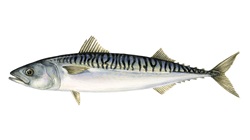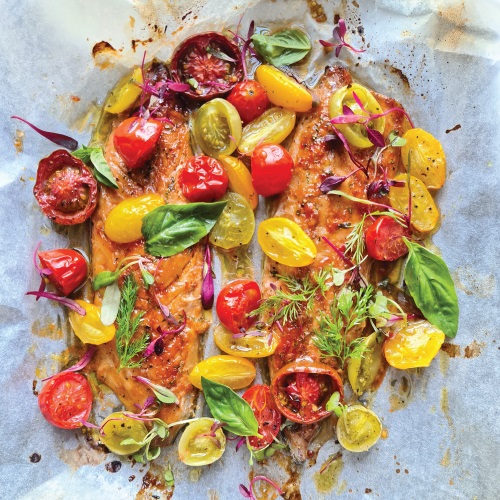 2 fillets of MSC certified mackerel, cleaned
Flaked sea salt and black pepper
250g fresh exotic cherry tomatoes, some halved and some sliced
A handful of fresh basil leaves
A handful of fresh dill
Spicy apricot and harissa glaze
60ml (1/4 cup) apricot jam
15ml (1 tablespoon) harissa paste
30ml (2 tablespoons) fish stock
Juice of ½ lime
15ml (1 tablespoon) fresh dill, chopped
Preheat the oven to 200°C and line a baking sheet with baking paper. Pat-dry the mackerel with paper towel and place it skin-side down on the prepared baking tray. Season with salt and pepper.
In a small saucepan over high heat, place all the glaze ingredients together, except for the dill and stir vigorously until combined. Bring to the boil, reduce the heat to medium and simmer for 3 minutes. Stir in the dill and turn off the heat.
Using a basting brush, generously smear the mackerel with the glaze. Add the tomatoes. Lightly season with sea salt and bake for 10 minutes until the fish is cooked.
Remove from the oven and garnish with fresh basil leaves and dill. Enjoy it with mash or as a wrap or serve with salad.