Seared king prawns with fennel, asparagus, green beans and potatoes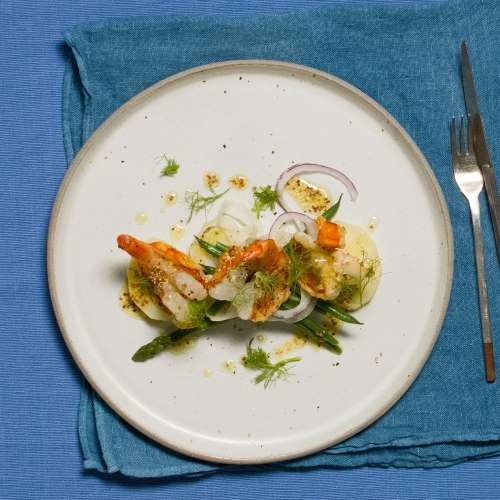 12 large peeled and cleaned king prawns (look for the blue fish tick)
1 fennel bulb, sliced
1 red onion, sliced
200g kipfler potatoes (or similar), steamed
8 spears green asparagus, sliced
100g steamed fine green beans
1 tablespoon grain mustard
60ml extra virgin olive oil
Juice of 1 lemon
20ml water
Sea salt and cracked pepper to taste
When shopping, look for the MSC blue fish tick on your seafood to know it's sustainable.



Heat a non-stick pan, add a little extra virgin olive oil and then add the seasoned prawns, cooking gently until you have colour on both sides.
In a bowl, add the sliced fennel, red onion, green asparagus and green beans. Mix together.
In a separate bowl, add equal parts of fresh lemon juice, extra virgin olive oil, grain mustard and water. Season with sea salt and cracked pepper, whisk together.
Slice the potatoes and lay evenly around the plate, spoon some dressing onto the salad, mix gently and then place a handful of the salad on top.
Place the seared prawns on top of the salad and spoon a little dressing over the prawns.
Thank you for subscribing to the newsletter. Look out for delicious sustainable seafood recipes in your inbox soon.
Subscribe to the Simply Seafood Newsletter to receive freshly curated sustainable seafood recipes.
YOUR DATA PROTECTION CONSENT